Derry Girls star Nicola Coughlan has said she is "still on cloud nine" about viewers' reactions to the heartrending season finale and her character Clare's story.
The first season of the Nineties-set show ended on Channel 4 on Thursday night, with Galway actress Coughlan telling RTÉ Radio 1's Morning Ireland on Friday that it was "just hard to believe" that so many people had taken Clare and the other schoolgirls' stories to their hearts.
Trending fifth worldwide, FIFTH WORLDWIDE, I cannot, we love ye thank you so much for all the support #DerryGirls pic.twitter.com/MpXyR044O6

— Nicola Coughlan (@nicolacoughlan) February 9, 2018
"We're obviously so, so proud of the show and just couldn't have dreamed [about] the reaction that people have had to it," said Coughlan.
"Last night was just so special, we're so happy."
Warning: spoiler alert!
The episode saw Clare coming out as gay and the girls joining Orla (Louisa Harland) onstage at the school talent show - unaware that news of a bombing was just breaking.
To a soundtrack of The Cranberries' Dreams, fans saw the girls dancing onstage, while Erin's (Saoirse Jackson) family watched in horror as details of the bombing were reported on television at home.
#DerryGirls last episode was easily its best yet. Very funny and beautifully moving at the end, I had goosebumps. Just remembering what we lived through and how ABNORMAL our normal was. Bravo ?? #Belfast #craic #thetroubles

— Catrick Stewart (@openatclose75) February 9, 2018
@LisaMMcGee Can't thank you enough for giving us #DerryGirls. Going to be counting down till the next series, last night's final episode brought us back to reality . Thursday nights are going back to mundane TV without Erin , Claire, Orla , Michelle, James & the Quinn Family

— Princess Fiona (@lesmac28) February 9, 2018
Well that's the way to end a series. So brilliant, so moving. Congratulations to everyone involved #DerryGirls

— Richard Osman (@richardosman) February 8, 2018
Coughlan paid tribute to the writing of the show's creator, Lisa McGee, describing it as "absolutely brilliant".
"I know it's such a cliché for actors to say it, but you do rarely get something that special handed to you," she continued.
"It's been a shock to us how much people have taken ownership of it. That's just lovely for us - that people really seem to have taken it into their hearts."

When asked by Morning Ireland presenter Rachael English about the shock of seeing the Troubles featuring so powerfully as the season ended, Coughlan replied: "I think for Lisa she always had said that in her mind she never had wanted to write anything about the Troubles.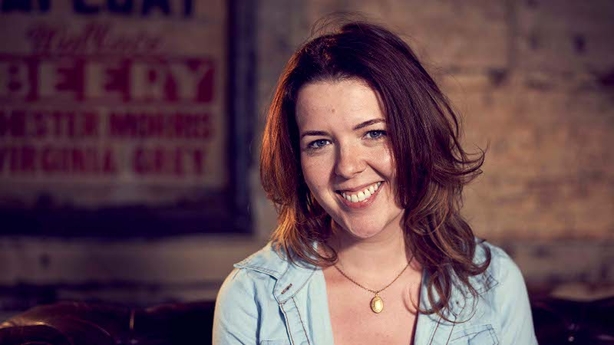 "Because she felt it's all that you hear about Northern Ireland. She had thought about setting Derry Girls in modern day, and she said when she tried to do that it just never felt true to her. It was really important for her to say, 'Yes, the Troubles are going on' - but that's not what was important for her and her friends.
"Every character in Derry Girls is based on a real-life person so that was more her concern. She said, 'Yes, that is going on, but for them their lives are going on'. They were concerned about their hair and music and boys - all this sort of stuff."
I'm bawling, I'm so proud to be a part of this show I can't explain, so overwhelmed, thank you all so, so much #DerryGirls pic.twitter.com/XWuQf8dn0D

— Nicola Coughlan (@nicolacoughlan) February 8, 2018
Reflecting on Clare's story, Coughlan said she had known what was going to happen to her character when she went into the audition process.
"It really informed my playing of the character," she explained. "It was lovely. I know Saoirse - who plays Erin - and I we felt the pressure to get that right to try and do that storyline justice. Hopefully we have."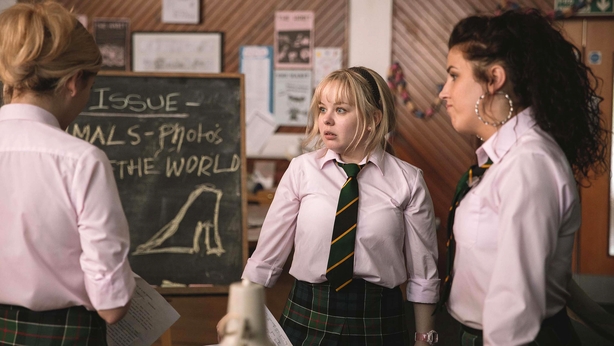 As she looked forward to filming season two later this year, Coughlan laughed off the media fascination that she is 31 in real life, saying: "And yes: I am older than Clare! I'm surprised people are so interested in it to be honest! But sure, all well and good.
"I said to my agent, 'Sure, we'll get a skincare deal out of it at some stage! We'll be grand!'"