US band The National have won the Grammy for Best Alternative Music Album for Sleep Well Beast, an intricately recorded album built from the quintet's walls of dark sound.
It was the first Grammy for the indie rock band, in a field that included fellow critical favorites including LCD Soundsystem and Arcade Fire. 
Sleep Well Beast marked the first album in four years by The National, who were formed in Cincinnati and came to prominence in New York but whose members have dispersed around the world. 
"We wanted to destroy what we've created until now. We needed to explore new paths," Bryce Dessner
The National, who are due to play Dublin dates this summer, set up its own studio in the town of Hudson, the riverside artists' hub north of New York, and experimented with sounds, bringing an improvisational feel that the band thought was lacking in its previous albums. 
Thank you Recording Academy!!! pic.twitter.com/u2ePpqbNeM

— The National (@TheNational) January 28, 2018
Guitarist and songwriter Bryce Dessner, who has gone on to a successful side career as a modern composer, said that the band wanted to give weight to every instrument and not stay stuck in a "sonic maelstrom." 
"We wanted to destroy what we've created until now. We needed to explore new paths," Dessner told AFP when the album came out.
The National have built a strong Irish fan base since their first Irish gigs In December 2002 when they played Auntie Annie's in Belfast, the Cobblestone in Dublin and the Triskel in Cork as part of their first ever European tour.
They finally topped the Irish album charts last September with Sleep Well Beast. 
Sleep Well Beast, The National's seventh album, is full of bleak undertones including on the album's aggressive first single, The System Only Dreams in Total Darkness. 
The National, longtime supporters of the Democratic Party who campaigned for Hillary Clinton, also bring reflections on President Donald Trump's election.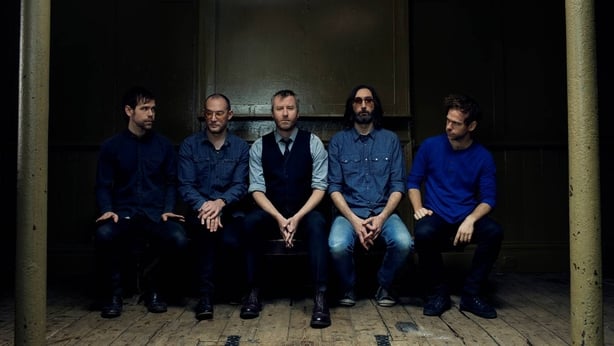 The album includes a sample from journalist Ron Suskind who, speaking of former president George W. Bush, says that the power of the United States allows it to "create our own reality." 
The National was previously nominated for 2013's Trouble Will Find Me, the group's breakthrough album after which it became a major force on the international music festival circuit.