Rugby player Tomás O'Leary has become the second contestant to be sent home from this season's Dancing with the Stars.
The sports star took to the stage to perform a Paso Doble with his professional partner Giulia Dotta to the classic Led Zepplin track Immigrant's Song from the soundtrack to Thor: Ragnarok.
They scored 16 points for the performance, which was one point ahead of Marty Morrissey's 15 at the bottom of the leaderboard, but it wasn't enough to save them when the points were counted along with the viewers votes.
"I'll be back for the repeat!", judge Julian enjoyed @Tomas_OLeary & @GiuliaDotta's Thor inspired performance! #DWTSIrl pic.twitter.com/MJfFhZDyey

— RTE One (@RTEOne) January 28, 2018
He certainly looked the part, but the dance didn't quite light a spark among the judges and the audience at home.
When it was revealed he had been voted off the competition, Tomás told hosts Amanda Byram and Nicky Byrne how he felt.
"I've had amazing craic", it's the end of the road for @Tomas_OLeary & @GiuliaDotta tonight! So sorry to say goodbye #DWTSIrl pic.twitter.com/yJezjBL5iV

— RTE One (@RTEOne) January 28, 2018
"I set the bar really high for rugby players", he joked. "I really enjoyed it, it was totally different, Julia is great we have great craic, I loved it.
"I met a lot of great people. At least I can go back to pre-season rugby training."
Julia added: "We had a great time. I'm really sad, but it is what it is."
And what was the top moment for Tomas? "I loved all of it."
Movie Night - The Girls Killed It
It was a blistering week as the celebs took to the dancefloor for Movie Night. It's fair to say the girls in particular killed it.
A star was born when Anna Geary came on stage in her magical Elsa from Frozen costume. The beauty of her costume was more than matched by the elegance in her dance moves, with Julian Benson declaring "This was just magnificent, you are back in the race girl."
Brian Redmond hit the nail on the head when he said the combination of power and beauty "make you the perfect role model for girls around the country."
Anna and her partner Kai quite rightly sat at the top of the leaderboard.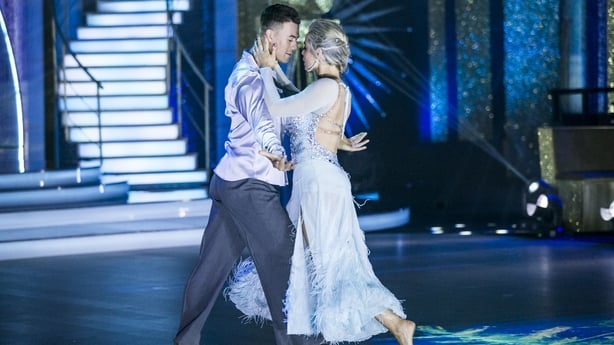 Alannah Beirne was last week's top scorer, and this week she didn't disappoint. The model was a joy to behold dancing an American Smooth to City of Stars from La La Land.
Alannah and Kai had big shoes to fill taking on steps made famous by Emma Stone and Ryan Gosling but they did themselves proud.
Julian was full of praise, telling Alannah she's "a natural born dance star". Quite the compliment. They nabbed themselves an excellent 26 points for the effort.
"You are wonderful on the floor", @AlannahBeirne & Vitali! #DWTSIrl pic.twitter.com/nnyaUC09Lk

— RTE One (@RTEOne) January 28, 2018
Although Anna and Alannah impressed mightily, it might have been actress Deirdre O'Kane who really captured the judges hearts.
She danced a Quickstep to an orchestral piece of music from The Artist along with her pro dancer John Nolan, and boy did they nail it.
The judges were blown away and we're not surprised.
Julian said they "brought us back that old Hollywood glamour" while Brian said "I loved that routine from start to finish". High praise indeed!
Deirdre's acting chops definitely came into play for the routine which got them a fabulous 25 points.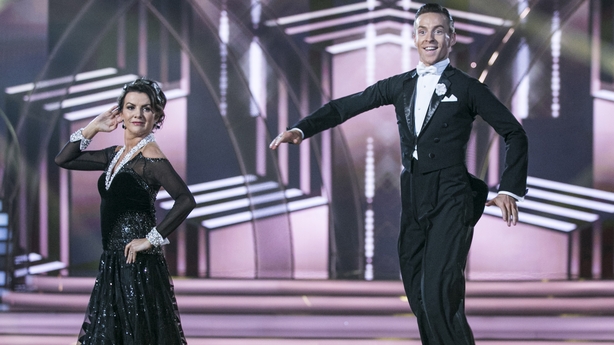 Erin McGregor had the unenviable task of opening the show, dancing a Charleston to a track from the Kill Bill soundtrack, which meant she got to wear a very snazzy yellow jumpsuit.
Uma Thurman, eat your heart out!
"I think the moral of that dance is 'do not mess with Erin McGregor'", Amanda Byram said when Erin exited the stage. Couldn't have said it better ourselves!
The judges thought it was "contemporary and unique" and handed over a more than decent 21 points.
"Uma Thurman eat your heart out! #KilledIt" Well done @GregorErin & @RYANMCS! #DWTSIrl pic.twitter.com/obSEXbLdq9

— RTE One (@RTEOne) January 28, 2018
Maia Dunphy ended up in the final three this week after dancing the Rumba to Up Where We Belong with her partner Robert Rowinski.
We think the judges were unfairly harsh on Maia when doling out the points, despite their positive feedback beforehand. Lorraine said it was "super sultry", Julian said it was "beautiful, romantic, sensual" and Brian said it was "a big step forward", and yet she only scored 19 points.
Maia definitely deserved more, she exuded effortless grace. Here's hoping for better luck next week.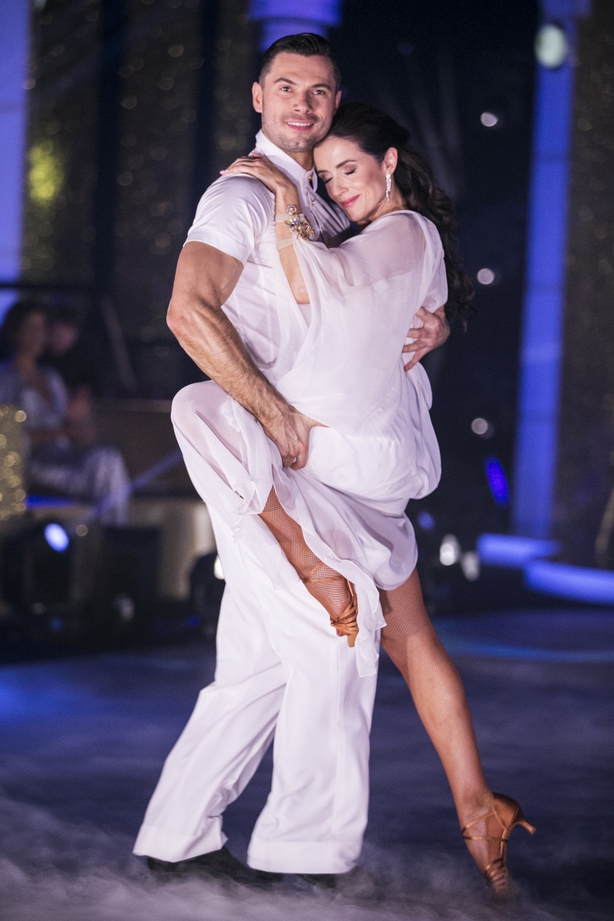 The Boys Did Good Too
Jake Carter danced the Cha Cha Cha to The Power of Love with his partner Karen Byrne and they were a joy to behold. As well as the super fun costumes, their routine was full of fun and energy.
Brian, quite amazingly, said there was "not one mistake. I think you'll be here for a while yet", while Julian said it was "box office".
Jake pulled off a very impressive almost splits that looked really difficult and we're sure helped him secure the best score of the night on the boys side - 24 points.
"A super cha cha cha!" from @KarenDWTS & @jakecartermusic #DWTSIrl pic.twitter.com/42GM16Nvhv

— RTE One (@RTEOne) January 28, 2018
Race walker Rob Heffernan was equally fun-loving in his approach this week, dancing the Samba to Jump In The Line from the Beetlejuice soundtrack with Emily Barker.
We thought he was top notch on the dancefloor, light on his feet and packed full of character, but judge Brian disagreed, saying it was "a little bit horror show".
Luckily, Lorraine and Julian were more generous with their praise saying it was "a super samba" that "brought out your personality".
They landed 20 points and we're already looking forward to seeing what they have in store next week.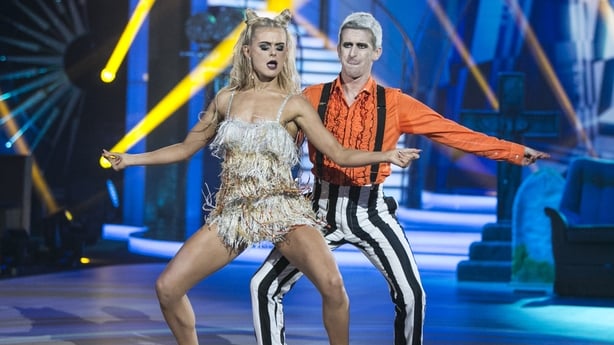 Everyone was eagerly awaiting 2fm presenter Bernard O'Shea's routine this week, and he pulled out all the stops. The Breakfast Republic star danced the Paso Doble to a track from Pirates of the Caribbean along with Valeria Milova, and it was highly entertaining, to say the very least.
Bernard's guyliner added to the entertainment value, but the presenter also showed he's improving in the dancing stakes. As Lorraine said: "There's no stopping you. Goodbye beginner, hello competitor."
Brian harped on about his "bum sticking out a bit" but Bernard had a quick reply.
"Brian, my bum is my best asset!", he retorted.
They scored a total of 18 points. Not too shabby.
'A beautiful swirling action', @boshea5 shows the cape who's boss! #DWTSIrl pic.twitter.com/dO31DHfgex

— RTE One (@RTEOne) January 28, 2018
And last but certainly not least, the inimitable Marty Morrissey took to the stage with Ksenia Zsikhotska to perform an American Smooth to Pretty Irish Girl from the Darby O'Gill and the Little People soundtrack.
There was LOTS of support from Marty from the audience and the judges were equally impressed to see Marty back on track after a thrashing last week.
Julian said it was "a huge improvement" and "wonderful to look at", while Brian said Marty "proved to be a big man this week".
We have to agree most wholeheartedly with Lorraine who said she was "delighted" to see him dance, adding: "You're very light on your feet. Great action and you've pulled at the heartstrings of the Irish people.
Very positive all round - with the duo scoring 15 points.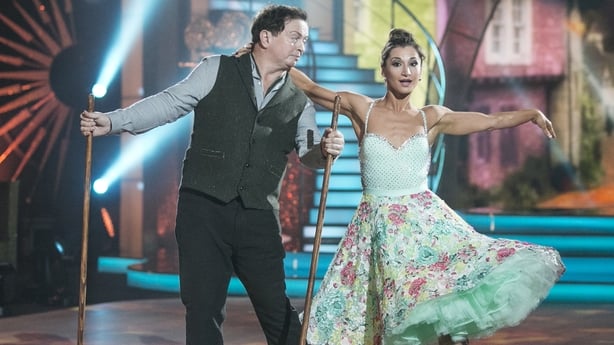 Dancing with the Stars continues on Sunday, February 4 on RTÉ One.