Norah Casey became the first contestant to be eliminated from the second series of Dancing with the Stars on Sunday, but the businesswoman doesn't have any regrets, saying that taking part in the show was "my happiest time".
Casey and her professional dance partner Curtis Pritchard were the first couple to be sent home from the show after dancing a Paso Doble to Senorita, scoring a decent 17 points. But when the viewers' votes were combined with the judges' scores it was not enough to keep them in the competition. 
"The passion & the drama!" Well done @NorahCasey & @CurtisPritchard! #DWTSirl pic.twitter.com/n8j8doZVt3

— RTE One (@RTEOne) January 21, 2018
Speaking to RTÉ Entertainment the morning after their exit from the show, Casey said there are some upsides to departing.
"The Dancing with the Stars journey came to an end last night but I have to say, I ate bread for the first time so that was like a gold medal in itself!", she joked. "I didn't go into Dancing with the Stars to win and if you take that off the table, I think if your focus all the time is 'I want to win, I want to be the best', you don't enjoy the journey.
"So we didn't really focus on the campaign, we focused on what all day every day was fun, it was challenging, physically, this young man [dance partner Curtis Pritchard] transformed me. All day every day for two months I've been dancing through the most miserable January on record. I spent my days dancing the Cha Cha, the Paso Doble, at weekends got tanned, sparkled up, wore fabulous dresses, I had the time of my life, I'm never going to regret it.
"There is that moment, you don't want to be the first. And then you're thinking 'I don't have to get up early next week. I can eat chips!'"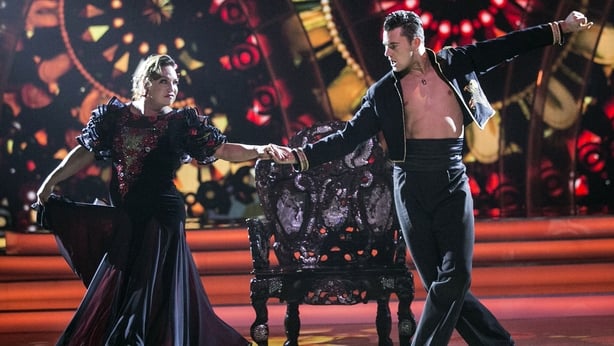 She added that she felt like God intervened to have her appear on the show, which was "a lovely, crazy interlude in my life where I did something I never did before, it was my happiest time." 
"And then maybe he's saying 'Stop your gallivanting Casey, get back into the boardroom and do a bit of work!'"
The broadcaster said that taking part in the dancing competition has "totally transformed me physically" and that she's lost a stone in weight. Casey's enthusiasm when talking about her time on the show is infectious.
"There's no downside, zero downside to do Dancing with the Stars. It was a fantastic experience," she said. "There are so many benefits [to dancing], it keeps your mind active, it keeps you young, it's all of the muscles in your body, it's a fun way to get in shape."
A huge thanks to an amazing young man @CurtisPritchard for teaching me those beautiful dances and making me smile so much - he's a genius @DWTSIRL #fantasticexperience #lovedeveryminute pic.twitter.com/K0ZqSwkoi3

— Norah Casey (@NorahCasey) January 21, 2018
Pritchard was equally enthusiastic when talking about his dance partner. "She was a great student and a great friend," he said. "We had a lot of laughs. We didn't focus on the campaigns and all of that rubbish, we wanted to have fun, we wanted to enjoy the time that we had together, and we did enjoy it."
Casey admitted that before the group dance in the first week she was "terrified" but that she switched to a positive mindset for her subsequent performances.
"I had to keep reminding myself that I actually did this not to be terrified, so I switched it into, 'it's happy it's positive, it doesn't matter if I fall, just do it'", she explained. "You have to have a bit of confidence to go out there and show something that you're not quite good at, but I really enjoyed the Foxtrot because it was to that beautiful song that Richard sang for me, it was really special. If I never dance again, that Paso Doble from last night was just incredible, I loved it.
"The one thing I always struggled with was confidence, in my 20s, I think people who know my backstory know that I probably didn't stand up for myself very much, and I was never going to put my hand up in class. People are really surprised to hear that that's something I struggled with so I always say to young girls in particular, it's confidence not competence that's going to hold you back. If I could go back to that young Norah Casey and teach her the Paso Doble, I think that whole powerful stance made me feel super confident. There's something great about it, before you go out to speak to people or do something that terrifies you you should do a bit of Paso first."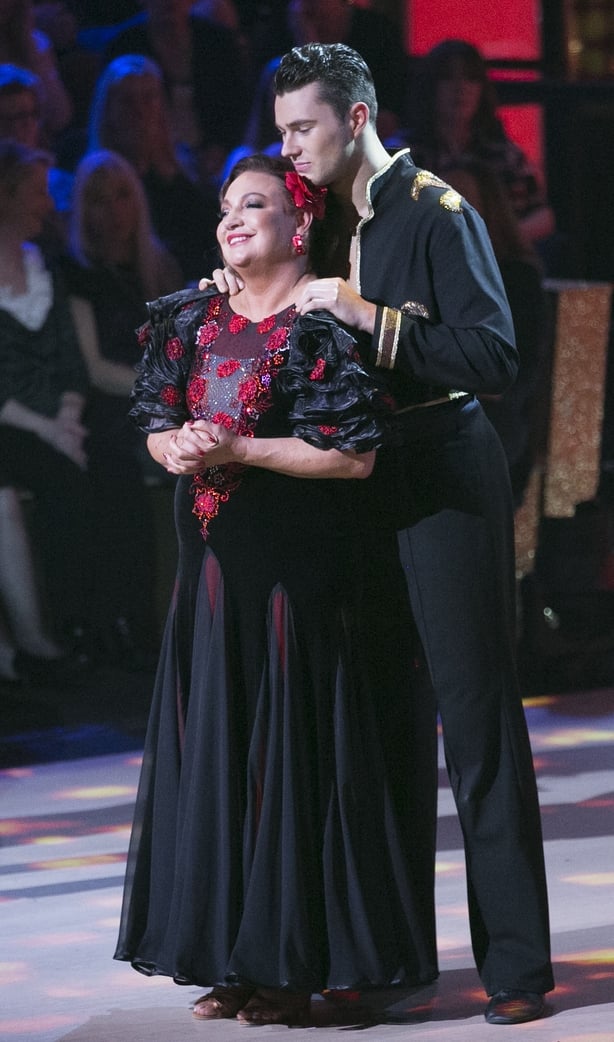 Casey can't pick just one contestant she thinks should win the competition, but says that the standard this year is very advanced compared to last year's show. However, she did have one criteria she hopes the overall winner will have.
"It's a dance competition, outside of all of the entertainment value, and the people we love, and the people we know and don't know, I'd love if it was a great dancer who won, that's the point of the competition, that it is a fabulous dancer," said.
She added that although she felt she and Curtis had "a few more dances" in them, she's "never going to give up dancing, I love it."
Dancing with the Stars continues on RTÉ One on Sunday, January 28. Catch up here on the RTÉ Player.