Aslan brought the house down on Friday's Late Late Show, as frontman Christy Dignam recounted their rivalry with U2 over the years, and how the offer of a sausage sandwich had saved Bono's bacon back in the 1980s.
Aslan were guests on the Late Late to mark the release of the 30th anniversary edition of their debut album, Feel No Shame.
.@OfficialAslan with a medley from their iconic debut album Feel No Shame, 30 years old this year #latelate pic.twitter.com/dCP6nlyGq9

— The Late Late Show (@RTELateLateShow) January 19, 2018
After performing a medley of tracks from the record, Dignam and Aslan guitarist Billy McGuinness joined Ryan Tubridy on the couch to go back over the band's history - and their history with U2.
While U2 were on their way to becoming the biggest band in the world all those years ago, Aslan - rehearsing in a disused pigsty near Dublin Airport - thought a deal could be in the offing for them with U2's own label, Mother Records.
A meeting was set up in Dublin pub The Dockers.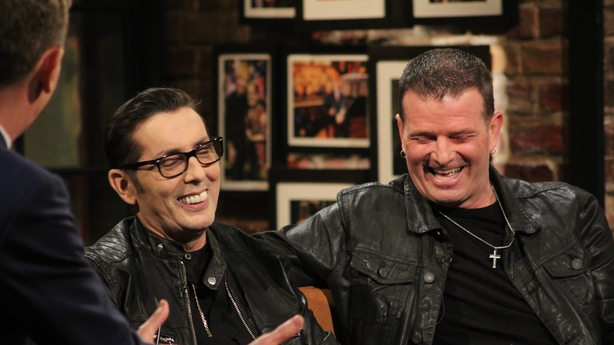 "At that time, Mother Records had a label and the vibe, the remit was to help young Irish bands on the way up and all that carry on," Dignam explained.
"We were after having loads of record company interest and they were after really shafting us and messing us around. Bringing us along for six months and saying, 'We're going to sign you' and then dropping you after six months - all this carry on.
"I thought we epitomised what Mother Records were built for. We were a young Irish band, we needed a help out kind of thing. So we'd arranged to meet Bono in The Dockers at 12 o'clock this day. So myself and Joe [Jewell, Aslan guitarist] went in."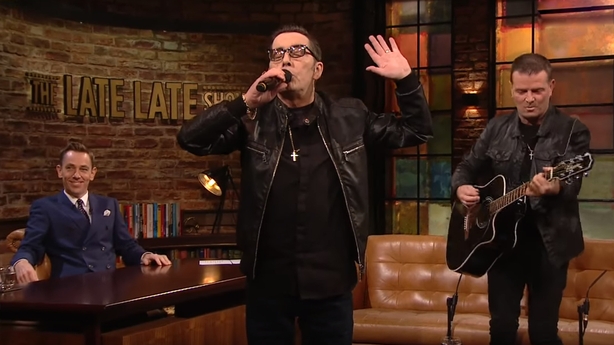 However, things did not go as well as Dignam had hoped.
"We went into the meeting and Bono turns up at 2 o'clock. I'm steaming by this time! 'Who does this s******* think he is?! Keeping us sitting around like this!'
"So he came in and says, 'Do you want a sausage sandwich?' 'Do I want a sausage sandwich?!' I was going to batter him at that stage!"
"Obviously, I was licking his a*** because I wanted to get this single off him!" Dignam laughed.
"So anyway, he's talking to us and he's buzzing. So me and Joe left the place and we're buzzing. And Joe says, 'What'll we tell the lads when we get to the pigsty?'
"And I says, 'He's after telling us to p*** off and I never even realised it!'
"You know the way Bono's great at talking and then you say, 'What did he say?' and he didn't say anything?! It was one of them kind of things. So that caused a bit of a sour taste at that time."
There was another sour taste a few months later, Dignam recounted.
"Going on from that, any interview we did, every interview we did, it was all - especially in the British press - 'Are you the new U2?'; 'Do you drink in the same pub as U2?'; 'Do you rehearse in the same place?' - all this carry on.
"So what happened was we were doing an interview for the NME and yer man's asking us all these questions - 'Do you drink in the same pub as U2?' - and I'm getting really annoyed at this stage!
"So halfway through the interview I just wrote down [U2's management] Principle Management and the number and I said, 'Listen, there you go - anything you want to know about U2!' and I walked out of the interview. At this stage this had been going on for months.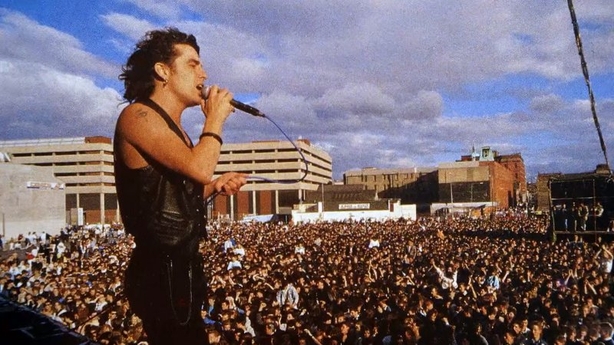 "So yer man comes out after me saying sorry because he's after coming over from London to get this interview. He said, 'The reason I was asking you is because I know you're from the same place as U2'. And that just got me going altogether!
"I said, 'Listen, U2 live in a little oasis of wealth between Finglas and Ballymun. They don't live where we live!
"And I said, 'While they're glorying in all this 'we're from the slums' we still have to f… - we still have to live there!'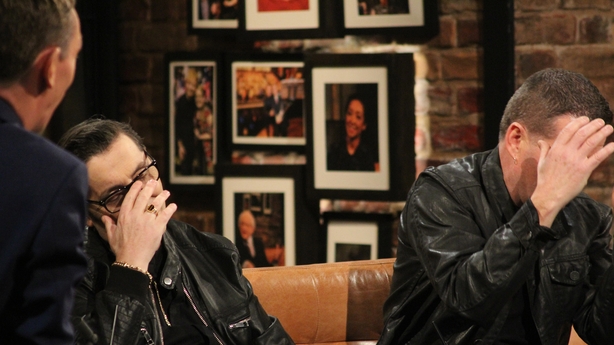 "I let this little tirade out, a 30-second tirade. And he says, 'Look, I'm sorry about that' and we went in and I did probably the best interview I've ever done about Aslan and what we were about and what the Feel No Shame album was about, everything.
"So the following Tuesday, I got The Daily Mirror and there was an ad in it for the NME and it said, 'U2 claim to be from Dublin slums - Aslan set the record straight. Read all about it in tomorrow's NME!'
"Next minute we start getting telegrams from U2 - they were in the States at the time - and they were saying, 'What's the story? Why are you bad-mouthing us in the press?'
.@OfficialAslan's Christy Dignam on how an interview with the NME led to years of unease between themselves and U2 and how they made peace with each other when he became ill #latelate pic.twitter.com/LDqdNUfBBK

— The Late Late Show (@RTELateLateShow) January 19, 2018
"But it wasn't really like that; it wasn't that I was bad-mouthing them. I was trying to explain how it happened and what we were up against and all that."
The relationship took a turn for the better when Dignam was diagnosed with cancer in 2013.
"For years there was a bit of a vibe because of this," the singer admitted. "There were a few little things that softened up over the years and then when I got ill that time he [Bono] came up to the house and he brought me up a book of poetry, a Seamus Heaney book. We sat down and we had a good talk and he was really nice.
"And then for the [2013 benefit show] Night for Christy - when everybody thought I was going to die and I didn't! - U2 did a version of This Is.
"That blew me away because This Is as a song, it's a very complex song. So it wouldn't have been a song that they just threw together in five minutes; they'd have had to sit down and rehearse that and stuff. I really thought that was them respecting us in a way. It was very decent of them."
We need your consent to load this YouTube contentWe use YouTube to manage extra content that can set cookies on your device and collect data about your activity. Please review their details and accept them to load the content.Manage Preferences
"And here's another thing," Dignam added. "Every time we do a gig, a decent gig in Dublin - like when we did the Iveagh Gardens - there's a hamper in the [dressing room] with champagne.
"So we say, 'Every time U2 are playing in Dublin, we have to send them something'. [Laughs] And we never have! I was going to send them a sausage sandwich!"