Karen Koster was the centre of attraction at the TV3 Spring Launch following the recent announcement that she's expecting her third child.
The 36-year-old Exposé presenter, who is already the proud mother to three-year-old Finn and JJ, who is 21 months old, is expecting her new arrival in early June, which means she will have three children of pre-school age.
"Yes, I'm expecting my third baby and I'm very, very excited," she told RTÉ Entertainment. "Due in June - early June, hopefully. All is going well, I'm feeling good, tired - as mums of more than one baby already know.
"It's definitely harder the third time around, when you've already got kids to look after," she adds with her customary Koster grin. "You can't kind of treat yourself the way you used to. But all good - thank God."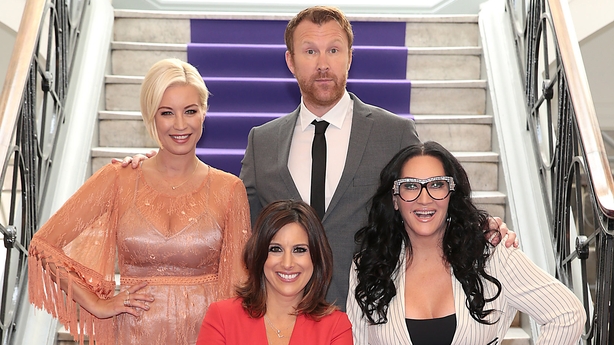 Koster has also turned her experiences as a working mother to more practical uses in terms of her TV career, as she's going to be fronting a documentary on TV3 about the realities of being a working mother in modern Ireland.
Mammy Guilt forms part of TV3's returning True Lives documentary strand, which starts on January 17.
We need your consent to load this Facebook contentWe use Facebook to manage extra content that can set cookies on your device and collect data about your activity. Please review their details and accept them to load the content.Manage Preferences
"It's the first time I've ever really done anything of my own outside of Exposé," Koster says. "It's a passion project for me, I pitched it myself during the summer, and thankfully it got the green light.
"It's basically me exploring the journey mums make from when becoming a mum to deciding whether or not to go back to work. What are the right decisions to make for your kids? What's the best option in terms of childcare?
"My constant worry was that: are my kids going to turn out okay, even if they've been in childcare for 30 hours a week or more? Whereas me growing up, I had a mum at my disposal 24/7. She was a stay-at-home mom and she was brilliant.
"Does it have an effect on a kid when you're not there all the time? I interview a lot of mums, from all different walks of life and I really enjoyed. It's not super serious . . . but it's something that I just adored doing."
TV3 also announced that it will shortly re-brand its three channels as Virgin Media TV. The TV3 Group of stations - which also includes 3e and be3 - was bought by Liberty Global, the parent company of Virgin Media, in July 2015.
At their Spring Launch, TV3 announced that both their NatWest 6 Nations coverage and talent show Ireland's Got Talent would commence on the same day, February 3, in a Super Saturday of event programming.
Ireland open their Grand Slam campaign with an away assignment against France at the Stade de France in Paris, with Louis Walsh, Denise van Outen and compay following immediately afterwards.
TV3's also announced the return of Red Rock, The Restaurant and the extension of The Tonight Show with Matt Cooper and Ivan Yates to four nights a week.
Other drama series announced include the two-part The Bailout and - following the success of the first season - the critically acclaimed Smalltown, starring Pat Shortt, which gets a second run.