Adam Thomas has officially bowed out of Emmerdale after the fate of his character Adam Barton was revealed during a special hour-long edition of the soap on Tuesday night.
Warning: Spoiler alert!
After weeks of drama and grim police station scenes it was finally time for Adam Thomas' character, Adam Barton, to find out his sentence for the murder of his wife - even though the real culprit is his own mother Moira Barton.
As he prepared to plead guilty to the manslaughter of Emma Barton in the hope of saving his mum from a life behind bars, things took an unexpected turn.
On the way to his court hearing, Adam's prison van got a visit from some masked saviours giving him a chance to escape.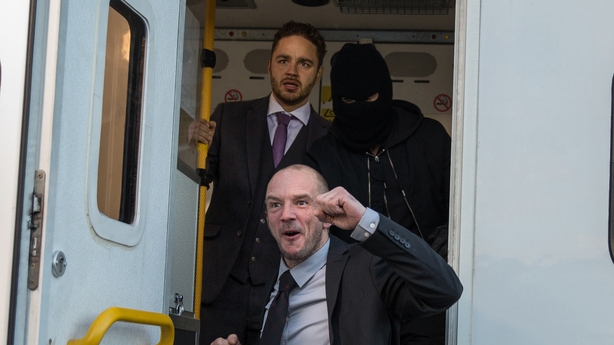 Why does everyone in emmerdale leave by going on the run?

— Kerri (@loverobron1105) January 2, 2018
Not surprisingly, it was Cain and Aaron who set their friend free in a dramatic showdown that gave Prison Break a run for its money.
Fans took to Twitter to share their relief at his freedom, but their dismay at his leaving.
One commented: "So Glad Adam got away he didn't deserve prison Going 2 miss him so much one of my faves...#ByeAdam @adamthomas21 @emmerdale #emmerdale."
"#Emmerdale omg...bye Adam can't believe he's gone!! Fantastic actor!! Gutted!!" added another.
One fan Tweeted the actor directly: "@adamthomas21 can't believe your time on emmerdale is over, you are a credit to yourself and your family...I'm going to miss Adam."
Another wrote: "#adam leaving on #Emmerdale was a real tear jerker," while another similar added: "Crying me eyes out here. Come back Adam!!! #Emmerdale #sosad."
Aaron has helped Adam escape! #Emmerdale pic.twitter.com/xZTxRIUgJo

— Emmerdale (@emmerdale) January 2, 2018
Thomas announced he was set to leave the Dales during the summer and admitted his decision to exit the show didn't come easily.
"I've had an amazing eight years working on Emmerdale and I've loved every minute of it," Thomas said in a statement.
"It was a really tough decision to take to leave but I felt that now is the time to move on and challenge myself with some new roles."
"I'd like to thank everyone at Emmerdale for both giving me the opportunity to work as part of such a great team and for giving my character Adam Barton some great storylines too," he added.
"Everyone will be really gutted to see Adam go!" producer Iain McLeod said in another statement. "He's a top bloke and a really talented actor.
"But he's given us a lot of notice, so we've been able to prepare a huge exit story for him. I'm really excited to see it play out on screen - however sad it will be to wave goodbye to such a brilliant character and cast member."
It is rumoured that Adams decided to leave the show after bosses refused to give him time off for a €100,000 panto role.
Emmerdale continues on Wednesday (January 3) at 7pm on ITV and TV3. For more on your favourite soaps, click here.