Jumanji: Welcome to the Jungle stars Dwayne 'The Rock' Johnson, Kevin Hart and Jack Black reveal what message they want their own children to take from the movie.
The film is a continuation from Jumanji, the classic 1995 fantasy film that stars the late Robin Williams. Proof of Jumanji's beloved status was cemented at the online reaction to this reimagining of the film, with many fans frightened it wouldn't live up to the original.
They needn't have worried, as Welcome to the Jungle doesn't disappoint with zippy action sequences, endearing characters and, most of all, a big heart.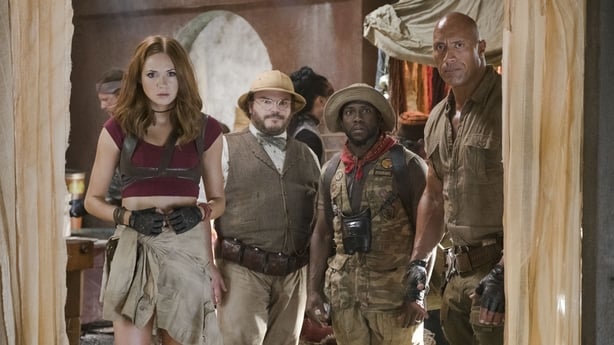 Speaking to RTÉ Entertainment in London, the jocular trio of Johnson, Black and Hart revealed what they hope their kids will take home from this film.
Hart said: "I just hope that they really enjoy how big the movie is, from action to adventure to comedy, I think it covers all bases. And the world of Jumanji and that world continuing is an amazing thing. My kids are very familiar with the first one, because I made them watch it, and I think now they're set up for another amazing adventure."
Jack Black had a very touching response, saying: "I know that they're going to laugh, and they're going to love the action and adventure but I hope they get the message not to judge people on their outward appearance, it's about what's happening on the inside. It's got a great message.
"And I know they're looking forward to it because I've never had so many requests for premiere tickets before. Maybe it's because these guys are in it, but my boys are freaking out, I think that's a good sign," he added.
Johnson said: "I want my kids to have fun with the movie and really have a great time when they watch it and enjoy us body swapping and playing teenagers. I have a 16-year-old daughter and a two-year-old daughter as well so I just want them to have a good time!"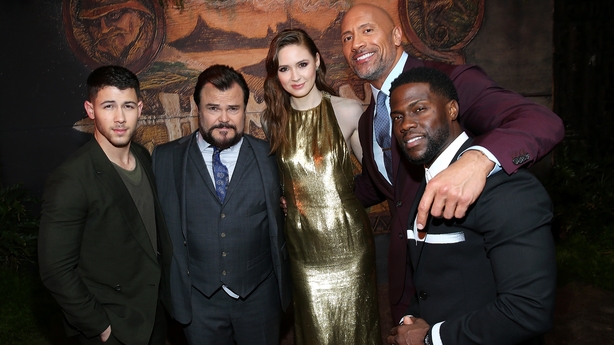 The actors star alongside Karen Gillan and Nick Jonas in the action-adventure spectacle that was filmed in Hawaii. Wrestler-turned-Hollywood A-lister Johnson said it was particularly significant for him to shoot in Hawaii, where he spent part of his childhood.
"It meant a lot to me to film in Hawaii, I'm very proud of Hawaii", Johnson said. "It has a really rich history and not only that but just for our movie Hawaii has a beautiful backdrop and landscape of jungle and mountainous terrain, it's really gorgeous.
"I was very happy to get back to Hawaii and bring these knuckleheads with me" he added with a smile.
Nick Jonas told RTÉ Entertainment that he thought he was the cast-member who would be best equipped to tackle a real-life jungle adventure, with Dwayne Johnson coming a close second. Jack Black had other thoughts on the matter.
"I mean, just Dwayne, automatically everyone thinks he's going to be the outdoorsman. He could be on the cover of The Outdoorsman magazine," Black quipped.
"But the truth is, I'm the one who went three months in the wilderness for Outward Bound which is an organisation for youths in the United States. So I have some camping skills, or at least I did!"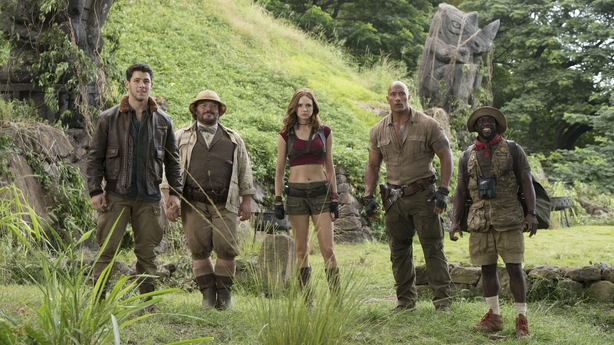 Jumanj: Welcome to the Jungle centres around four high-schoolers who are unexpectedly pulled into the Jumanji video game and must complete the game to make their way back to the real world. In an amusing twist, Johnson, Hart, Black and Karen Gillan play the teenagers' avatars in the video game. The social-media obsessed Bethany has the short end of the stick as she becomes Jack Black in the world of Jumanji. Perhaps surprisingly, Black's take on a self-absorbed, superficial American teen is the star of the show.
Black said of becoming Bethany: "This character was sort of in my toolbox since I was in college and no one ever asked me 'Hey, would you play a teenage girl?' and I was like 'You know it's funny you're asking me that because I have one ready to go'. So I was actually just thrilled to get a chance to do that."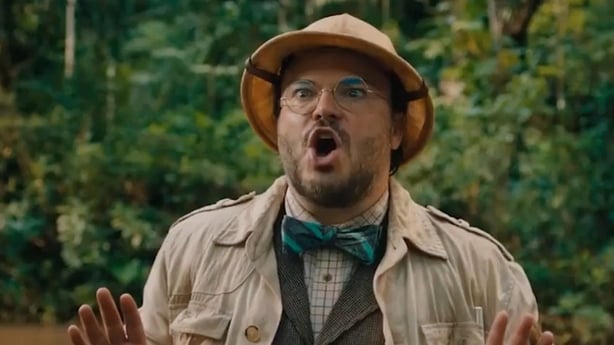 "You knocked it out of the park man," Kevin Hart said. "He literally snuck us with us, caught us off guard, we were laughing nonstop and that was an important piece of the puzzle. I think it's the breakout character of the film."
Dwayne Johnson added: "The first scene we shot on our first day on set was when we get delivered into the world of Jumanji and we're discovering who we are and these body changes, and what's happening.
"Kevin does his character, we're laughing, cut, I do mine, laughing, cut, Karen does hers, laughing, cut and then finally when Jack did it was game over."
Jumanji: Welcome to the Jungle hits cinemas on December 20.
We need your consent to load this YouTube contentWe use YouTube to manage extra content that can set cookies on your device and collect data about your activity. Please review their details and accept them to load the content.Manage Preferences