Locals in Donegal and Kerry have been treated to special screenings of the latest instalment of the Star Wars saga ahead of today's countrywide release of the Last Jedi.
Those who welcomed and helped the cast and crew on locations at Sceilig Mhichíl off the Kerry coast and at Malin Head in Co Donegal, were invited to exclusive screenings of The Last Jedi.
Hamill's Luke Skywalker and co-star Daisy Ridley's character Rey appeared in scenes filmed at the locations.
Hamill said his own thank you in a specially pre-recorded message before a screening in Letterkenny, Co Donegal in the early hours of this morning.
There will be another special screening held in Dingle, Co Kerry later today.
"I can't wait to come back to a country that made me feel like a member of the family," Hamill said in his message.
"So may the force be with you all and pour a pint of Guinness for me, will you."
Take a look at Harry Guerin's interview with Star Wars: The Last Jedi director Rian Johnson below, where he talks about the experience of filming in Ireland.
We need your consent to load this rte-player contentWe use rte-player to manage extra content that can set cookies on your device and collect data about your activity. Please review their details and accept them to load the content.Manage Preferences
At Century Cinemas in Letterkenny, Co Donegal, two Stormtroopers from a costuming club were waiting to greet more than 200 locals who were involved in the shoot at Malin Head.
The guests were treated to champagne and canapés, courtesy of Donegal County Council, before settling down for their own private showing.
Joe and Geraldine Divers' farmland at Malin Head was used as the film crew's base camp.
"I enjoyed the film," said Mr Divers after the show.
"I was totally unaware and had no history of Star Wars so when they all arrived it was surreal and to be here tonight and to see the magnitude of the galaxy and how small Malin Head is, it's absolutely amazing."
Ms Divers said she spotted the landscape at different points in the film.
"It's amazing to see it now and it's lovely to have been part of it," she said.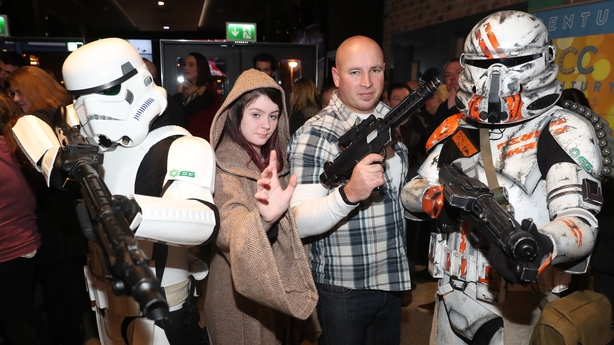 The long-awaited release of the Last Jedi meant that tradesmen, caterers and other local business owners were finally freed from secrecy agreements that prevented them talking about their experiences.
Scaffolding expert Eddie Gallen and his team built the Millennium Falcon on one of Malin Point's rocky cliff edges.
"Until we saw it finished we only knew then what it was, because everything was done piece by piece," he said.
"When the decorators finally came in and did the decorations and added on the different little gadgets, simple wee things, it turned into a space ship overnight."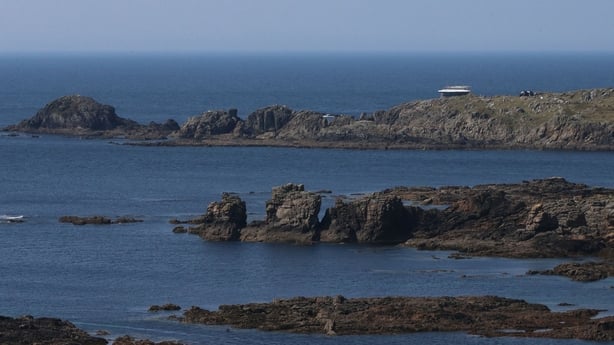 Bren Whelan runs a climbing company in Malin Head. His rope skills were used to safely transport Hamill and Ridley on and off rugged outcrops to shoot their scenes.
"This was certainly one of the coolest crews out there," he said.
"Mark Hamill and Daisy Ridley were brilliant - really, really nice people, so easy to work for and work with.
"It was really a dream job for someone who works at Malin Head all the time - very unusual and very exciting too."
Dominic McDermott served coffee and tea on set from his mobile refreshment bar.
Luke Skywalker was one of his regular visitors.
"Mark Hamill always stopped with us, he'd come behind the bar and pretend to make coffees," he said.
"He loved being in Malin Head, he loved being in Ireland and he loved the people - he would chat and chat to people - it was just a joy to see him."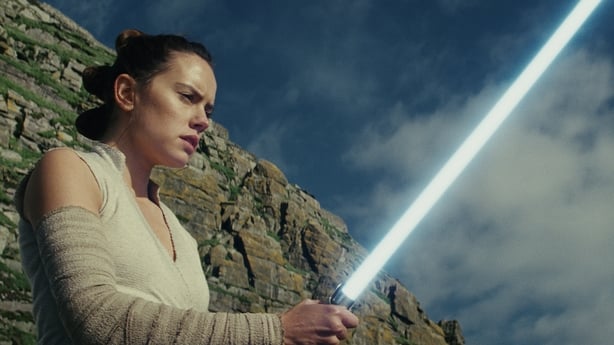 Hugh Farren runs a pub that sat within the tight security cordon erected round the film set.
"When people see it on the screen it's going to make another big reason for people to come this far north," he said.
"Mark Hamill came to the bar on the Sunday night, after the third day of filming, he came to the bar and I got a photo with him and he signed a boot so I got a little bit of memorabilia to show people - the photo's up on the bar now as well."
Aideen Doherty, from the Donegal Film Office, played a key role in persuading Disney to shoot at Malin Head.
"We are a dot on a map which is a dot on a map on the edge of Europe," she said.
"But we are one of the most spectacular places in the world and Star Wars has demonstrated that to a global audience."