From sex robots to comedy, choirs to canals, it's quite a mixed TV bag tonight. On the way out are Channel 4's Trump documentary series, The History of Comedy and Vice Principals.
Pick of the day
The Sex Robots are Coming, 10.00pm, Channel 4
No, this isn't some low-budget slice of sci-fi porn. It's a very sad, soon-to-be reality.
Successfully combining AI technologies in a mass-produced robot capable of intimacy and sex has never been done before, and the race is on to be the first company to get one on the market.
Filmed over two years, this documentary - part of Channel 4's Rise of the Robots season - follows one company as they build a prototype sex-bot called Harmony.
The programme also meets James, who owns four sex dolls and can't wait to have his own AI girlfriend.
This has got to be the jaw-dropping TV show of the week.
New or Returning Shows
Live at the Apollo, 10.00pm, BBC Two
The award-winning comedy series returns for a 13th run of various funny folk performing at the excellent Hammersmith Apollo in London.
This opener is hosted by stand-up and panel show regular, Sara Pascoe.
As well as warming up the crowd, she'll be introducing the night's special guests: Larry Dean and Gary Delaney.
Here's Sara Pascoe in action:
David Brophy's Choir of Ages, 10.15pm, RTÉ One
Ireland's world-renowned concert orchestra conductor and choirmaster David Brophy is back with a new vision.
After his transformational experience with the High Hopes Choir where he proved that music could bring hope and positivity to the lives of men and women affected by homelessness, he is now on a mission to empower our youngest and oldest citizens, tackle loneliness and digital isolation, and to use music to bridge the gaps that exists between them.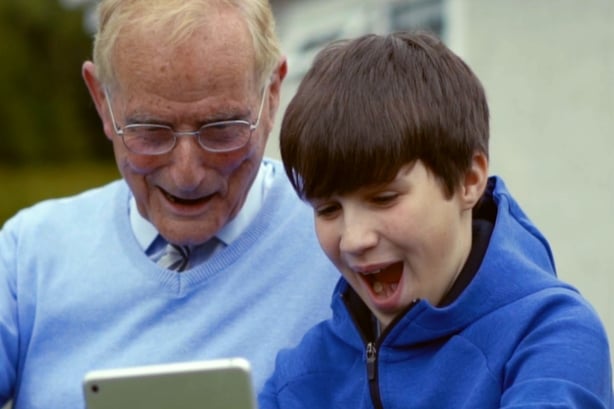 Great Canal Journeys, 8.00pm, Channel 4
In a new two-parter, Timothy West and Prunella Scales head for the dramatic landscape of north-west Portugal, to embark on a voyage down the Rio Douro.
From the sea, they follow the old port trade route featuring hilltop vineyards, on a journey that combines two of their favourite things - water and wine.
They visit the Factory House, a very traditional English gentlemen's club in Porto. They also visit some stunning wine estates.
Here's what they got up to last year:
Ending Tonight
Trump: An American Dream, 9.00pm, Channel 4
The concluding part of the major series exploring Donald Trump's extraordinary life brings him closer to The White House.
He's in his late 60s and ready to take residence in the one piece of American real estate that money allegedly cannot buy. Interviews with political advisor Dean Barkley and seasoned presidential mentor Roger Stone reveal the atmosphere as Donald dips his toe into the presidential pool, toying with reform party candidacy. However, the Donald's presidential impulses take a back seat as he's testing the waters and waiting.
As the world laughs at Trump, his fame increases, but when he takes the White House, he's the one with the biggest grin.
Vice Principals, 10.00pm, Sky Atlantic
I gave up on this only sporadically funny and largely mean-spirited sitcom a few weeks back, but I might tune in for this last-ever episode, the season two finale.
As the HBO comedy comes to an end, the egocentric Gamby (Danny McBride) and Russell (Walton Goggins) realise that the only thing harder than gaining power is holding on to it.
The History of Comedy, 9.00pm, Sky Arts
In the eighth and final episode of this hugely enjoyable CCN series, the focus is on politics and political leaders.
It examines the many different ways that comedy has both lampooned and influenced politics over the years and pays tribute to the best political cartoons, impressions and sketches that were incredibly funny, and perhaps even changed a few minds.
Don't Miss
Ireland's Greatest Sporting Moment, 9.30pm, RTÉ2
In the fourth episode Donal Lenihan, Derval O'Rourke, Eamon Dunphy debate the best Irish sporting moment of the 2000s with the winning moment determined by a live social media and text vote from viewers at home.
Presented by Des Cahill and Evanne Ní Chuilinn, it's the penultimate show of the run and next week will see the ultimate winner being announced.