Bernard MacLaverty, Marian Keyes, John Connolly and Ruth Fitzmaurice were among the winners at the Bord Gáis Energy Irish Book Awards 2017 on Tuesday night, with new Irish writers also honoured for their debut books.
Renowned poet Eavan Boland was presented with the Bob Hughes Lifetime Achievement Award and bestselling children's author and broadcaster David Walliams was the recipient of the Bord Gáis Energy International Recognition Award - a special award made to international authors who have contributed substantially "to the health and wealth of the Irish book-trade".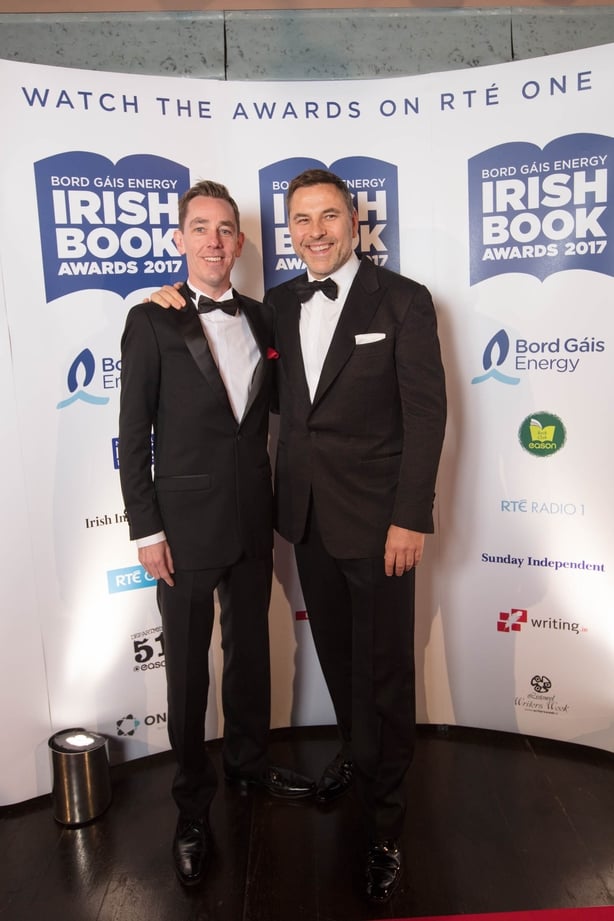 Now in its 12th year, the ceremony took place in Dublin's Clayton Hotel, and was attended by Irish writers, publishers, booksellers and authors including Sinéad Moriarty, John Banville, Roddy Doyle, Eoin Colfer and Ross O'Carroll Kelly writer Paul Howard.
Roz Purcell, Ryan Tubridy, Vogue Williams and Caitríona Perry, food writers Rory O' Connell, Rachel Allen and Neven Maguire, and sports stars Shay Given, Philly Mc Mahon, and Colm Cooper were also in attendance.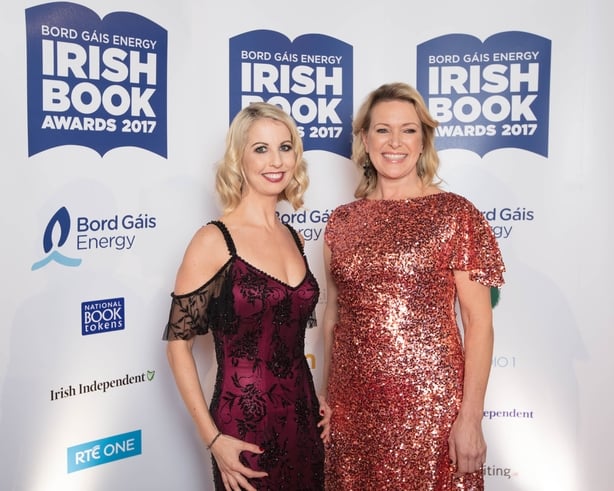 This year's awards ceremony was presented by RTÉ's Keelin Shanley and Evelyn O' Rourke, with each winning author interviewed by O'Rourke in the Bord Gáis Energy Green Room.
The interviews, along with highlights from the awards ceremony, will be broadcast on RTÉ One at 9:30pm on Wednesday, November 29.
Speaking on the red carpet ahead of the ceremony, Cecelia Ahern, who was nominated for Young Adult Book of the Year for her novel Perfect, told RTÉ Entertainment that it is always an honour to be shortlisted.
"It's a real honour, I don't mind if I don't win, for me it's not about winning, but to be acknowledged and get that recognition and to be included with everyone else is like a nice pat on the back," Ahern said.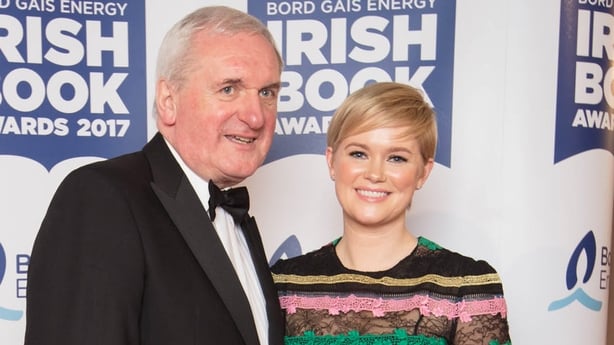 Ahern was unable to give any updates on the planned Hollywood adaptation of her novel Flawed, saying, "I have no updates. Hopefully I will soon, I've been working on a few things that will be very exciting when I'm allowed to talk about them. But in that business it takes so long for anything to happen that you're constantly working on it, very slowly."
English author Anthony Horowitz echoed Ahern's sentiments saying he was very excited to be nominated for the Ryan Tubridy Show Listener's Choice Award for his book The Word is Murder, and was glad to get to spend some time in Ireland "the most literary of nations".
"I just arrived this morning and went straight into town to have a walk around. It is such a beautiful city, every time I come here I just have to walk and enjoy the atmosphere and since then I've working in my hotel room on my new book, which of course doesn't wait for awards or anything else, it has to be finished," he said.
RTÉ's outgoing Washington Correspondent Caitriona Perry was nominated at the awards for her book In America: Tales from Trump Country, and said it was an exciting moment as she spent much of her childhood in the library.
"It's very exciting, for me, being a little kid surrounded by books, plaguing my parents to bring me to the library all the time, just writing a book was massively exciting, and then to be shortlisted for Best Non-Fiction in your first book ever, is very, very exciting," Perry told RTÉ Entertainment.
Another first time nominee Vogue Williams, whose book Everything was shortlisted for the Ireland AM Popular Non-Fiction Book of the Year, recalled the moment she held her book in her hand for the very first time.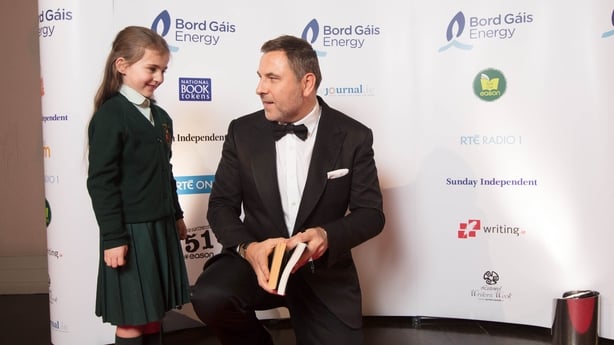 "It was something I always wanted to do, was to write a book," Williams told RTÉ Entertainment.
"It was my goal of two years ago and it was a lot harder than I thought it was going to be. I didn't have much time off because any day I would have off I would spend writing, or any moment I had off. It really was quite difficult but it was so amazing at the end of it to hold my own book, so I'm delighted I did it."
Williams added that she loves seeing feedback online from readers of the book. "If people hadn't been commenting and saying they enjoyed it, it would've defeated the purpose of doing a book; I didn't write it for myself, I wrote it for other people. I'm just delighted that loads of people are enjoying it."
Roz Purcell, who was nominated for Cookbook of the Year for Half Hour Hero, said her younger self never would've imagined she would become an author.
"It's a night that's really inspiring but it's also a night where I can't believe I'm in my shoes. My younger self in English class, or any secondary school situation would be like, 'I'll never be an author' so yeah, it's absolutely amazing to be part of tonight and it's kind of surreal to be honest," Purcell said.
Commenting on this year's winners, Larry Mac Hale, Bord Gáis Energy Irish Book Awards Chairperson, said: "When you scan the list of award winners, it makes you feel proud to be part of an industry that produces so many great Irish writers.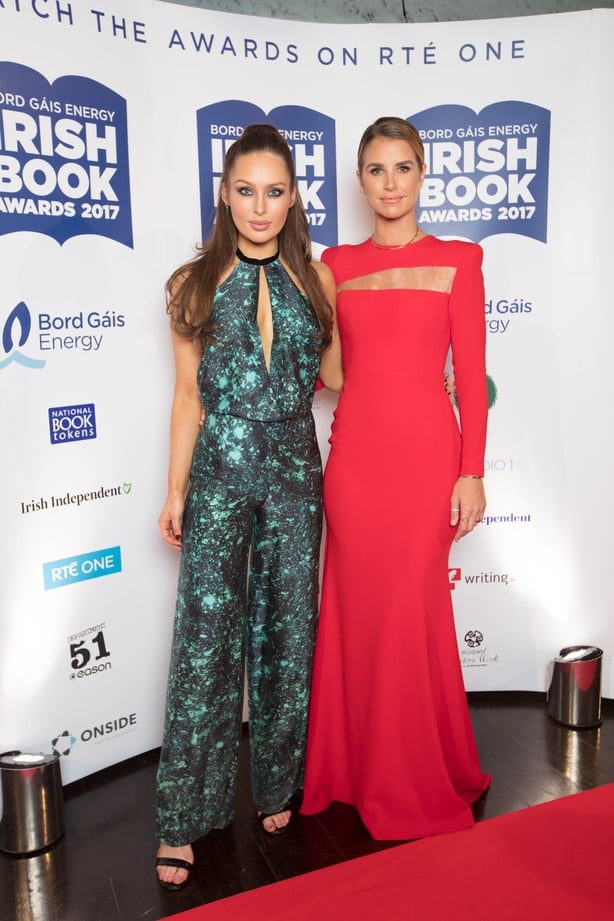 Across all genres, every kind of fiction, nonfiction, and children's books, we're seeing brand names at the very top of their game.
"What's even more encouraging is the number of young writers who are breaking through every year. Irish writing is in good hands and I really hope that more and more people will support them by giving books for Christmas this year."
This year, in excess of 50,000 readers and book lovers made their voices heard and voted to select the winners in each category. From tomorrow, November 29, the public can vote for their overall Bord Gáis Energy Book of the Year. Click here.
"What's even more encouraging is the number of young writers who are breaking through every year." - Larry Mac Hale, Bord Gáis Energy Irish Book Awards Chairperson
Voting is open until midday on 15th December and anyone who votes is in with the chance of winning €100 in National Book Tokens. Previous winners of the Bord Gáis Energy Book of the Year include Mike Mc Cormack for Solar Bones, Louise O' Neil for Asking for It, Mary Costello for Academy St, Donal Ryan for The Spinning Heart, Michael Harding for Staring at Lakes, and Belinda McKeon for Solace.
The full list of winners for the Bord Gáis Energy Irish Book Awards 2017:
TheJournal.ie Best Irish Published Book of the Year
Atlas of the Irish Revolution - John Crowley, Donál Ó Drisceoil, Mike Murphy and John Borgonovo (Cork University Press)
National Book Tokens Children's Book of the Year (Junior)
A Sailor Went to Sea, Sea, Sea - Favourite Rhymes from an Irish Childhood - Sarah Webb illustrated by Steve Mc Carthy (The O' Brien Press)
National Book Tokens Children's Book of the Year (Senior)
Stand by Me - Judi Curtin (The O' Brien Press)
Dept 51@Eason Teen/Young Adult Book of the Year
Tangleweed and Brine - Deirdre Sullivan illustrated by Karen Vaughan (Little Island)
Eason Book Club Novel of the Year
Midwinter Break - Bernard MacLaverty (Jonathan Cape)
Specsavers Popular Fiction Book of the Year
The Break - Marian Keyes (Michael Joseph)
Irish Independent Crime Fiction Book of the Year
The Therapy House - Julie Parsons (New Island Books)
Sunday Independent Newcomer of the Year
I Found my Tribe - Ruth Fitzmaurice (Chatto & Windus)
Onside Non-Fiction Book of the Year
Wounds: A Memoir of War & Love - Fergal Keane (Williams Collins)
Ireland AM Popular Non-Fiction Book of the Year
Motherfoclóir - Darach Ó Séaghdha (Head of Zeus)
EUROSPAR Cookbook of the Year
Cook Well, Eat Well - Rory O'Connell (Gill Books)
Bord Gáis Energy Sports Book of the Year
The Choice - Philly McMahon with Niall Kelly (Gill Books)
RTÉ Radio 1's The Ryan Tubridy Show Listener's Choice Award
he: A novel - John Connolly (Hodder & Stoughton)
Listowel Writer's Week Irish Poem of the Year
Seven Sugar Cubes - Clodagh Beresford Dunne (From the Irish Times)
Writing,ie Short Story of the Year
Back to Bones - Christine Dwyer Hickey (Longlisted for Sunday Times EFG Short Story Award)