U2 have been awarded the the Global Icon Award at the MTV Europe Music Awards, they were beaten by Ed Sheeran in the Best Live category.
On receiving the prize, They dedicated their award to record producer Chris Blackwell.
.@U2 is dedicating their Global Icon award to legendary record producer Chris Blackwell!

— MTV EMA (@mtvema) November 12, 2017
rocked out in Trafalgar Square on Saturday ahead of receiving the Global Icon award at the MTV Europe Music Awards.
The group kicked off Saturday night's concert, headlined by DJ David Guetta and organised by MTV in the lead-up to the channel's Europe Music Awards (EMAs), which is set to be hosted by Rita Ora at the SSE Wembley Arena on Sunday.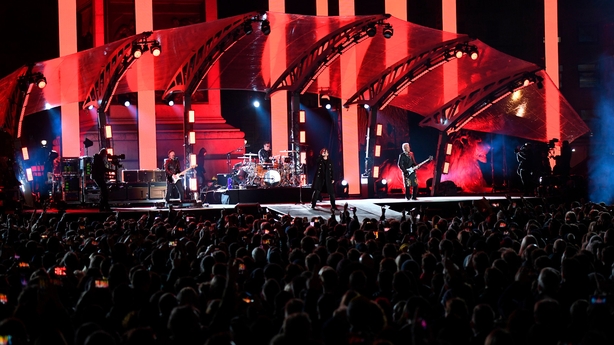 Hundreds of fans gathered for the performance, which saw the frontman toss an Irish flag into the crowd, and display the words from Martin Luther King's famous speech.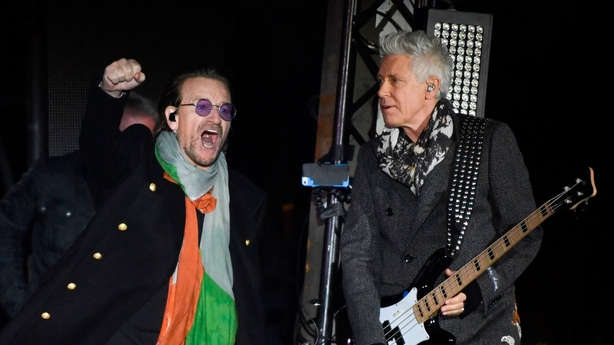 During the set U2 paid tribute to the victims of the Manchester Arena bombing. Bono mentioned the city as the group opened the show with hit track Sunday Bloody Sunday, while the names of those who lost their lives in the terror attack earlier this year were lit up on tall display boards.
He dedicated track In The Name Of Love to "the military", telling the audience: "I was never expecting to learn that the people who most value peace are the ones who pay the price for peace.
"So we dedicate this song to the military who have lost their lives on all sides."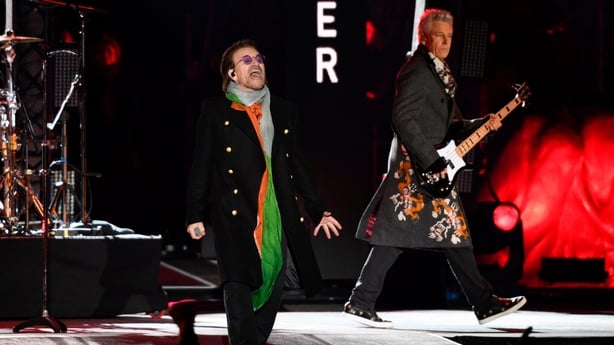 The band played a mixture of well-known hits and new material as they celebrated more than 40 years in the business together.
The performers also dropped in two tributes to late music legend David Bowie, including the lyrics of Starman into Beautiful Day, followed by a statement of gender equality.
"When the women of the world unite to rewrite the story in her way, that's a beautiful day," Bono said.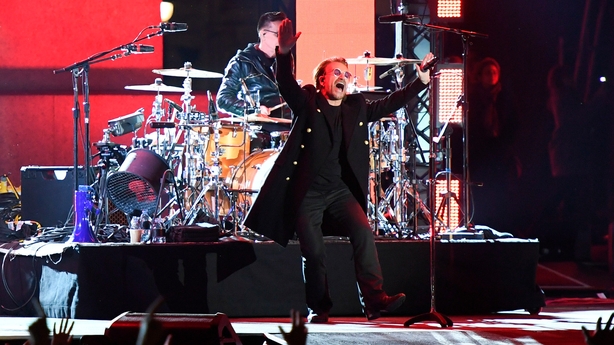 As Bono closed the set, he invited the audience to hold up their poster placards on all subjects in front of the MTV event's video cameras.
"Protesting in the end works - it gets things done, slowly but surely," he said before playing Get Out Of Your Own Way.
Some of the signs handed out to the crowd as part of the Get Out Of Your Own Way video shoot. #MTVEMA #u2trafalgarsquare #SongsOfExperience pic.twitter.com/aGVYcAwzv1

— U2start.com (@U2start) November 11, 2017
Former recipients of the Global Icon Award include Ozzy Osbourne, Eminem, Whitney Houston, Queen and Bon Jovi.