If you're going no further than the sofa, here are some tips on what's worth watching on the box over the weekend. As ever, it's a busy one...
Pick of the weekend
Howards End, 9.00pm Sunday, BBC One
EM Foster's much-loved novel becomes the latest Sunday night period drama by the Beeb and starring Matthew MacFadyen and Hayley Atwell. They do this stuff so well.
It's springtime 1905 in England and Margaret Schlegel is at home with her overbearing Aunt Juley and her hypochondriac brother Tibby when she receives a letter from her younger sister Helen, who is visiting the Wilcox family at their country house, Howards End.
On hearing that Helen has fallen for the youngest Wilcox son, Paul, Aunt Juley is swiftly dispatched to Howards End to represent the Schlegel family - slightly prematurely as the engagement does not come to pass.
In a twist of fate the Wilcoxes move up to London and end up renting the apartment across the street from the Schlegels, and Margaret strikes up a friendship with enigmatic but ailing Mrs. Wilcox.
New or Returning Shows
2017 MTV EMAs, 8.00pm Sunday, MTV
Here's something you don't see much of these days: music on MTV.
Back in London for the first time since 1996, the Wembley Arena hosts the MTV European Music Awards with Stormzy, The Killers, Demi Lovatom, Shawn Mendes and Camilla Cabello all set to perform.
Alan Shearer: Dementia, Football and Me, 10.30pm Sunday, BBC One
Former England international Alan Shearer investigates the potentially devastating link between football and dementia in this one-hour documentary.
Discussing the issue with footballing legends past and present, he also turns himself over to science - before taking his finding to the English football authorities.
Extreme Wives with Kate Humble, 9.00pm Friday, BBC Two
In this series Kate Humble explores three diverse and extraordinary communities in Kenya, Israel and India, where the roles of women are exceptional, complex and sometimes extreme.
In the first episode, she's in southwest Kenya in the district of Kuria. The people are polygamous, but they also practice woman-to-woman marriage known as Nyumba Mboke.
Rolling Stone: Stories from the Edge, 9.00pm Friday, Sky Arts
Directed by Alex Gibney and Blair Foster, this six-part documentary series from HBO tells the fascinating story of Rolling Stone magazine.
This documentary looks back over the past 50 years to tell the story of the publication that understood rock'n'roll was more than music: it was a cultural force that reshaped America.
Ending this weekend
Porridge, 8.30pm Friday, BBC Two
Fans of the original series will be glad to see the back of this dire reboot.
Fletch (Kevin Bishop) and cellmate Joe (Dave Hill) get on each other's nerves - life can be tough inside. But it's at times like this that you really find out who your friends are.
Food Unwrapped, 8.00pm Friday, Channel 4
Jimmy Doherty, Kate Quilton and Matt Tebbutt continue their global quest to uncover the truth about the food we eat.
In Scotland, Jimmy finds out how some whisky gets its smoky flavour. In Cyprus, Matt asks why halloumi cheese doesn't melt. And in France Kate visits the world's biggest sweetcorn factory to find out how they get corn off the cob so neatly.
Sing: Ultimate A Capella, 9.00pm Friday, Sky One
It's the big finale of Sky One's nowhere-to-hide singing show, so who will take the top prize and get the chance to record at the legendary Abbey Road studios?
Below the Surface, 9.40pm Friday, RTÉ2
Just in time for Saturday's World Cup qualifier, this Danish drama comes to an end.
In the first of two episodes, Philip learns the identity of the main hostage taker and is choked about his personal involvement in the case that leaves a role for Naja to play.
Later, Philip goes down into the metro himself hoping to free the last three remaining hostages and is confronted by the man he thought was dead.
New to Download
The Pacific, From Friday, Sky Box Sets & Now TV
Executive produced by Tom Hanks, Steven Spielberg and Gary Goetzman, this multi-award-wining miniseries tracks the intertwined real-life stories of three US Marines across the Pacific Theatre during World War II.
It's no Band of Brothers, but it's a pretty good HBO production.
Lady Dynamite, from Friday, Netflix
Season two sees domestic bliss turning to mayhem as Maria grapples with trust issues, bad advice from her childhood and the stresses of cohabitation.
WARNING: this trailer contains coarse language
Don't Miss
World Cup 2018 Qualifier: Denmark v Republic of Ireland, 7.25pm Saturday, RTÉ2
Here we go part one: the Republic of Ireland's World Cup qualification comes down to this, as Martin O'Neill's men meet Denmark in Copenhagen for the first leg of their decider.
Coverage begins a little later than normal due to an earlier rugby match between Ireland and South Africa, but you won't miss any of the action.
Host Darragh Maloney is joined by Damien Duff, Eamon Dunphy and Liam Brady for live coverage from Parken Stadium. Commentary from George Hamilton and Jim Beglin (KO 7.45pm).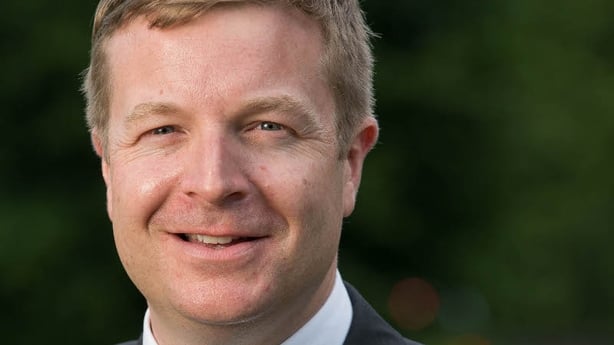 Chat Show Line-ups
The Late Late Show, 9.35pm, Friday, RTÉ One
Tubs' turns this week are actor Brendan Gleeson, US celebrity Caitlyn Jenner, US Ambassador to the United Nations Ambassador Samantha Power, retired footballer Kevin Doyle, comedian Tommy Tiernan and country legend Philomena Begley

The Graham Norton Show, 11.05pm Friday, BBC One & 9.40pm Saturday, TV3
Actor Hugh Grant, Grammy winner Kelly Clarkson, Aquaman star Jason Momoa, and comedian Sarah Millican share Graham's sofa
The Ray D'Arcy Show, 10.10pm Saturday, RTÉ One
Ray's guests are former footballer Niall Quinn, former rugby player Donncha O'Callaghan, Dr Pixie Mc Kenna, broadcaster Bibi Baskin, and chef Neven Maguire
The Jonathan Ross Show, 9.00pm, Sunday, 3e
Legendary singer Grace Jones, Great British Bake Off winner Nadiya Hussain, and X Factor judge Nicole Scherzinger are in for a chat, while Stormzy supplies the music
Weekend movies
The Thin Red Line, 11.15pm Sunday, Sky Cinema Greats
Coming out the same year as the massively hyped Saving Private Ryan, Terence Malick's 1998 war movie is at least as good, and fits in nicely with his previous films, Badlands (1973) and Days of Heaven (1978).
Based on the novel by James Jones, it tells a fictionalized version of the Battle of Mount Austen, which was part of the Guadalcanal Campaign in the Pacific during World War II.
Also...
Men in Black, 4.45pm Sunday, Channel 4
Tommy Lee Jones and Will Smith star in Barry Sonnenfeld's sci-fi comedy as K and J, newly partnered and smartly dressed in a top-secret government organisation that monitors the comings and goings of aliens on Earth.
Just Like Heaven, 9.30pm Saturday, TG4
Reese Witherspoon and Mark Ruffalo star in this fine romcom about a landscape architect recovering from the sudden death of his wife, who moves into an apartment haunted by a doctor.
Box Set Binge
Happy Valley Seasons 1-2, Netflix
Sarah Lancashire is exceptional as Catherine Cawood, a middle-aged police sergeant in this brilliant BBC police drama set and filmed in Yorkshire.
Sally Wainwright's superb writing is another major plus as she draws together the grind of police work with the lives of those who are doing the policing, as well as those central to their lives.
Seriously, this is one of the best shows the BBC has produced over the last few years.