Stand-up comedian and TV presenter Al Porter has admitted that he's "red faced" watching his show Blind Date Ireland.
The Dublin star, who has followed in Cilla Black's footsteps to host the Irish version of the classic matchmaking programme on TV3, says the cringe-factor is high when he's watching it back.
Speaking to RTÉ Entertainment at the launch of Polly and the Beanstalk, this year's Olympia Theatre panto, he said: "There are very eccentric characters on it, it is kind of watch it through your fingers cringe-viewing.
"I'm not going to lie, I'm as red faced and embarrassed watching it as some of the people at home. I think I look a bit nervous actually, but then it's all one big national mortifying experience, but it's fun!"
@OlympiaPanto star @TheAlPorter is delighted with the success of #BlindDateIreland but says he's as red-faced watching it as people at home! pic.twitter.com/K5MEq3nkTg

— Entertainment on RTÉ (@RTE_Ents) November 7, 2017
The 24-year-old comedian is returning to The Olympia stage for an impressive 14th consecutive year in the Christmas panto, Polly and the Beanstalk, alongside professional troublemaker Dustin the Turkey and Fair City star Ryan Andrews.
This year, as well as starring in the show, Porter has also written the panto alongside fellow stand-up comedian Karl Spain, and co-produced it.
"All that time as a kid in theatre paid off, it's a dream come true", Porter said. "I worked as a kid with panto stars like June Rodgers and Twink and Johnny Logan and Linda Martin and now to be able to say that I'm the producer - I'm the writer for the last three years has been so exciting.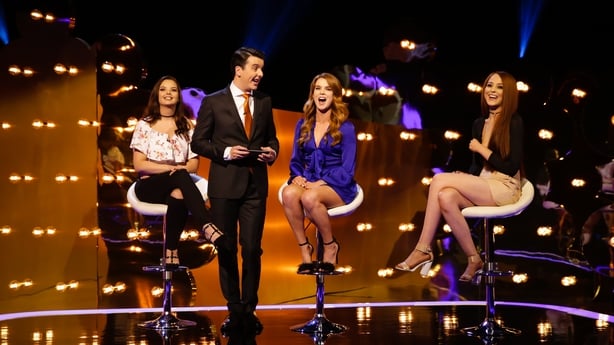 "For me it's a Christmas tradition, I come back and I meet with Ryan Andrews from Fair City who I know since I was a kid, Stuart who's my manager, we produce it together, and it really is a returning of friends and family to put on what is the biggest show of the year, it's huge!
"We've got an extra week this year, we're almost sold out, over 50,000 people come through the doors of The Olympia over Christmas to see a very, very silly show!"
He gave a taster of what audiences can expect this year: "The one thing The Olympia can pride itself on compared to the other pantos is a lot of jokes.
"I write it with Karl Spain, we're both stand-up comedians, we're not really theatre guys so we fill it full of jokes and lots of fun songs, and water-guns and confetti and nonsense for the kids and the family."
Porter added that his co-star Dustin the Turkey, who plays the Golden Goose in the panto, is "very difficult" to work with. "He's very funny, difficult to work with, he doesn't always say his lines at the right time, or at all in fact, he just does what he wants to do, but he is an essential cast member", he said. 
"Parents come because they remember him and then kids come and fall in love with him for the first time."
The brilliant @TheAlPorter told us all about this year's @OlympiaPanto - including which cast member is "very difficult" to work with... pic.twitter.com/So1YTMfCmd

— Entertainment on RTÉ (@RTE_Ents) November 7, 2017
Veteran TV star Dustin the Turkey is "over the moon" to be taking to the stage with Porter. "I've worked for 27 years in television and we never really had a live studio audience so when you go into The Olympia you get the buzz, you get the passion, you get the sweat, you get the popcorn, you get Al messing, it's just amazing it is", Dustin said.
"Al's brilliant, I share a dressing room with Al so the messing onstage is the same as the dressing room, but it never affects the panto it only makes it better. He's the biggest messer I've ever actually worked with but it's a pleasure to work with him, he's such a pro", he added.
Fair City actor Ryan Andrews, who plays Jack in the panto, said he had to pinch himself acting alongside Dustin, who was his childhood hero.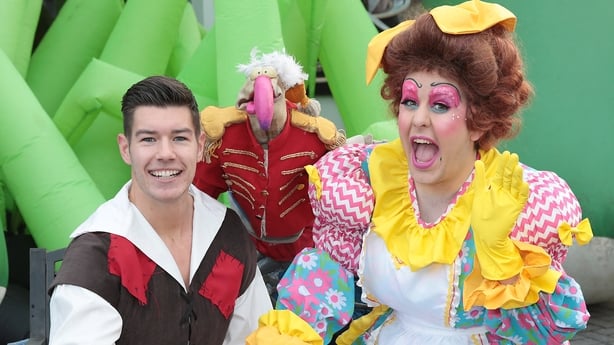 "All the way growing up I would watched him on The Den, and then to actually finally work with him was a dream come true. Genuinely I had to pinch myself last year when I was on the stage I was like 'Janey, I'm talking to Dustin the Turkey!'
"It was brilliant, even my brother and all, everyone is a big fan of him so I can't wait to work with him again", Andrews said.
Polly and the Beanstalk runs at Dublin's Olympia Theatre from Friday, December 15 to Sunday, January 14, 2018. For more information, click here.