Irish X Factor stars Sean and Conor Price may have received high praise from the judges at the weekend, but former contestant Louis Tomlinson had a piece of advice for the Wicklow brothers which sparked a Twitter battle with his One Direction bandmate Niall Horan. 
Tomlinson, whose career started on The X Factor, was quick to voice his opinion on the Price brothers after their rendition of Sean Paul's remix of Sia's Cheap Thrills on Saturday night, which saw them sailing through to next week.

He tweeted: "I like these little Irish lads but enough with the rapping."
I like these little Irish lads but enough with the rapping

— Louis Tomlinson (@Louis_Tomlinson) November 4, 2017
Responding in jest, Horan quipped: "Stop talking about me like that, I'll rap if I want . You know I can spit bars."
Stop talking about me like that , I'll rap if I want . You know I can spit bars .

— Niall Horan (@NiallOfficial) November 5, 2017
This kick-started a whole series of tweets between the boyband stars, much to the delight of their fans.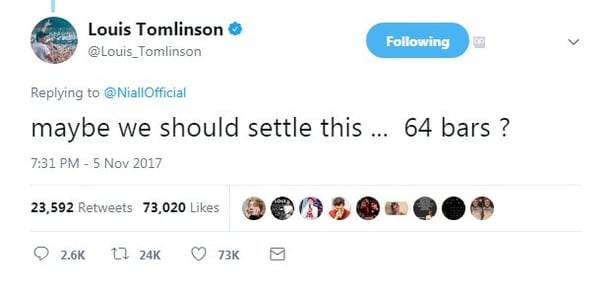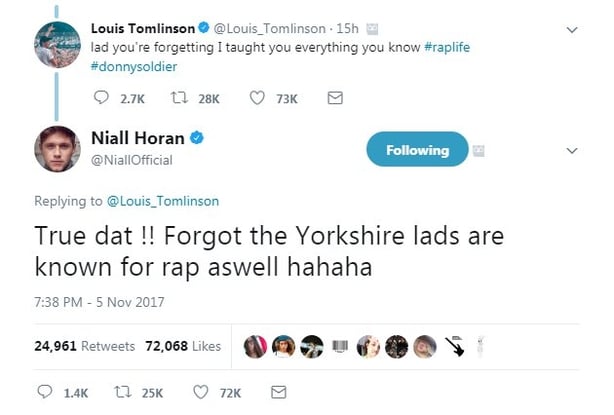 Wanting to get in on the friendly Twitter spat, Directioners responded with some pretty funny memes and GIFs - with this being our absolute favourite: 
NOUIS THE RAPPERS pic.twitter.com/mbADmnxTlC

— THANK YOU NOUIS (@tommobehappy) November 5, 2017
The Price brothers may not have impressed Tomlinson, but X Factor judges Louis Walsh, Sharon Osbourne, Nicole Scherzinger and Simon Cowell had plenty of good things to say about the siblings from Blessington. 
Fellow Irishman Walsh said they are "so talented" and that he thinks they are "going to go far".
Osbourne was overwhelmed with the support for the boys in the studio and exclaimed: "Have you got the whole of Ireland here tonight?"
Great version of Cheap Thrills, @sean_conorprice. We may well Sia next week after that. 👏🎤 🎸 #XFactor #VivaLatino #LiveShows pic.twitter.com/OEPJsBfKdG

— The X Factor (@TheXFactor) November 4, 2017
She added: "I love you; I love your personalities. Every time you perform I get a sense of who you really are.
"You are so natural in everything you do - I love your voice; I love your harmonies. It was just really good."
The only bum note came from Scherzinger who said: "Obviously, it's a challenge. You would never expect Bono to be [Mexican singer] Luis Miguel but you guys took on the challenge.
"I think I would have loved it even more if it was more broken down and more how you would do it. I think it was a little bit overproduced."
Cowell, who mentors Sean and Conor, jumped to their defence, saying: "Here's why I liked this: the more that people get to know you, the more they will like you.
"I think people are warming to you. I think you're really professional and really committed.
"I like that there's no moaning or anything - you just get on with it, you have fun and it's infectious."
This weekend, contestants will pay tribute to the late, great George Michael.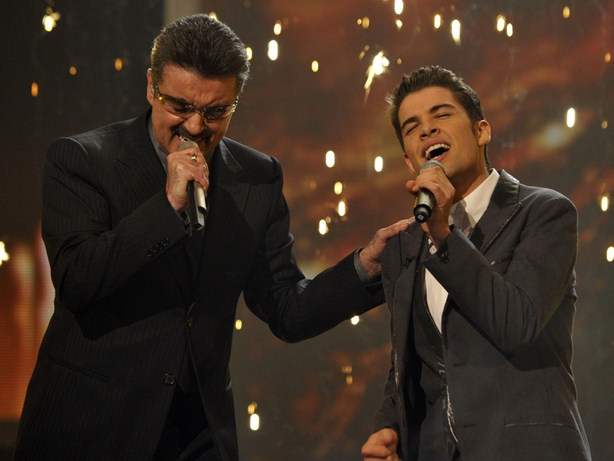 Michael took to The X Factor stage with 2009 winner Joe McElderry for the competition's final nearly ten years ago.
They sang George's classic Don't Let The Sun Go Down On Me, which was originally released by Elton John in 1974.
The X Factor, TV3, Saturday and Sunday