The well-known Irish film director and author Simon Fitzmaurice has died at the age of 43.
Fitzmaurice, who was in his early forties, directed two shorts, including one which was nominated at the Sundance Film Festival.
He was diagnosed with motor neuron disease in 2008 and given four years to live.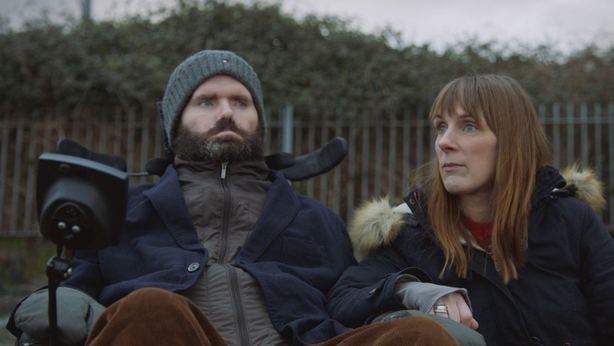 Fitzmaurice wrote the bestselling book It's Not Yet Dark, which described his battle with the disease and was adapted into a feature film this year. It was directed by Frankie Fenton and narrated by Colin Farrell.
He went on to direct the movie My Name Is Emily which was released in 2015 and was nominated for eight IFTA awards.
He is survived by his wife Ruth and five children.
We need your consent to load this rte-player contentWe use rte-player to manage extra content that can set cookies on your device and collect data about your activity. Please review their details and accept them to load the content.Manage Preferences
Tributes to the late author and director have been flooding in on Twitter with people hailing his "passion and creativity".
Terribly sad news about Simon Fitzmaurice. Someone who through a crippling disease never lost his passion and creativity. Rest easy.

— Mike AndrooOOOoos 👻 (@MKNDRWS) October 27, 2017
One of the most impressive Irish men has left us today. RIP #SimonFitzmaurice   Your courage was inspiring #itsnotyetdark  @SiFitz_

— AK (@andreakirwan) October 27, 2017
@SiFitz_ RIP to a true irish hero. An inspiration. Very sad news. #itsnotyetdark #MND #IMNDA #simonfitzmaurice

— Ciarán McPhillips (@ciaranmcp) October 27, 2017
Very sorry to hear Simon Fitzmaurice has died. RIP.

— Cinnamon Girl (@for29years) October 27, 2017
Desperately desperately sad news about Simon Fitzmaurice. Thinking of his amazing wife Ruth and their small kids. What a heroic attitude to life and love he passes on. #MyNameIsEmily

— Carol Smurf (@CarolSmurf) October 27, 2017
Very sorry to hear Simon Fitzmaurice has died: his film It's Not Yet Dark is terribly moving. Condolences to his family and friends. https://t.co/1hub5o1hd9

— John Maguire (@JMaguireCritic) October 27, 2017
Gutting to hear that Simon Fitzmaurice has died. He and his wife Ruth are exceptional in spirit, resolve and creativity. Sincere condolences

— Hilary A White (@HAWhiteK) October 27, 2017
Very sad to hear of Simon fitzmaurice passing. Thoughts with his family and friends. I hope he's gone to a better place.#itsnotyetdark ❤️

— C McG (@cailineile2013) October 27, 2017
https://t.co/ckogfS8Wms  Huge condolences to Simon's family, reviewed his documentary recently and found it both moving and inspirational.

— Arlene Hunt (@arlenehunt) October 27, 2017
Sad to hear of the passing of Simon Fitzmaurice. A remarkable man and filmmaker. RIP

— Stanley's Deathpark (@StansDeathpark) October 27, 2017
Rest in Peace, Simon Fitzmaurice. His positive legacy lives on. https://t.co/BJflVy73LW

— Caroline E. Farrell (@CarolineAuthor) October 27, 2017
Very sad news about Simon Fitzmaurice. Not many fight for their dreams as he had. RIP. https://t.co/QskOse3cVY

— 🎃 RI-SIDENT EVIL 💀 (@rioghnachNiG) October 27, 2017