Game of Thrones star Kit Harington has admitted he would love the chance to throw viewers one final curveball as the popular show nears an end.
With just a final season made up of six episodes left to go, fans of the show are speculating about the next chapter for Jon Snow and Daenerys Targaryen (Emilia Clarke), as their characters discover that they are related.
Speaking to the Guardian, Harington says he would love if his character got the chance to shock fans in the grand finale.
"I really hope that he just nods slowly and goes, 'Damned right'. Something really horribly inappropriate, and you found out Jon Snow's had a really sick mind the whole time."
"That's the way I'd love to play it. I'll try it for one take, anyway."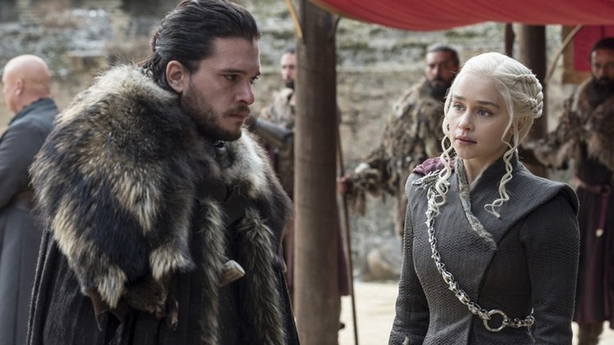 The 30-year-old actor, who is currently starring in BBC's new drama Gunpowder, says he's terrified of the original Game of Thrones pilot being leaked, which bosses have threatened to do if Harington isn't on his best behaviour.
"They made a lot of mistakes. It didn't look right, didn't feel right, had nothing different about it," he explained. "They say, if I ever p**s them off too much, they'll release it on YouTube. Every now and then, they send me a screengrab, just as a threat."
Game of Thrones scriptwriters have brought in tighter security measures for the series' final season and will reportedly feed actors their lines through an earpiece.