Channing Tatum has halted development on the film Forgive Me, Leonard Peacock which he was working on with The Weinstein Company.
The Hollywood actor and producer took to social media on Wednesday to say that he is cutting ties with the company after a wave of accusations of sexual harassment and abuse levied against the company's co-founder Harvey Weinstein.
Forgive Me, Leonard Peacock is based on Matthew Quick's 2013 young adult novel which is about a troubled teenager who has experienced sexual abuse and plans to kill his best friend and then himself.
The project was set to be Tatum and Reid Carolin's co-directorial debut.
Tatum released a joint statement with Carolin on Instagram which said that they will no longer produce the film with The Weinstein Company, or work with them again.
We need your consent to load this Instagram contentWe use Instagram to manage extra content that can set cookies on your device and collect data about your activity. Please review their details and accept them to load the content.Manage Preferences
"The brave women who had the courage to stand up and speak their truth about Harvey Weinstein are true heroes to us," the statement read. "They are lifting the heavy bricks to build the equitable world we all deserve to live in."
"Our lone project in development with TWC - Matthew Quick's brilliant book, Forgive Me Leonard Peacock - is a story about a boy whose life was torn asunder by sexual abuse. While we will no longer develop it or anything else that is property of TWC, we are reminded of its powerful message of healing in the wake of tragedy.
"This is a giant opportunity for real positive change that we proudly commit ourselves to. The truth is out - let's finish what our incredible colleagues started and eliminate abuse from our creative culture once and for all."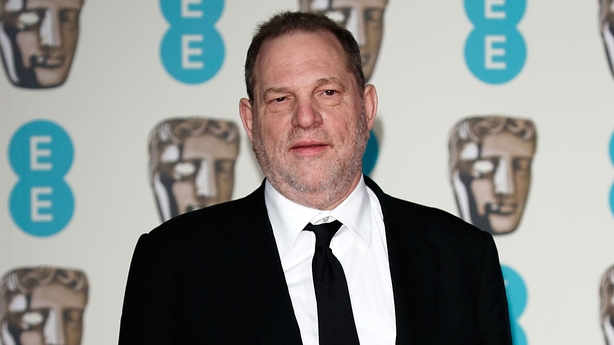 Weinstein has been accused of sexual harassment by a number of high-profile actresses in the film industry, including Gwyneth Paltrow, Angelina Jolie, Cara Delevingne and Rose McGowan.
The New York Times first broke the story detailing decades of alleged sexual abuse at the hands of the Hollywood producer, which was followed by a New Yorker article which contained three additional rape allegations, which Weinstein "unequivocally" denies.
Weinstein has resigned from the board of The Weinstein Company, over a week after the movie mogul was fired from his position at the firm.