A young Galway girl's dream has become reality after she was flown to LA to perform a song she wrote in honour of Ellen DeGeneres in front of millions on US television. 
17-year-old Eimear O'Tuathail from Galway sang her song Hey Ellen on the globally successful The Ellen DeGeneres Show after making a personal appeal to the queen of daytime TV.  
"Mum got the call about two hours after the first story about me ran on the RTÉ site two weeks ago, so we flew over to LA," the Ellen uber-fan told RTÉ Entertainment. "The only time I got to talk to Ellen was during the interview. I ran up to her and gave her a hug and we did the interview and it was about six minutes altogether.
We need your consent to load this YouTube contentWe use YouTube to manage extra content that can set cookies on your device and collect data about your activity. Please review their details and accept them to load the content.Manage Preferences
"I did cry when I met her but they cut it out! I ran up to her and I kinda get a bit emotional. I kinda forget what happened but I gave her a hug."
Eimear's interview and performance aired on US TV today (which you can watch in the clip above) and can be seen in Ireland when it's broadcast next week on ITV2.  
https://t.co/VQJF4kcFLb Hey @TheEllenShow, please have a listen to this song written by a young Irish girl especially for you!

— Entertainment on RTÉ (@RTE_Ents) October 3, 2017
The budding singer-songwriter was only given one chance to get the performance of her song right as she was told there would be no retakes on the show. "I was really nervous because they told me that an hour before I went on," she says.
"We had a rehearsal and I thought `Ok, I'll get to meet her before we did the interview and I won't be crying and I'll be fine and also if I do mess up on the real thing they can just use the performance from the rehearsal.'
"But they told me that the first time I'd meet Ellen was when I went out into the studio and the only performance they would air would be the live one. So if I messed up, that was it!"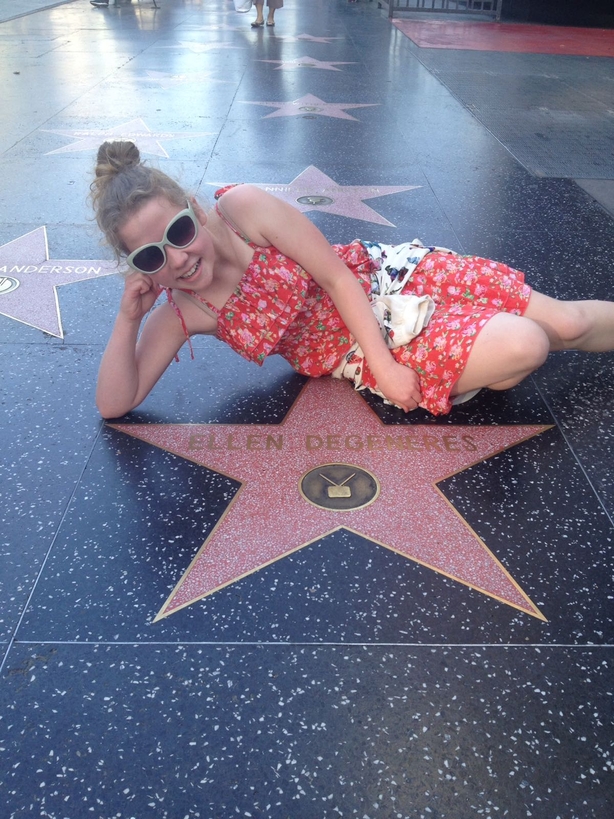 Eimear, who has been writing and singing since she was 12, and her mother spent six days in LA and they made the most of their trip.
"We went to the Hollywood sign and also the Hollywood Walk of Fame but the only star I wanted to see was Ellen's but it was so hard to find," she says. "We were walking up and down Hollywood for hours. We also went to Capitol Studios, which was cool." 
The Galway girl says she is torn between pursuing a career as a songwriter and her plans to study forensic psychology.
The $10,000 cheque she was presented with at the end of her performance on The Ellen DeGeneres Show will certainly help no matter what she chooses to do.
Irish viral video singers, Glenn Murphy and Ronan Scolard, also appeared on The Ellen DeGeneres Show earlier this year.