Mrs Brown's Boys star Brendan O'Carroll revealed on Friday's Late Late Show that he thought he was "a goner" during a health scare earlier this week.
A tired and drawn-looking O'Carroll told host Ryan Tubridy that he was taken ill in the small hours in Glasgow, where he is filming the Mrs Brown's Boys Christmas specials. 
"Monday... I got this bug," he said. "And it's really, really painful.
We need your consent to load this Facebook contentWe use Facebook to manage extra content that can set cookies on your device and collect data about your activity. Please review their details and accept them to load the content.Manage Preferences
"About two in the morning I had to wake Jenny [Gibney, wife and Mrs Brown's Boys co-star] up - imagine having to wake someone up when you're sick!
"No [laughing], she was awake, so I just went in and said, 'Listen, I think you should call an ambulance. I think I'm having a heart attack'."
Despite being in a very bad way at the time, O'Carroll's cardiac arrest fears were unfounded.
"It turned out I have - apparently it's going around - a very violent bug," he explained. "So all I can say is, as they said in Vietnam, 'Happiness is a dry fart!' And I'm feeling much better!"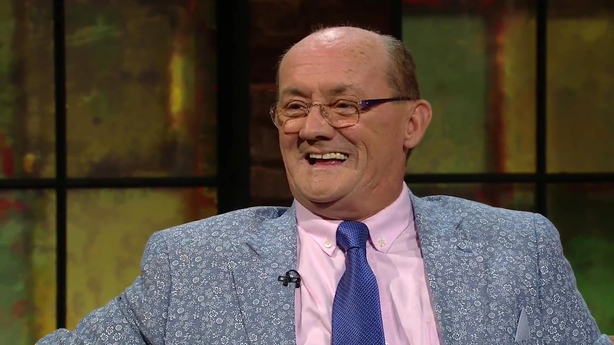 "I got the fright of me life," he admitted, briefly leaving the joking aside.
"When I got in the ambulance they immediately did a heart scan and went, 'Well, it's not your heart'. And I went [makes vomiting sound], 'wurrggh' the minute he said it!"
"You vomited it all out," offered Tubridy helpfully.
"For about 12 hours," O'Carroll replied. "I couldn't have eaten in six months what I threw up! We were watching something on telly and Jenny said, 'Did Trump come up?' and I said, 'He did if I f***** ate him!'"