Veep star Julia Louis-Dreyfus has announced that she has been diagnosed with breast cancer.
In a post on Twitter, the 56-year-old wrote: "1 in 8 women get breast cancer. Today, I'm the one."
"The good news is that I have the most glorious group of supportive and caring family and friends, and fantastic insurance through my union," continued the former Seinfeld star.
"The bad news is that not all women are so lucky, so let's fight all cancers and make universal health care a reality."
Just when you thought... pic.twitter.com/SbtYChwiEj

— Julia Louis-Dreyfus (@OfficialJLD) September 28, 2017
In a statement, Veep's makers, HBO, said: "Our love and support go out to Julia and her family at this time.
"We have every confidence she will get through this with her usual tenacity and undaunted spirit, and look forward to her return to health and to HBO for the final season of Veep."
Earlier this month, Louis-Dreyfus made history at the Emmy Awards by winning her sixth consecutive Best Comedy Actress Emmy for her role as Veep's Selina Meyer.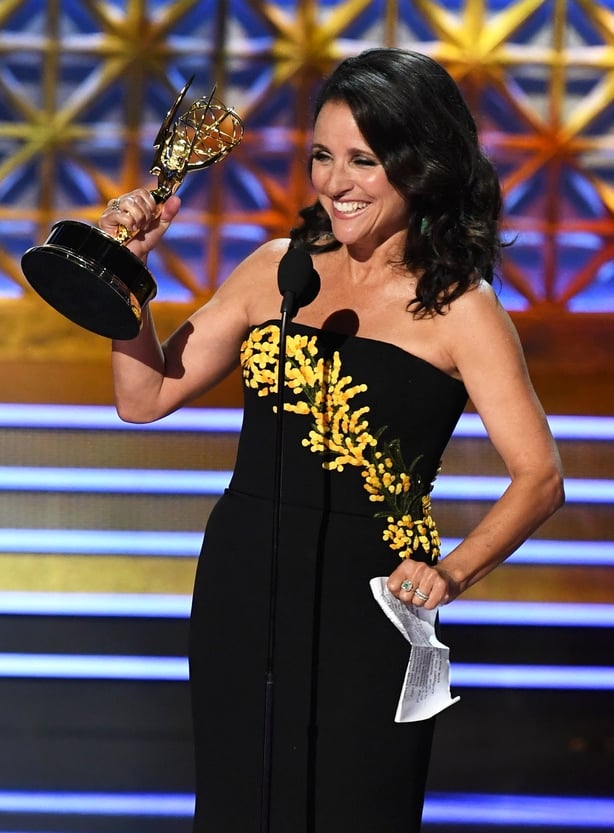 Louis-Dreyfus is also an Emmy winner for her work on The New Adventures of OId Christine and Seinfeld and is a Golden Globe recipient for the latter.
Her friends, fans and fellow actors have been showing their support:
❤️❤️so sorry and so in awe https://t.co/eHIrXiKm3h

— Sarah Silverman (@SarahKSilverman) September 28, 2017
J sending all my healing energy your way. You are incredible to use this moment as an opportunity to support others. Thank you. Much love xd https://t.co/okgfVDUeAW

— Debra Messing (@DebraMessing) September 28, 2017
It is possible to be dignified and fierce at the same time. I, and millions others, send Julia our love and support. https://t.co/XpVsiQrmj6

— Armando Iannucci (@Aiannucci) September 28, 2017
Cancer is no match for you. Stomp it good. xox

— Michael McKean (@MJMcKean) September 28, 2017
Sending our love and best wishes to Julia Louis-Dreyfus as she fights breast cancer. pic.twitter.com/FWo40v4doL

— Good Morning America (@GMA) September 28, 2017
Just when you thought... pic.twitter.com/SbtYChwiEj

— Julia Louis-Dreyfus (@OfficialJLD) September 28, 2017
We love this woman. pic.twitter.com/EqvF6HXpj0

— Tony Hale (@MrTonyHale) September 28, 2017
Sending love

— Nigella Lawson (@Nigella_Lawson) September 28, 2017