The stars of the small screen celebrated on Sunday night at the 69th Primetime Emmy Awards with Nicole Kidman, Elisabeth Moss, Sterling K. Brown, Alec Baldwin and many more taking home awards.
Oscar-winning actress Kidman added an Emmy to her bulging trophy cabinet having pipped her Big Little Lies co-star Reese Witherspoon to the Outstanding Actress in a Limited Series or TV Movie prize. 
Taking to the stage to accept her statuette, Kidman heaped praise on Witherspoon declaring that she "shared" her win with her.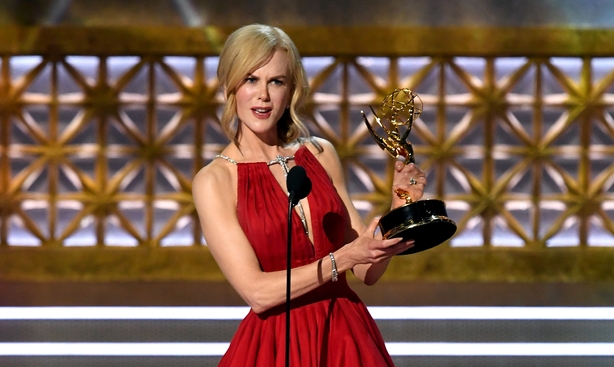 An emotional Kidman also paid tribute to her family. She said: "I am a mother to two little girls, Sunny and Faith, and my darling Keith, who I asked to help me pursue this artistic path and they have to sacrifice so much for it.
"So this is yours. I want my little girls to have it on their shelf and every time they think 'Mummy didn't put me to bed' they will know it was because of this. I got something."
And that wasn't the only win for the HBO series Big Little Lies.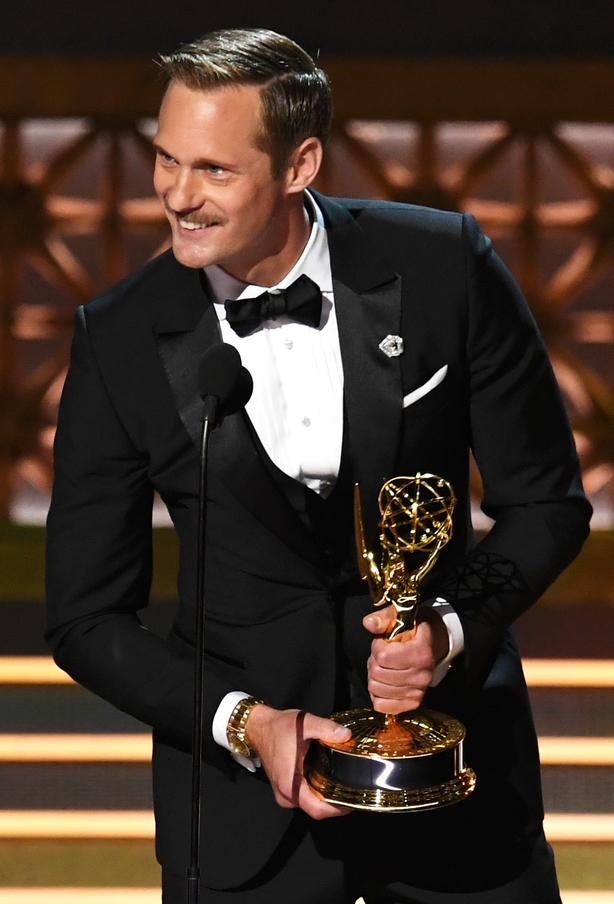 Alexander Skarsgård won the Emmy for Outstanding Supporting Actor in a Limited Series or TV Movie for his role as Perry Wright on the acclaimed show.
"Thank you to HBO, all my friends and lovers," the actor said as he accepted his award.
"[To] the ladies of the show, thank you for making this boy feel like one of the girls."
His co-star Laura Dern was finally awarded an Emmy after being nominated six times in total for the coveted prize. Dern won the Outstanding Supporting Actress in a Limited series or Movie gong.
In her acceptance speech, Dern paid tribute to the "incredible tribe of fierce women" who she starred alongside in Big Little Lies.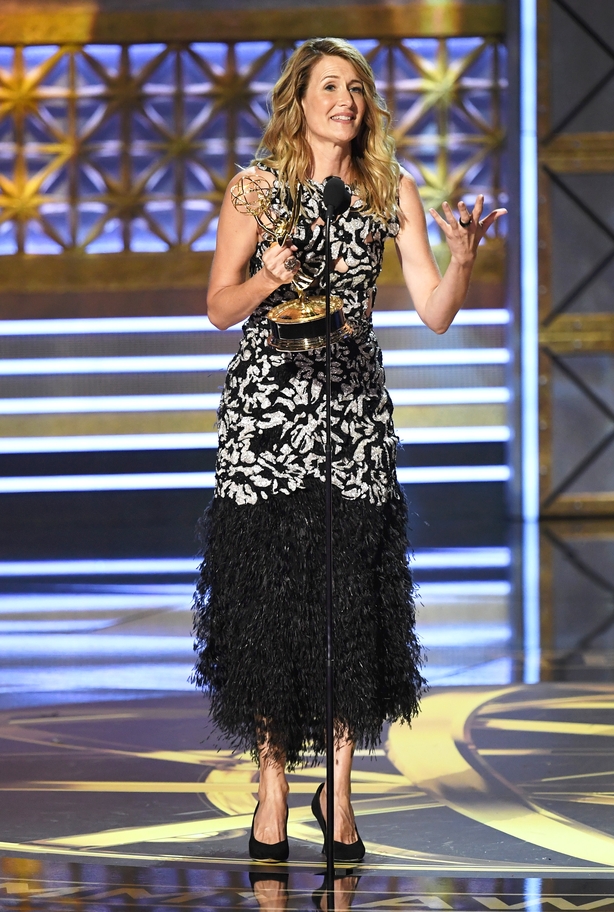 And to cap-off a very successful night, the miniseries also collected the Outstanding Limited Series or TV Movie award.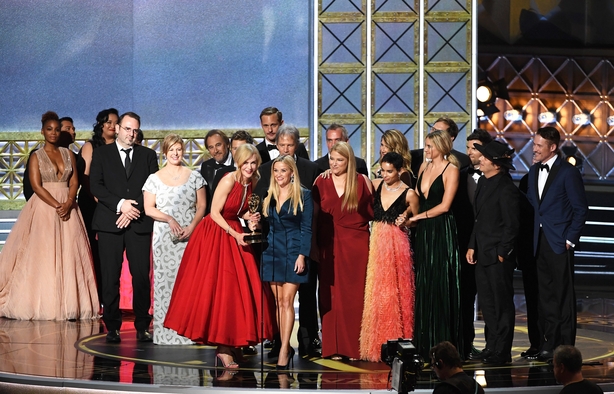 Executive producer and star Witherspoon said it's been "an incredible year for women in television and women getting to tell their own stories."
It was also a big night for Julia Louis-Dreyfus who scooped the award for Outstanding Actress in a Comedy Series for her performance on HBO's Veep. Louis-Dreyfus' win tonight means she has broken the record for the most Emmys won by an actor for the same role.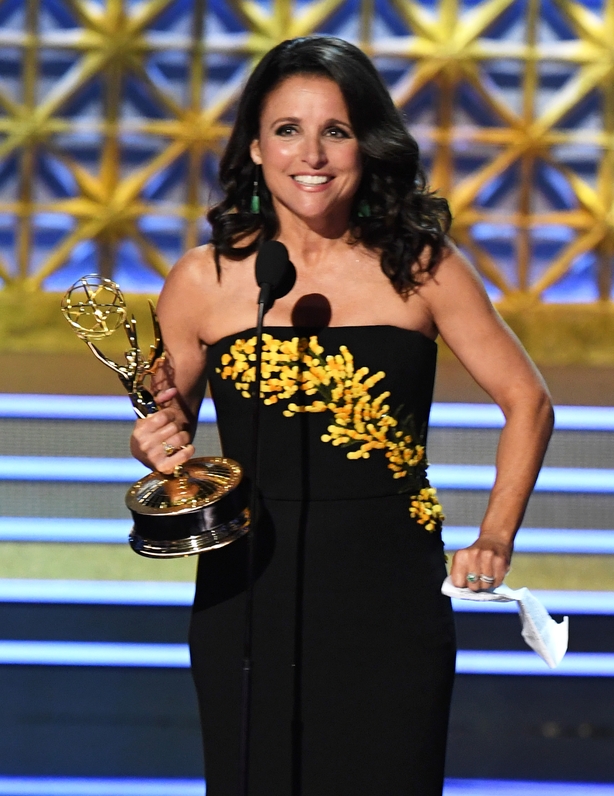 She has won the same award six times for playing Selina Meyers, edging out Better Thing's Pamela Adlon, Mom's Allison Janney, Unbreakable Kimmy Schmidt's Ellie Kemper, Black-ish's Tracee Ellis Ross and Grace and Frankie's Jane Fonda and Lily Tomlin this year.
Veep also won it third Outstanding Comedy Series Emmy.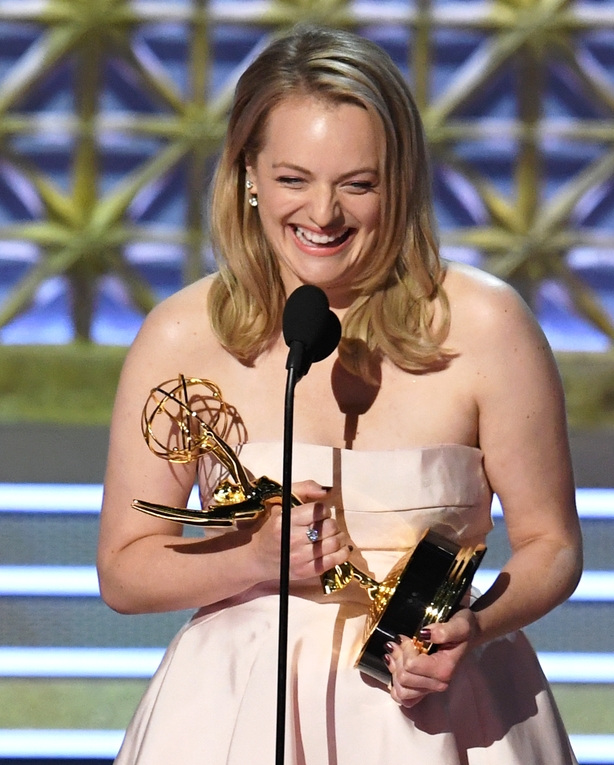 Elisabeth Moss finally won her first-ever Emmy and took home the award for Outstanding Lead Actress in a Drama Series for The Handmaid's Tale after five nominations but no wins in that category, dating back to her time in Mad Men.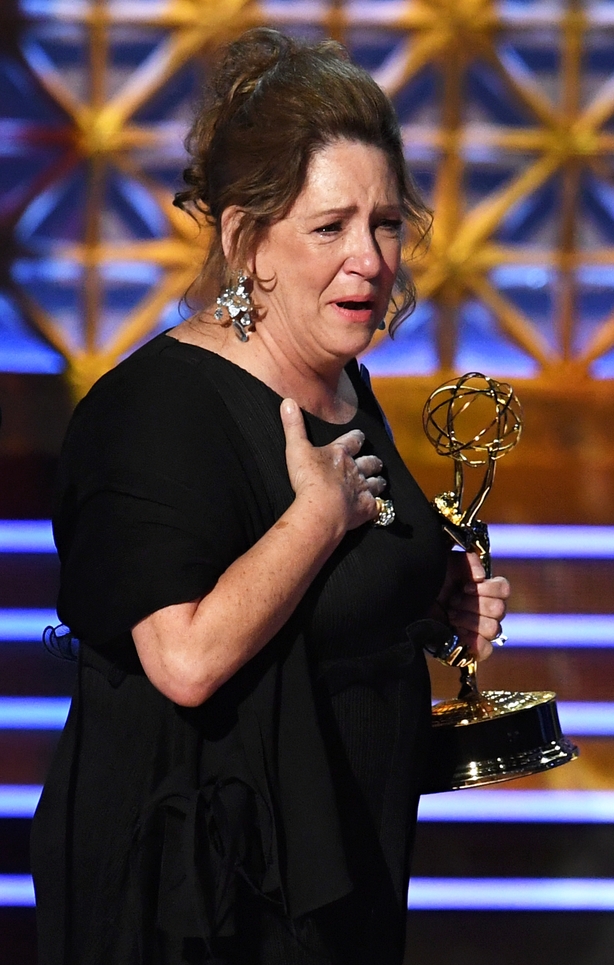 Moss' co-star Ann Dowd was a surprise winner in the Outstanding Supporting Actress in a Drama Series category. While she absolutely deserved it for her chilling portrayal of the imperious Aunt Lydia in The Handmaid's Tale a lot of people had backed Westworld's Thandie Newton for the win.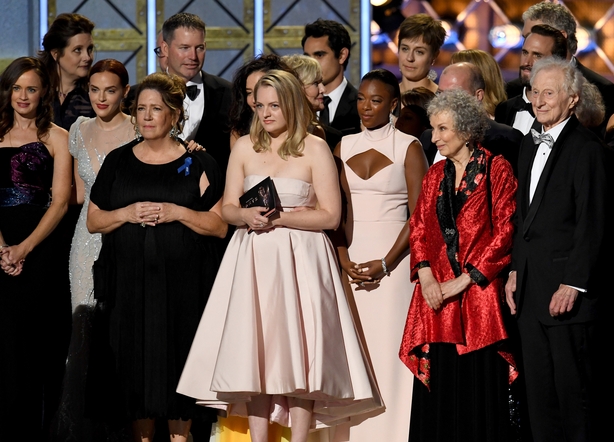 The Handmaid's Tale was also named Outstanding Drama Series making history as the first show on a streaming service (Hulu) to ever take home the Emmy's top honor.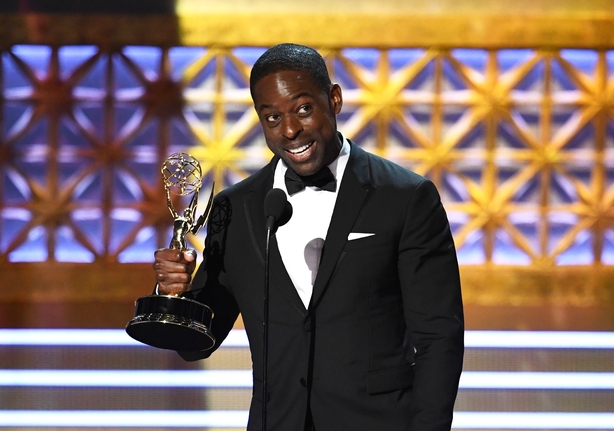 Sterling K. Brown also made history by becoming the first African American to win Outstanding Actor in a Drama Series at the Emmys in 19 years for his emotional performance in NBC's This Is Us. 
The actor triumphed over Anthony Hopkins from Westworld, Bob Odenkirk from Better Call Saul, Matthew Rhys from The Americans, Liev Schreiber from Ray Donovan, Kevin Spacey from House of Cards and his This Is Us co-star Milo Ventimiglia. 
"Before anything like this happened for your boy, I was a fan. First, last and always a fan," Brown said as he accepted his award on stage.
"So, my fellow nominees, I'm a fan of all of you."
John Lithgow picked up the Emmy for Outstanding Supporting Actor in a Drama Series for his role as Winston Churchill in Netflix's period drama The Crown beating off competition from Westworld's Jeffrey Wright, Homeland's Mandy Patinkin, This Is Us' Ron Cephas Jones, House of Cards' Michael Kelly, Better Call Saul's Jonathan Banks and Stranger Things' David Harbour.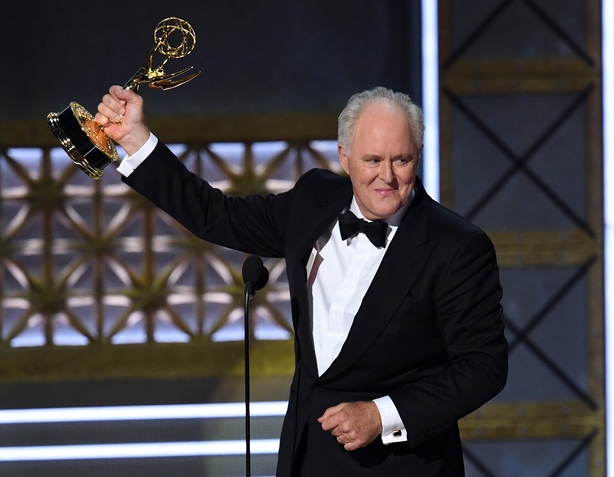 Lithgow made sure to thank his fellow nominees and the cast and crew of the show, and he also paid tribute to Churchill by taking a subtle dig at Trump: "In these crazy times, his life, even as an old man, reminds us what courage and leadership in government really looks like."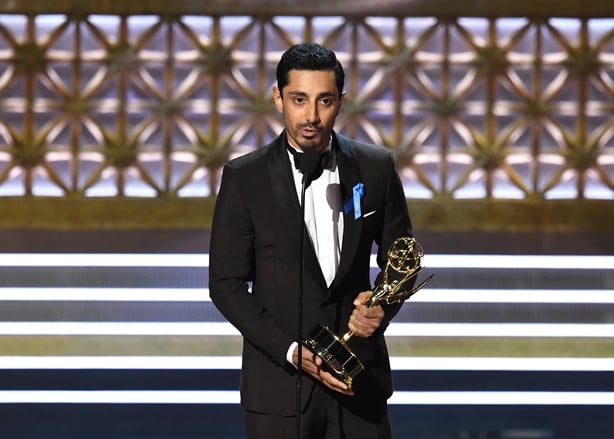 The Night Of star Riz Ahmed paid tribute to his executive producer the "late, great James Galdolfini", during his speech, following his win for Outstanding Actor in a Limited Series or TV Movie. 
"He's a man who I believe single-handily changed television and I hope he is proud of us right now."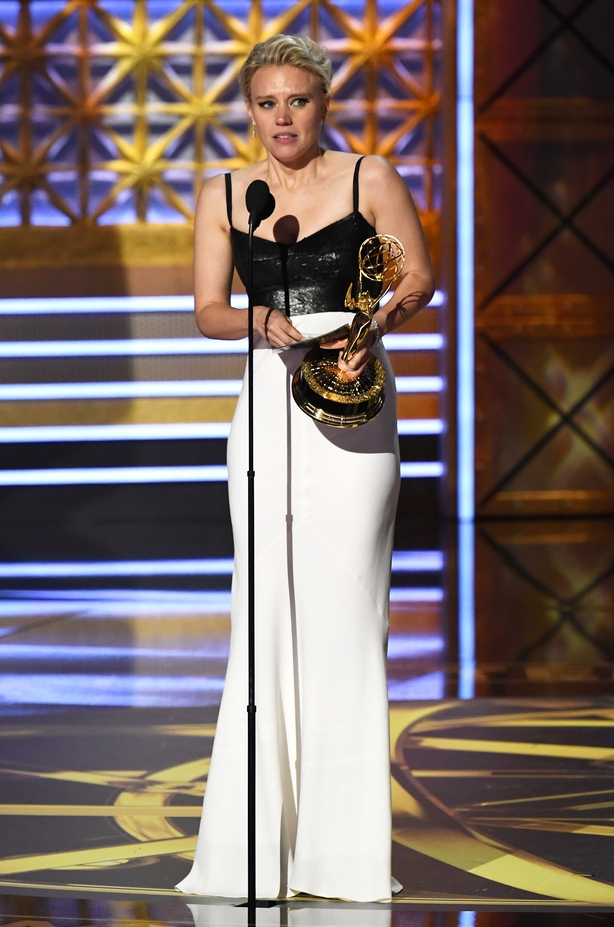 Kate McKinnon from Saturday Night Live won the award for Outstanding Supporting Actress in a Comedy Series and made sure to thank Hillary Clinton - who she often played on the show - before she was abruptly cut off by the orchestra.
Also winning for Saturday Night Live was Alec Baldwin who was named Outstanding Supporting Actor in a Comedy Series beating Louie Anderson of Baskets, Tituss Burgess of Unbreakable Kimmy Schmidt, Ty Burrell from Modern Family and Tony Hale and Matt Walsh of Veep.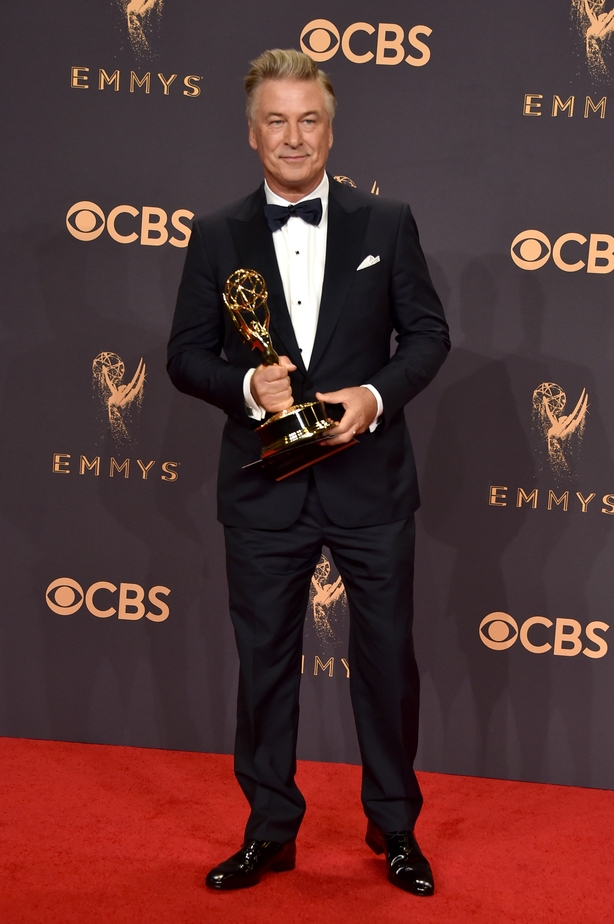 Seizing the opportunity to take a swipe Trump, Baldwin said: "I suppose I should say, at long last, Mr. President, here is your Emmy.
He added: "I want to thank my wife - my wife and I had three children in three years, and we didn't have a child last year during the SNL season. I wonder if there is a correlation there - you put that orange wig on, it's birth control, trust me."
Atlanta star Donald Glover accepted the Emmy for Outstanding Lead actor in a Comedy Series as well as Outstanding Directing for a Comedy Series.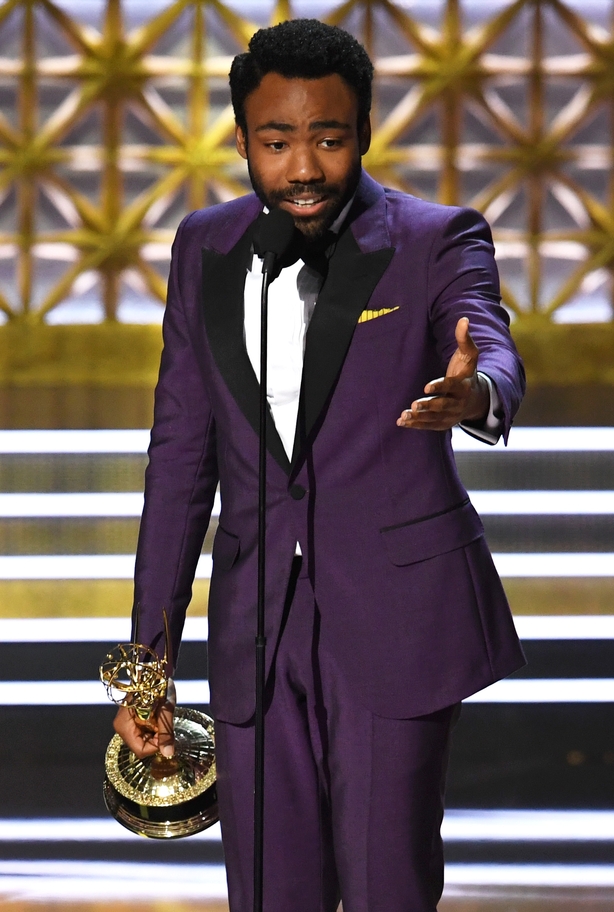 Continuing the Trump-bashing theme Glover said: "I want to thank Trump for making black people number one on the most oppressed list. He's probably the reason I'm up here"
It was a tough night for Westworld and Stranger Things, both shows failing to pick up a single award between them while The Crown and This Is Us only managed to win one trophy apiece.
You can watch the highlights from this year's Emmy Awards on RTÉ2 tonight from 9.00pm
DRAMA
Best Drama Series
Nominated: Better Call Saul; The Crown; The Handmaid's Tale; House of Cards; Stranger Things; This Is Us; Westworld
Winner: The Handmaid's Tale
Best Actress in a Drama Series
Nominated: Viola Davis (How to Get Away With Murder); Claire Foy (The Crown); Elisabeth Moss (The Handmaid's Tale); Keri Russell (The Americans); Evan Rachel Wood (Westworld); Robin Wright (House of Cards)
Winner: Elisabeth Moss (The Handmaid's Tale)
Best Actor in a Drama Series
Nominated: Sterling K Brown (This Is Us); Anthony Hopkins (Westworld); Bob Odenkirk (Better Call Saul); Matthew Rhys (The Americans); Liev Schreiber (Ray Donovan); Kevin Spacey (House of Cards); Milo Ventimiglia (This Is Us)
Winner: Sterling K Brown (This Is Us)
Best Supporting Actor in a Drama
Nominated: Jonathan Banks (Better Call Saul); David Harbour (Stranger Things); Ron Cephas Jones (This Is Us);  Michael Kelly (House of Cards); John Lithgow (The Crown); Mandy Patinkin (Homeland); Jeffrey Wright (Westworld)
Winner: John Lithgow (The Crown)
Best Supporting Actress in a Drama
Nominated: Uzo Aduba (Orange Is the New Black); Millie Bobby Brown (Stranger Things); Ann Dowd (The Handmaid's Tale); Chrissy Metz (This Is Us); Thandie Newton (Westworld); Samira Wiley (The Handmaid's Tale)
Winner: Ann Dowd (The Handmaid's Tale)
COMEDY
Best Comedy Series
Nominated: Atlanta; Black-ish; Master of None; Modern Family; Silicon Valley; Unbreakable Kimmy Schmidt; Veep
Winner: Veep
Best Actress in a Comedy Series
Nominated: Pamela Adlon (Better Things); Jane Fonda (Grace and Frankie); Allison Janney (Mom); Ellie Kemper (Unbreakable Kimmy Schmidt); Julia Louis-Dreyfus (Veep); Tracee Ellis Ross (Black-ish): Lily Tomlin (Grace and Frankie)
Winner: Julia Louis-Dreyfus (Veep)
Best Actor in a Comedy Series
Nominated: Anthony Anderson (Black-ish); Aziz Ansari (Master of None); Zach Galifianakis (Baskets); Donald Glover (Atlanta); William H Macy (Shameless); Jeffrey Tambor (Transparent)
Winner: Donald Glover (Atlanta)
Best Supporting Actor in a Comedy
Nominated: Louie Anderson (Baskets); Alec Baldwin (Saturday Night Live); Tituss Burgess (Unbreakable Kimmy Schmidt); Ty Burrell (Modern Family); Tony Hale (Veep); Matt Walsh (Veep)
Winner: Alec Baldwin (Saturday Night Live)
Best Supporting Actress in a Comedy
Nominated: Vanessa Bayer (Saturday Night Live); Anna Chlumsky (Veep); Kathryn Hahn (Transparent); Leslie Jones (Saturday Night Live); Judith Light (Transparent); Kate McKinnon (Saturday Night Live)
Winner: Kate McKinnon (Saturday Night Live)
LIMITED SERIES/MOVIE
Best Limited Series or TV Movie
Nominated: Big Little Lies; Fargo; Feud: Bette and Joan; Genius; The Night Of
Winner: Big Little Lies
Best Actress in a Limited Series or TV Movie
Nominated: Carrie Coon (Fargo); Felicity Huffman (American Crime); Nicole Kidman (Big Little Lies); Jessica Lange (Feud: Bette and Joan); Susan Sarandon (Feud: Bette and Joan); Reese Witherspoon (Big Little Lies)
Winner: Nicole Kidman (Big Little Lies)
Best Actor in a Limited Series or TV Movie
Nominated: Riz Ahmed (The Night Of); Benedict Cumberbatch (Sherlock: The Lying Detective); Robert DeNiro (The Wizard of Lies); Ewan McGregor (Fargo); Geoffrey Rush (Genius); John Turturro (The Night Of)
Winner: Riz Ahmed (The Night Of)
Best Supporting Actor, Limited Series or TV Movie
Nominated: Bill Camp (The Night Of); Alfred Molina (Feud: Bette and Joan); Alexander Skarsgård (Big Little Lies); David Thewlis (Fargo); Stanley Tucci (Feud: Bette and Joan); Michael K Williams (The Night Of)
Winner: Alexander Skarsgård (Big Little Lies)
Best Supporting Actress, Limited Series or TV Movie
Nominated: Judy Davis (Feud: Bette and Joan); Laura Dern (Big Little Lies); Jackie Hoffman (Feud: Bette and Joan); Regina King (American Crime); Michelle Pfeiffer (The Wizard of Lies); Shailene Woodley (Big Little Lies)
Winner: Laura Dern (Big Little Lies)