Belfast mother-and-daughter act Descendance made it through to the next stage of The X Factor on Sunday night, but the judges left them in no doubt that they think the younger half of the duo is the real star.
Canadian-born Debye Gaskin, aged 40, and her 20-year-old daughter Hayley Norton performed Macklemore & Ryan Lewis' Can't Hold Us at the auditions in Liverpool, with judges Sharon Osbourne, Louis Walsh, Nicole Scherzinger and Simon Cowell captivated by Hayley's rapping - and giving Debye lots to think about.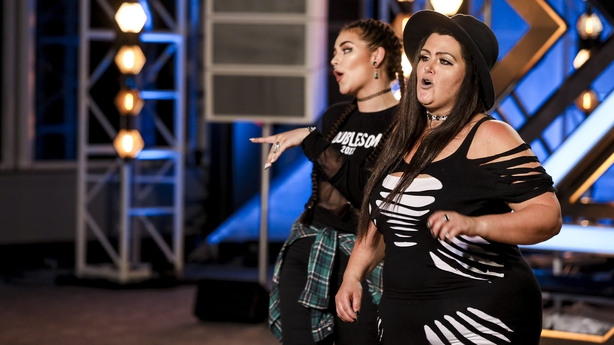 "Well, where do I begin?" asked Osbourne. "I think you [Hayley] are phenomenal. I think you... [pointing to Debye] I love your spirit. I love what you do and I think you should be the DJ in a booth and join in on some of the vocals." 
Walsh said he was thinking "something similar" about Hayley. "I was watching you all the time because you're an amazing performer and you're in your own little world," he said. 
"And I believed every bit of it. I loved it. I didn't want it to stop. But I was watching you."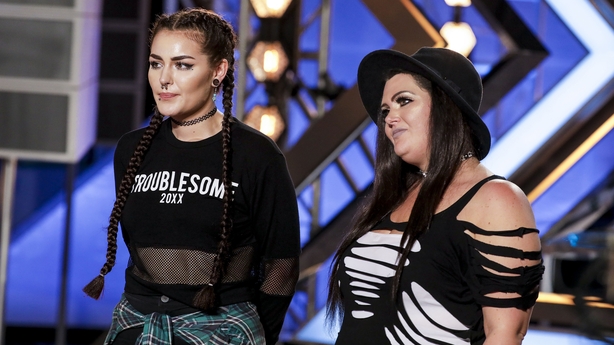 "You're super-dope and you're relevant right now," said Scherzinger, addressing Hayley. "And you got a great energy about you." 
Turning to Debye, Scherzinger continued: "I think it'd be cool for you to have involvement in some way like Mrs O[sbourne] said, because you guys are so cute together. You're a great team."
All attention then turned to show boss Cowell, who began by saying: "I'm going to be really, really honest with you: this is not great."
"What you've done for your daughter is incredible, because you have an amazing relationship," he continued.
"But it is quite rare that we see someone like you [Hayley]. I think, actually, the fact that you are happy to do this with your mum makes me like you even more."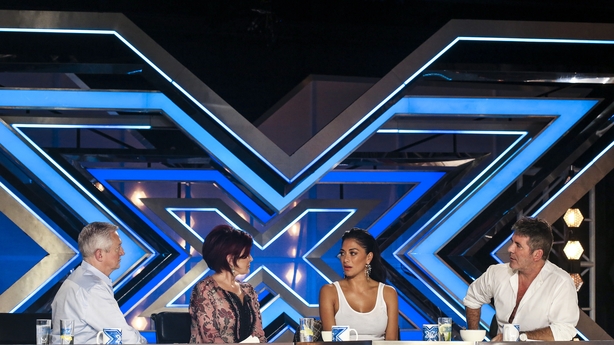 While Cowell said the act at present "doesn't work", he and his three colleagues put the pair through to Bootcamp, with Hayley adamant that she and her mother are a team.
"Ok, you got four yeses," concluded Cowell. "But Debye, we're not kidding what we said here."
They've got a bond not even the #XFactor Judges can break! Descendance are through as a group! 💕 pic.twitter.com/1G2vKa5vKG

— The X Factor (@TheXFactor) September 17, 2017
Backstage, Debye said: "We're going to go home and talk it through and see what we want to do in the next round of the competition, whether we're going to stay together or what. But no matter what happens, we still got each other." 
In the earlier part of Sunday's show it was a bad night for the Irish with Megan Byrne, Mark McKeown and Alice Stafford all failing to get past the audition stage.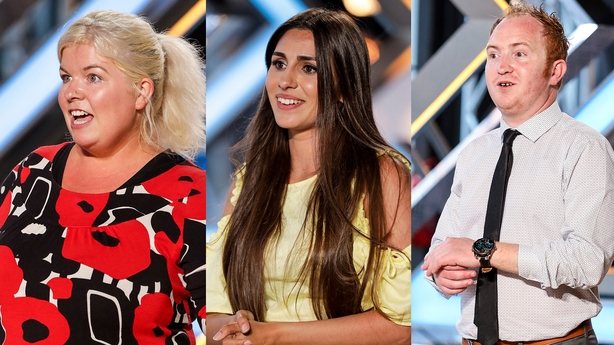 The X Factor continues next Saturday and Sunday on TV3 and ITV.