Foo Fighters frontman Dave Grohl has paid tribute to the work of Irish physical therapist Freddie Murray, who helped him recover from the broken leg he sustained after tripping and falling offstage in Sweden in June 2015.
Speaking to The Irish Times' The Ticket ahead of the release of the Foo Fighters' new album Concrete and Gold next week, Grohl said: "If it wasn't for Ireland, I wouldn't be walking right now, because my physical therapist Freddie Murray is from Tipp."
While the rest of the Foo Fighters' European dates, including the band's Glastonbury headline appearance, were cancelled after the 2015 accident, Grohl later went back out on tour, sitting on a specially designed throne with his leg in an orthopaedic boot.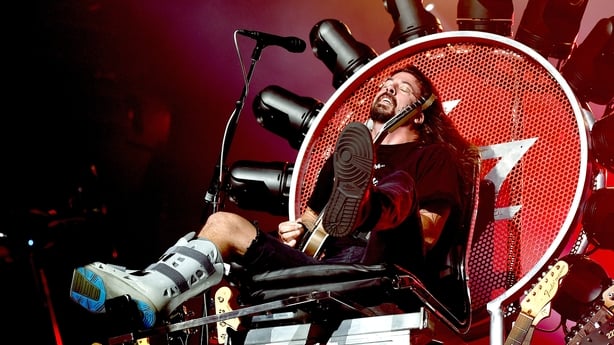 The singer-guitarist told The Ticket that it was a long road back to standing on his own two feet, however, and that Murray was there throughout his recovery. 
"He was with me for six months, and I would not be walking if it wasn't for that guy," said Grohl. 
"Four hours a day for six months, he was the one pushing me to get up and do it again." 
Grohl said that when the Foo Fighters return to play Ireland, there will have to be "a big shout out to Freddie".
The Foo Fighters finally lived their Glastonbury headline dream last June when they topped the bill on the Saturday night of the world-famous festival. 
#Glastonbury2017  You fckin rule. pic.twitter.com/NygwjOtueQ

— Foo Fighters (@foofighters) June 25, 2017
Concrete and Gold is released on September 15.