Fans of the Great British Bake Off have been given a taste of things to come with the trailer for the first series on new home Channel 4 - but there is no sign of the presenters or judges.
Last month, Channel 4 told fans to expect a "new tone" and "comic riff" when the hit show is rolled out on the station, and the trailer shows what's in the oven.
It celebrates old school stop-motion animation and sees various cakes and breads singing Paul McCartney and the Frog Chorus' We All Stand Together.
We need your consent to load this YouTube contentWe use YouTube to manage extra content that can set cookies on your device and collect data about your activity. Please review their details and accept them to load the content.Manage Preferences
New hosts Noel Fielding and Sandi Toksvig, returning judge Paul Hollywood and new colleague Prue Leith aren't in the kitchen for all the gooey, creamy fun.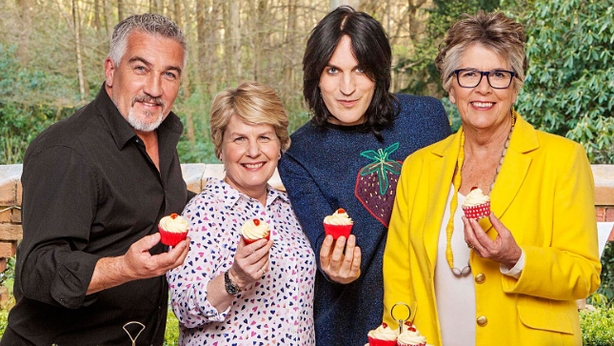 As the trailer ends, the narrator says: "Set your timers, The Great British Bake Off is back." 
Temptation then gets the better of him and mid-mouthful he adds: "Coming soon... on Channel 4."
The trailer has received a mixed (peel) response on social media.
Yeah, don't think I'll be watching #GBBO if it's going to be that creepy.

— Emily Rumboldt (@EmilyRumboldt) August 3, 2017
The new #GBBO ad looks like a  trailer for a trippy Tim Burton horror film starring baked goods 🥐🍰

— Phoebe Brooks (@phoebeannbrooks) August 3, 2017
#GBBO new advert is rad. What's everyone crying about?

— CM Carter (@cmcarts) August 3, 2017
This is such a cool trailer and a total reinvention. Change is a funky thing #GBBO

— Ali (@mnahmnahdoodoo) August 3, 2017
I particularly like the bit when a bouncing profiterole causes a chocolate eclair to vomit into a jam tart #GBBO pic.twitter.com/Fu0p2hVvA0

— Jeremy Lander (@giovannibellini) August 3, 2017
They could have at least made the food in the #GBBO advert look appetising 🙄🙄🙄

— Beth Luck (@BethanyJ_luck) August 3, 2017
#GBBO
Just watched new advert for #GBBO pic.twitter.com/XHjeDi9BEu

— DW (@dalkey04) August 3, 2017
Britain's reaction when they saw the new trailer for Bake Off. #GBBO pic.twitter.com/Iel4affDiT

— Cal (@Panayisalad) August 3, 2017
@Channel4 @BritishBakeOff  dont let the silly haters bother you. Oh mummy its not on bbc anymore bwaaaa bwaaaa oh stop give it a rest #GBBO

— JK (@Co0ldudeUK) August 3, 2017
Cool ad ever #baking #GBBO https://t.co/linWJ47F7t

— Tiger's Hunt (@theYodamom) August 3, 2017
Me to my phone after seeing the new #GBBO trailer pic.twitter.com/qI8AKrWrdn

— Joe Swift (@9swift6) August 3, 2017
Thank you #GBBO I am haunted by the jam-squirting cream-soaked death-rattle of every cake I have ever eaten https://t.co/81lCTEymYX

— Steg68 (@Steg68) August 3, 2017
That new #GBBO trailer is quite terrifying isn't it? It's actually what I imagine the inside of @noelfielding11's head is like.

— Matt Blair (@themattblair) August 3, 2017
Ya cake is wonky, #GBBO pic.twitter.com/UndRXXJoHb

— Kate Henley (@KateHenley_TYW) August 3, 2017
I don't care what channel it's love a bit of bake off #GBBO https://t.co/vFXYhhTxjo

— Roxy x (@roxyfulton) August 3, 2017
The proof of the pudding in this case will, of course, be in the watching, but if the show proves half as tasty as some of the tweets it'll be doing well.