The much-loved Whitney made her much-anticipated return to EastEnders on Monday night and left the fans - and Mick - reeling as she dropped a bombshell. 
Sexual tension with former father-in-law Mick (Danny Dyer), a confrontation with Shirley (Linda Henry) and a new look appeared to be the main Whitney talking points from Monday's episode - until she revealed to Mick that she is going to tie the knot again.
Mick's reaction says is all... 😂💒 pic.twitter.com/yZKbqde42M

— BBC EastEnders (@bbceastenders) July 31, 2017
Whitney was first seen walking through the turnstiles at Walford East station, looking supremely confident as she made her way towards the Queen Vic.
As Mick tried to master the pub's new till by using a crowbar, Whitney walked through the door and said: "Here, careful, you'll have that flying through the air next."
Whatever about the crowbar, there's no doubt skin and hair will be flying soon enough.
As Mick put the crowbar to one side, Shirley (Linda Henry) took the daggers out for sharpening.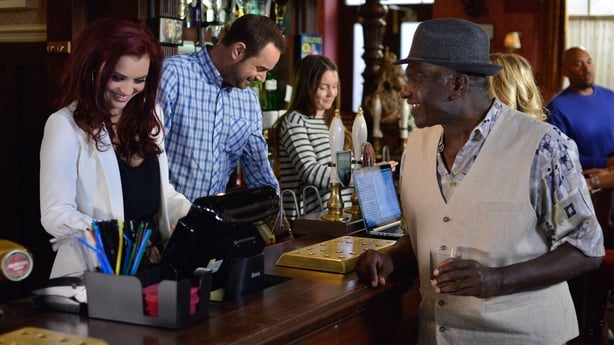 "Look at 'er," she seethed a few minutes later as Whitney showed the Vic's staff how to work the till. "Lady Muck, holding court already."
"You're back, then" said stater-of-the-obvious Shirley.
"Like a bad penny," Whitney replied.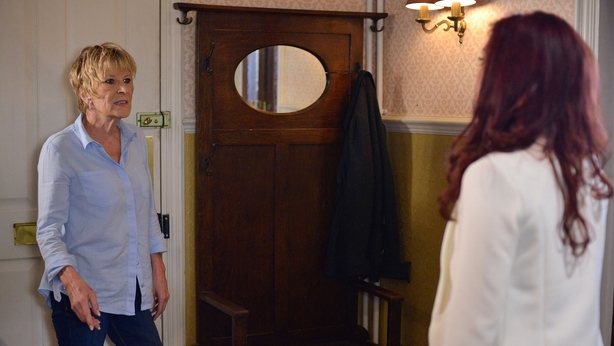 Whitney then asked Stacey (Lacey Turner) if she could stay with her but was overheard by Johnny (Ted Reilly) who insisted she should stay at the Vic.
"Your old room's still here if you want it," said Mick sheepishly, before offering Whitney her old job back.
Another showdown with Shirley followed, as Mick's mother warned Whitney: "We ain't your family - stay away from my son." Staying calm, Whitney came out the winner from that particular encounter.
Later, as Whitney unpacked, Mick knocked on the door of Whitney's room and told her: "It's good to have you back, place hasn't been the same without you."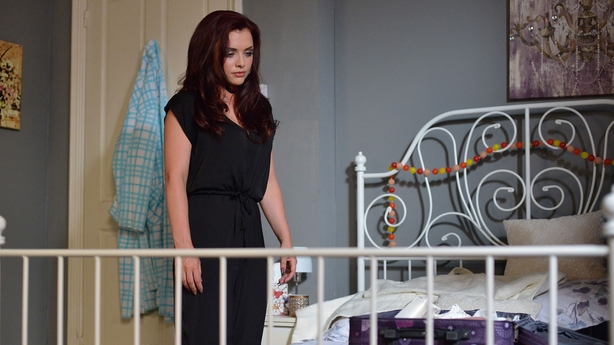 As Mick tried to achieve some sense of closure on his feelings for Whitney and the upheaval which saw her leave Albert Square, she replied: "We've put it behind us and we've moved on." 
Whitney then told Mick that something happened her while she was away and showed him an engagement ring. 
"I'm getting married," she said, smiling.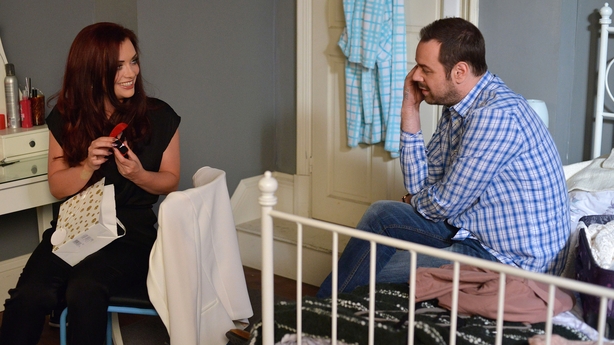 But is Whitney really tying the knot or is this part of a plan to get Mick? And does the mention of a "gas main" in Albert Square mean the road works will lead to a new character cull?
The intrigue continues on RTÉ One and BBC One on Tuesday at 8pm.
Here's a selection of what the fans have been saying:
Mick's face when Whitney told him she's getting married.. Classic! Lol 😁 #Eastenders

— Aunty Shoob❤ (@x_MCRLOVER_x) July 31, 2017
Whitney back and looking like Jesse from @LittleMix #eastenders

— Donal (@Quiggy_Pie) July 31, 2017
Whitney's looking like Kat Slater's long lost daughter #eastenders

— ............ (@abcdervla) July 31, 2017
Whitney goes off for 2 months, and comes back engaged? These storylines...#EastEnders

— Melvin (@MTKigz) July 31, 2017
Why does Whitney still have the ring..in the box..in a gift bag..like as if she's bought it herself #EastEnders

— Emma (@EmmaLou93x) July 31, 2017
If Whitney is getting married why is she even back at the vic? #eastenders

— Ruth (@RuthLouismmmy) July 31, 2017
Whitney didn't waste time, ink ain't even dry on her divorce #EastEnders

— demelcy (@demelcy) July 31, 2017
Whitney left for a month and now getting married! Eastenders the ever realistic programme! @bbceastenders

— 50 Shades Of Blue (@browney2584) July 31, 2017
Mick and Whitney ❤ I will go down with this ship #eastenders #mickney

— kelly (@kelly_zombie) July 31, 2017
Whitney getting engaged already? Is she even divorced yet? #eastenders

— Emma (@amme_mc) July 31, 2017
Praise hallelujah whitney's back. Time to get to work on Daddy Carter. Shake a leg woman!  #EastEnders

— Samantha Louise (@SamanthaWalke24) July 31, 2017