Dancing With The Stars couple Thalia Heffernan and Ryan McShane have revealed it was love at first sight when they met on the show and confessed that they would do anything to spend time together on set.
Speaking on Saturday Night With Miriam on RTÉ One, the love-up pair admitted that they never kept their relationship a secret from the rest of the Dancing With The Stars crew and performers.
Miriam asked Thalia how the whole experience was for her despite getting knocked out of the competition in the early rounds and Thalia replied; "I didn't even hope to win to be honest; I came out winning in the end though."
Speaking about their blossoming romance, Ryan said, "It was love at first sight because I was looking up at her, I remember when I first saw her and thinking she is way out of my league and I'm punching well above my weight and my height class, she is just lovely.
"We were just drawn to each other, you know we would just sit and have a cup of tea or coffee together; we would just sit and talk to each other."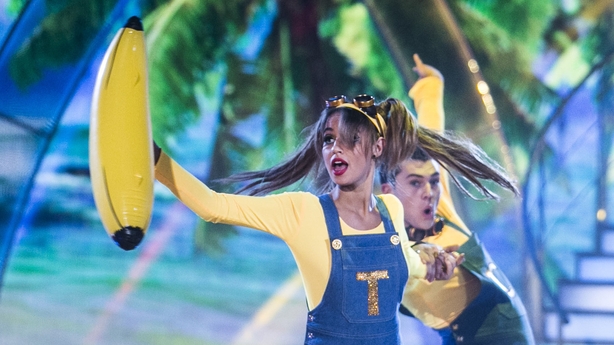 Thalia said they would take any opportunity they could to spend time together while working on the show.
"We were always making the excuse, like, oh I'll just go and have a coffee, just to be able to talk, its such an overwhelming experience, there are so many people, there are so many cameras, its so busy, so whenever we got a chance to spend some time together, we would," she said.
When asked about going public with their relationship, Ryan said they never tried to hide it, "We didn't really try to hide it, it came out we were kind of seeing each other and stuff, so literally the next Saturday that we went on the show all the cameras zoomed in on us."
Thalia added, "It was very evident that the cameras were interested in what we were doing all of a sudden. But yeah, it was a shock for us as much as it was for everybody else and we didn't try to hide it, but we also didn't try to publicise it, because we had different partners and we had different things to do on the show. You have to be kind of careful as well."
We need your consent to load this rte-player contentWe use rte-player to manage extra content that can set cookies on your device and collect data about your activity. Please review their details and accept them to load the content.Manage Preferences
Ryan owns a dance studio in England while Thalia is based in Dublin and she said long-distance is 'difficult in general' but modern technology allows them to keep in touch 'all the time'.
"We respect what each other does, she goes away and does her shoots, I teach and Thalia comes over and I come over here so we definitely try and make it work," Ryan added.
Thalia and Ryan will be spending more time together soon as the pair have signed on to walk the 100 kilometre Camino trail in Spain to raise funds for the Irish Hospice Foundation.
"It is such an incredible organisation that has touched the lives of so many people that we really wanted to do something to help," he said.
Click here to watch Saturday Night With Miriam on the RTÉ Player