Sophie Turner ''accidentally'' ruined Ed Sheeran's surprise appearance on Game of Thrones by telling her co-star Maisie Williams.
Sheeran featured in the first episode of season seven of the popular HBO fantasy series, after he was brought on board to surprise Maisie Williams (Arya Stark) who is a huge fan of his.
However, 21-year-old Turner who plays Williams' screen sister Sansa Stark, let the cat out of the bag by telling her co-star about Sheeran's cameo.
Speaking to Entertainment Tonight, Turner said: ''Maisie loves Ed Sheeran and [creators] David [Benioff] and Dan [Weiss] had it as, like, a surprise for her.
''So they just, they didn't tell her. I told her by accident! I was like, 'Oh, when's Ed Sheeran coming on the show?'
"But yeah, they kind of did it as a surprise. I was kind of mad because I've been talking about [Justin] Bieber coming on the show for a while now. But it's fine, I'm over it.''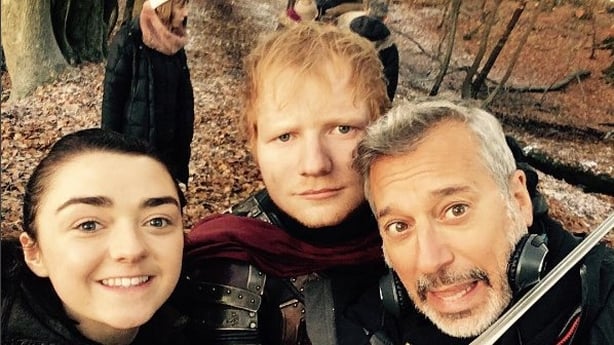 Sheeran received mixed reviews after his campfire singing during his Game of Thrones debut, but Turner reckons he nailed his cameo.
''I thought he killed it. Ed Sheeran is a hero! No one slay Ed Sheeran! That's rude.''
The episode's director Jeremy Podeswa recently praised Sheeran for his ''lovely job'' on the show.
''He comes with no entourage. There's nothing connected with him that's in the least bit self-aware or self-conscious ... I think Ed did a lovely job - he's a lovely actor and a lovely person," he said.
"He was appropriate for the part because he needed to sing. If people didn't know who Ed was, they wouldn't have thought about it twice. The hoo-ha seems to be from things that are outside of the world of the show. In the world of the show he did a lovely job, and he looks like he belongs in that world.
''I think people interrogated it too much, they're bringing so much of his [superstar] presence into the thing which is far beyond what anybody was thinking going into it. He is known to the producers of the show and some of the cast, and he's a gigantic fan of the show. As everybody knows, the show really eschews stunt casting - it's never, ever done that.''