Unless you've been living in a hole, eating from a can, you'll know that U2 play their magnum opus The Joshua Tree in its entirety tonight in their spiritual home of Croke Park on Dublin's northside. We preview what to expect.
U2's jet touched down in Dublin Airport on Wednesday in the lead-up to their homecoming show at Croke Park this weekend.
So this touched down in #Dublin airport this morning. #U2 #U2TheJoshuaTree2017 pic.twitter.com/YFiB4zUVVS

— Baritone Presents (@BaritoneIRL) July 19, 2017
This will be the 25th date on the 51-date Joshua Tree anniversary tour, which finishes in October with three dates in São Paulo, Brazil,
By then U2 will have played in front of 2.4 million fans and say what you want about a veteran band revisiting a 30-year-old album, the global jaunt has been greeted with almost universal acclaim and predictably strong ticket sales.
We need your consent to load this Facebook contentWe use Facebook to manage extra content that can set cookies on your device and collect data about your activity. Please review their details and accept them to load the content.Manage Preferences
The History
Ever a band who dreamed big, U2 first took the bold step of booking Croke Park in 1985. They returned the following year and then on June 27 and 28, 1987 to play the venue on the original Joshua Tree tour.
They have been back at Jones Road many times since, most recently for three nights in 2009 on the 360° Tour when they plonked a massive claw, which was, indeed, bigger than a Dublin goalie's hand, in the middle of the pitch.
Everyone from Beyoncé to Bruce (Springsteen not Forsyth) to some bloke called Sheeran have played there since but U2 at Croke Park has the ring of real hometown glory about it.
We need your consent to load this YouTube contentWe use YouTube to manage extra content that can set cookies on your device and collect data about your activity. Please review their details and accept them to load the content.Manage Preferences
The Set list
The last gig the band played before this Saturday's Dublin show was at Barcelona's Estadi Olímpic Lluís Companys stadium on Tuesday and after coming on stage to the strains of The Whole of the Moon by The Waterboys, here's what they played:
Sunday Bloody Sunday
New Year's Day
Bad
Pride (In the Name of Love)
Where the Streets Have No Name
I Still Haven't Found What I'm Looking For
With or Without You
Bullet the Blue Sky
Running to Stand Still
Red Hill Mining Town
In God's Country
Trip Through Your Wires
One Tree Hill
Exit
Mothers of the Disappeared
Encore:
Miss Sarajevo
Beautiful Day
Elevation
Vertigo
Ultraviolet (Light My Way)
One
The Little Things That Give You Away
The Visuals
U2 have come a long way since performing early Irish gigs in front of a tattered bedsheet calling for the legalisation of contraception in the late seventies - they are now masters of rock theatre.
The band's 1980s was all about slightly embarrassing sloganeering and flag-waving pomp but they have long since rumbled the power and beauty of sight as well as sound.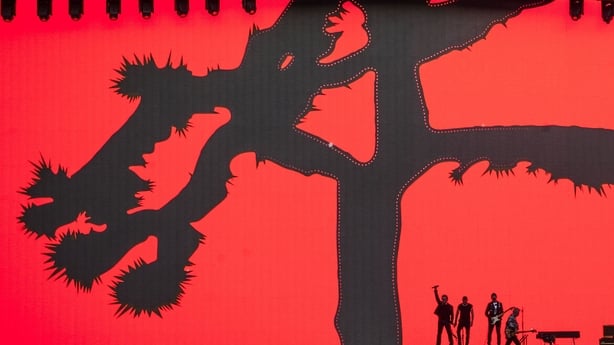 The multi-media blitz of the Achtung Baby and Zooropa tours were pretty astonishing, the knowing Spinal Tap excess of Popmart (giant lemons et al) was great fun, and let's face it, that bloody great claw was bonkers.
Willie Williams has been U2's creative director since 1982 and speaking to the Irish Times, he said that he had considered revisiting the stripped back stage design of the original Joshua Tree shows for the new tour but decided against it.
Think you know your Lady With the Spinning Head from your Bass Trap? Take our ROCK hard U2 quiz
"That staging is so out of fashion," he said. "The sight lines for that kind of stage - if you care about seeing the drummer - that don't work for 21st century shows.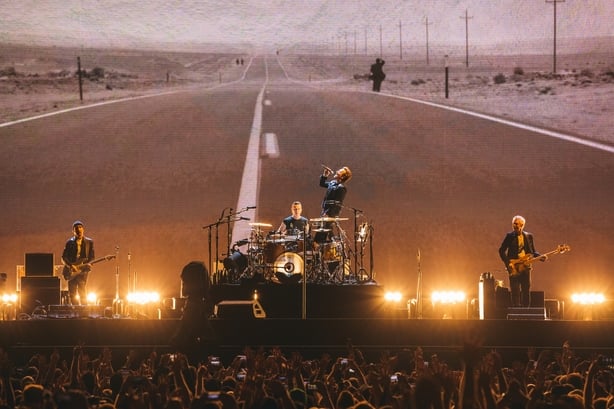 "The stage doesn't really look enormously different from the one used 30 years ago," Williams added. "It's a large back wall rather than a proscenium, but it appears to be a big painted billboard with the same coloured Joshua Tree on it, which is deliberate. The secret that's out now, of course, is that it actually isn't a billboard - it's a giant video screen."
The first 20 minutes of the show are plain and simple with no use of that dramatic giant screen as the band play songs from War and The Unforgettable Fire.
To accompany The Joshua Tree tracks, stark and newly shot images of semi-mythical locations like Death Valley and Zabriskie Point have been filmed by U2's longtime collaborator, photographer and filmmaker Anton Corbijn.
He shot the films in 8K - the highest resolution available in digital cinematography - and the images are projected onto the slightly curved screen so they seem 3D.
Read a preview of Thursday night's new U2 documentary U2 Agus an Arc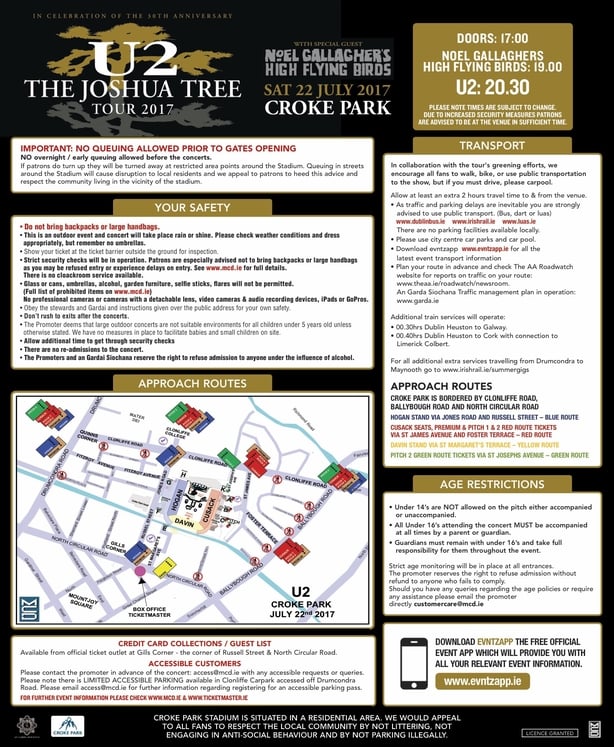 U2 themselves are dwarfed by those images - a reflection, perhaps, of the enormity of their subject matter - the gradual distortion and hi-jacking of the American Dream.
The Reaction
What the papers said...
"The Joshua Tree remains alternately problematic and uplifting, ambitious and naïve, and sometimes undeniably moving. Most compelling was that U2 made it sound less like a finished work, a monument from a long-lost decade, than a series of songs still in search of answers." - Chicago Tribune
"I've never heard The Edge so super-charged, and anyone who entered with doubts about U2 still being one of the most powerful and relevant stadium bands in the world was put straight in a monstrously big way." - Pittsburgh Post-Gazette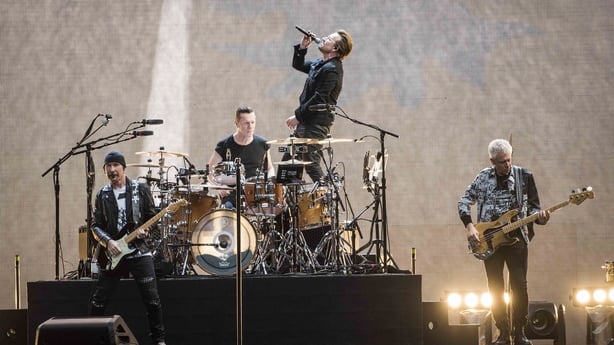 "The Dublin band didn't present The Joshua Tree as a museum piece; it wanted to connect the music to right now — to global anxieties about labor and immigration and the environment." - The Lost Angeles Times
"However conflicted they feel about the concept behind The Joshua Tree shows, and whether or not you buy the oft-repeated line about their revulsion to nostalgia, on stage they seem entirely in their element, as imperious as they were when the album at its centre made them the biggest band in the world." The Guardian
Alan Corr @corralan