Chris Quinn from Greystones in Wicklow, who became a Wimbledon and internet star after squeezing into Kim Clijsters's skirt, is to auction the item for charity.
Quinn, captain of Greystones Lawn Tennis Club, was pulled from the stands to tackle the former grand slam champion's serve after heckling players in the ladies' invitation doubles on Friday.
But the 46-year-old's antics became an online sensation when Clijsters spotted his blue shorts and green t-shirt would have breached the strict dress code at the All-England Club.
Mr Quinn, who swapped American Football for tennis seven years ago, is to raffle the former gear for The Gavin Glynn Foundation which helps children from Ireland with cancer who need to travel overseas for treatment.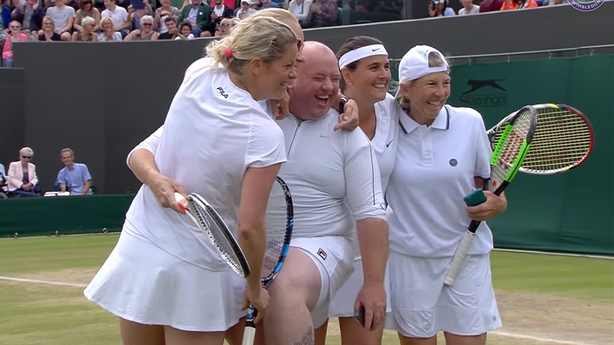 "I have the skirt, or the skort as they call it, and we are going to auction it for charity," he said."I wouldn't normally be the extrovert like this. I'll roll with it for as long as I can."
Millions of people have watched the clip from Wimbledon. Mr Quinn, on his first visit to the tournament, replaced one of Belgian Clijsters's opponents on court, managed to return a serve but failed to hit the ball when he tried for a second point.
"My first notion when I put my first footsteps on the court was that I was expecting to be mugged by the security," he said.
"Then I came to realise that I'm on court at Wimbledon, this is pretty cool.
"She (Kim) started to put the skirt on me and I said 'You're going to struggle' and I just said 'Give them to me,' there's no point trying to be pretty about it.
"It's not often you'd get Kim Clijsters and Conchita Martinez on the floor of the court at Wimbledon in stitches laughing."
He added: "I was having a day off and I was going to watch a game so I was in my comfy clothes, but I can move quick enough round the court. I got to speak to Kim after and I thanked her for going easy on the serve."