A new immersive production of F. Scott Fitzgerald's jazz age classic The Great Gatsby has arrived at Dublin's Gate Theatre with Ripper Street star Charlene McKenna playing the key role of "spoilt little rich kid" Daisy Buchanan.
The Monaghan-born actress dons full flapper dress and pearls for her Irish stage debut to play Daisy, the one true love of gilded but doomed millionaire Jay Gatsby and she says she's enjoying the new role immensely.
Speaking to RTÉ Entertainment at rehearsals for Wednesday's premiere at The Gate, McKenna said, "Daisy's an interesting character to play but she's not the most sympathetic character to play. She's been likened to a spoiled little rich kid but I do understand her.
We need your consent to load this rte-player contentWe use rte-player to manage extra content that can set cookies on your device and collect data about your activity. Please review their details and accept them to load the content.Manage Preferences
RTÉ Entertainment dropped in on rehearsals for The Great Gatsby at The Gate Theatre
"She's married to Tom Buchanan but she does have a long lost love, which is Jay Gatsby. She's not in a very happy marriage and she's just always constantly harking back to the love of her life, which is Jay."
Charlene added: "That's part of it but the fact that it's an immersive production at The Gate and the fourth wall is broken down. I think everybody wants to play Daisy - the diamonds and all that is nice! It's not hard work this part."
Fitzgerald's ageless novel is told through the eyes of naïve newcomer Nick Carraway and previous movie adaptations, including Baz Luhrman's 2013 version with Leonardo DiCaprio and Carey Mulligan, were also narrated by him as he looks on at Gatsby's excesses and eventual downfall.
However, this new Gate production by English director Alexander Wright, sees the theatre transformed into Gatsby's world as audience members view the action in no less than 13 separate locations around the Gate.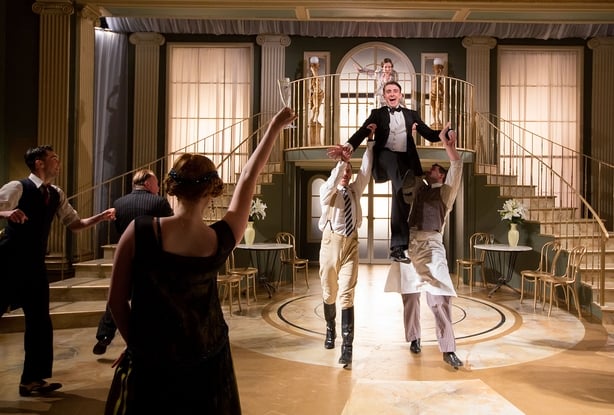 It's a free form, immersive and interactive journey back in time where the audience, who are very much encouraged to dress like it's 1925, can talk to characters and eavesdrop on private conversations in speakeasies. They're and even invited to dance the Charleston at one of those legendary parties at the Gatsby mansion.
"We've remade the whole show for this space, there's more narrative and it's very exciting to work in such a beautiful building as The Gate," Wright says.
"The audience are free to follow a whole different loop of narratives and compared to just the first person narration of Nick Carraway in the book or a film where you are given shot for shot what you're allowed to watch whereas here you can explore the whole thing."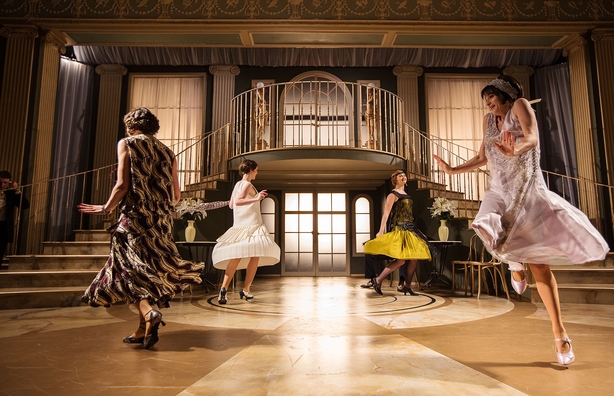 At the centre of it all is Gatsby himself. He's played by Dublin actor Paul Mescal and it's his very first role. In fact, he has yet to even graduate from his course at The Lir Academy in Trinity College.
"Jay Gatsby is multi-faceted. Daisy says he's full of mystery and I think that's really important in terms of playing him," Mescal told RTÉ Entertainment.
"He's got a different visibility in a production like this because he's constantly available to the audience whereas in the book he comes in in chapter three and chapter four so it's interesting to play it that way and try to hold onto the mystery for as long as possible."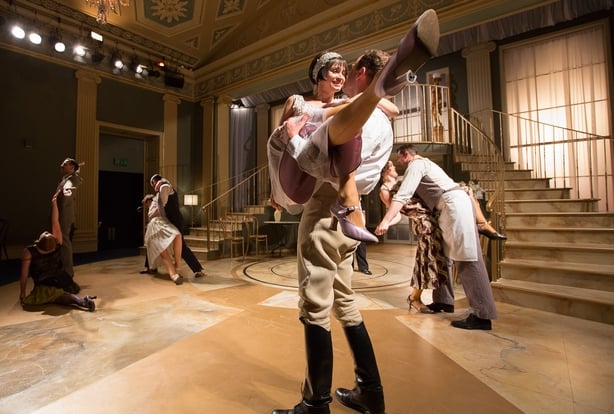 The Great Gatsby is the first production in new Gate Theatre Director Selina Cartmell's inaugural season and over 2017 and 2018, the theatre will present seven productions under the banner of "The Outsider". Upcoming plays include The Red Shoes, Stephen Sondheim's Assassins and Roddy Doyle's The Snapper.  
Cartmell says The Great Gatsby was an obvious choice for the new season. "I thought The Outsider was a really pertinent theme in terms of what is going around in the world today and those voices which are maybe not heard and need to be empowered in all their many multi-faceted ways.
"The Great Gatsby fits that bill because Nick Carraway, the narrator, and Jay Gatsby himself are complete outsiders."
The Great Gatsby also stars Kate Gilmore, Mark Huberman, Gerard Kelly, Aoibhéann McCann, Rachel O'Byrne, Marty Rea, Owen Roe, and Raymond Scannell and runs at The Gate Theatre from Wednesday July 12 to September 16.
Alan Corr @corralan