The Irish Coldplay fan who became the band's surprise onstage guest during their sold-out Croke Park show on Saturday night has said that his "phone hasn't stopped" since video of him crowdsurfing his way to a duet with singer Chris Martin went viral.
Dubliner Rob, a wheelchair user, told the BBC that the heartwarming moment was "a once-in-a-lifetime experience".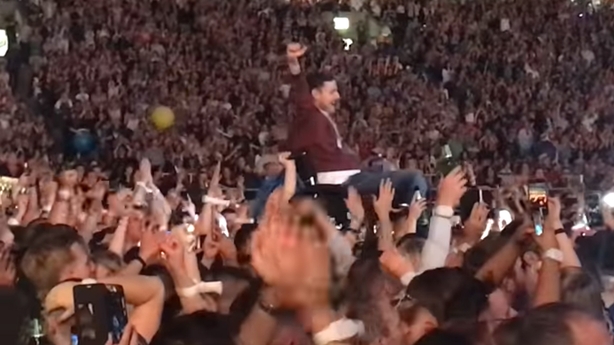 "A lad accidentally fell on me and was extremely apologetic," he explained. "He and his friends insisted on lifting me up and getting me a better view."
"Chris Martin called me up onto the stage. Suddenly, I was onstage with Coldplay," the 29-year-old continued.
Martin on acoustic guitar and Rob, on harmonica, then teamed up for a brand new song on the spot, which went: "Well here we are in Dublin, me and my friend Rob. He is 29-years-old and training is his job.
We need your consent to load this YouTube contentWe use YouTube to manage extra content that can set cookies on your device and collect data about your activity. Please review their details and accept them to load the content.Manage Preferences
"Well here we are in Dublin, and what an awesome crowd. I've been around the whole wide world, never seen anybody so loud.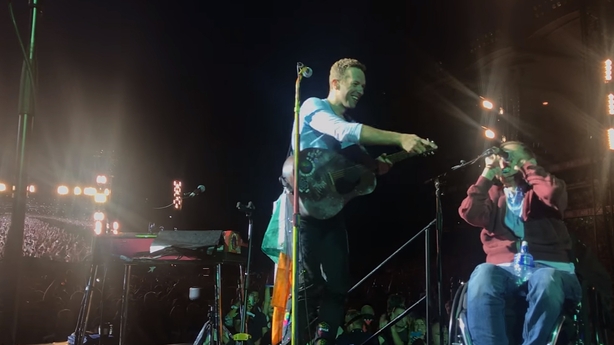 "I've been around the whole wide world, Japan and the USA. But Dublin, Dublin, Ireland is where I want to play.
"Well our band's name is Coldplay and we can play for you. If you want a description, we're like a cross between B*Witched and U2.
"I just want to tell you how happy we are to be here today. I want to say 'thank you' to the hurlers, and of course the GAA.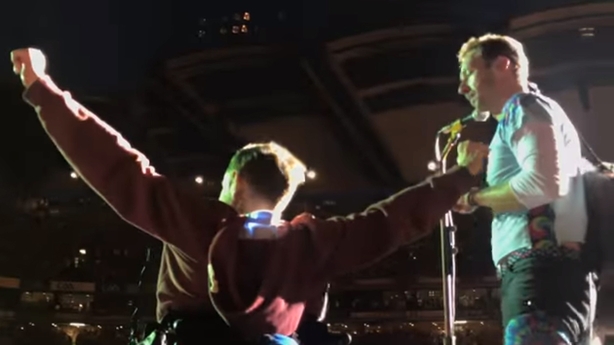 "Well we've been around the whole wide world, me and my three boys, but Dublin, Dublin, Dublin's where you get the loudest noise.
"I got a glimpse of a celebrity life," said Rob. "The video has gone viral since and my phone hasn't stopped."
Rob hopes his experience, and the video, will inspire others.
"In the time where we have seen the horrors of London, Manchester and Paris, I hope this shows if you get yourself out there, you never know what's going to happen," he said.