Grammy-winning dance duo The Chainsmokers have told RTÉ Entertainment they want to work with Niall Horan on a song but that timing is a big issue for all of them.
Fan speculation about a possible collaboration began earlier this year following Twitter exchanges between the One Direction singer-turned-solo star and the American DJs and producers as they each geared up for the release of their debut albums.
The Mullingar man responded to The Chainsmokers - Andrew Taggart and Alex Pall - on Twitter after they jokingly asked him what his natural hair colour is and they signed off their tweet ''see you next week'', leading fans to assume that they were heading into the studio together.
yo @NiallOfficial are you a blonde or brunette whats the deal?

— THE CHAINSMOKERS (@TheChainsmokers) February 1, 2017
@TheChainsmokers that sounds like the type of question drew would ask ! 👦🏻

— Niall Horan (@NiallOfficial) February 1, 2017
@NiallOfficial lol wrong was alex. But he shares a similar curiosity. see you next week buddy :)

— THE CHAINSMOKERS (@TheChainsmokers) February 1, 2017
"We had some really good ideas that all three of us were into," Pall told RTÉ Entertainment before The Chainsmokers took to the stage at Belsonic in Belfast on Monday night.
"He's not a new artist but this [solo career] is a new project for him and I think this is where his head's at right now: 'You've got to establish yourself as your own artist'."
Pall described Horan as someone who has "a really clear artistic vision of what he wants" but said their studio door will always be open for him to join the likes of Coldplay, Halsey and Florida Georgia Line as Chainsmokers collaborators.
"I think he's right for doing just his songs right now," Pall continued. "Obviously, we'll help him in any capacity he wants. I think we all agree that we should do a song together, but right now a lot of it is timing."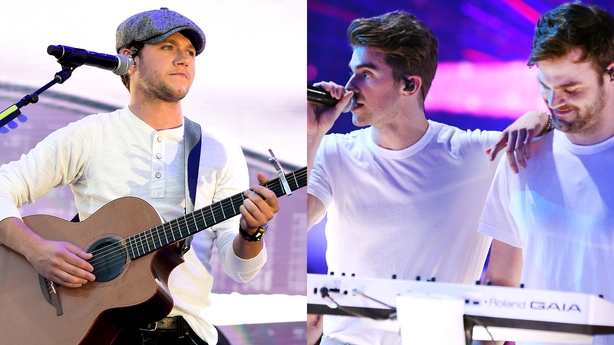 "Half the time he'll be like, 'Oh, what are you doing next month?' 'Oh, I'm travelling, what about you?' 'Oh I'm gone'. 'The month after that - what about that?' 'Oh well then I'm going to release my album'. 'Then we're going to do the same thing after that!'"
"And then in 2023 everything finally lines up and you get to do it!" laughed Pall.
"He's such a nice, nice guy. I love Slow Hands; it's one of my favourite songs right now."