Today marks 20 years since Harry Potter charmed his way into our hearts in the Philosopher's Stone, a book which went on to change children's literature for eternity - and author JK Rowling can't seem to thank fans enough.
It seems like only yesterday that Hermione Granger and Ron Weasley bonded with our favourite wizard over chocolate frogs and ice-cold pumpkin juice, but somehow here we are looking back fondly (and feeling very old) and remembering our favourite Harry Potter moments.
We look at Harry Potter - the Irish connection.
With #HarryPotter20 trending on Twitter, it's clear that Pottermania is still alive and well, and no one could be more thankful than the woman behind the magic itself - JK Rowling.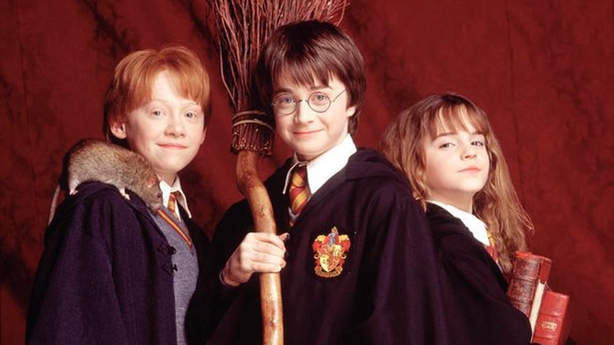 The immensely popular seven-book series has been translated into 79 languages and has sold over 400 million copies worldwide, and on top of that the franchise has churned out blockbuster films, theme parks, successful video games and merchandise.
51-year-old billionaire Rowling, who wrote the first book in a small cafe in Edinburgh, thanked fans and said: "it's been wonderful."
20 years ago today a world that I had lived in alone was suddenly open to others. It's been wonderful. Thank you.#HarryPotter20

— J.K. Rowling (@jk_rowling) June 26, 2017
Rowling's loyal legion of fans haven't let the special day go unnoticed and have conjured up some kind words for the spellbinding author.
HAPPY 20th BIRTHDAY to the original wizarding world wizard #HarryPotter thank you for the last 20 years @jk_rowling pic.twitter.com/Tfunq9VvOK

— Fantastic Beasts (@FBAWTFTfilms) June 25, 2017
@jk_rowling has it really been 20 years since Harry Potter came to life? Holy moly thanks for making my life magical for that 20 years :)

— Tamara gray (@tmrajgray_gray) June 25, 2017
Happy 20 years of Harry Potter, Thankyou for everything, you are my hero @jk_rowling pic.twitter.com/a5PLmK7z5c

— Lumos Blade (@lumosblade) June 25, 2017
Can't believe it's been 20 years since the 1st Harry Potter book was released.
So grateful I had them in my childhood. #HarryPotter20 👍🏻📖

— JOSHUA CRISP (@IAmJoshua_) June 25, 2017
@jk_rowling It's hard to believe Harry Potter came out 20 years ago,Thank you for all the amazing adventures and for all the strong women💛

— Isabel (@Abookofwords_) June 25, 2017
Already 20 years that #JKRowling enchants us with #HarryPotter Thanks!! pic.twitter.com/jRGT3mMx72

— Marie Gourvellec (@MayGourvellec) June 25, 2017
Its 20 years since Harry Potter and the Philosopher's Stone came out! I want to thank @jk_rowling I couldn't imagine a world without HP ⚡️

— Amy Williams (@amyw_137) June 25, 2017