That's right, it's 20 years to the day in 1997 when JK Rowling's Harry Potter and the Philosopher's Stone was published, the first installment in what was to become the greatest publishing phenomenon of the last quarter century, before spawning a big screen franchise that has earned over seven billion Euro at the box-office - not to mention the theme parks and associated theatrical works.
20 years ago today a world that I had lived in alone was suddenly open to others. It's been wonderful. Thank you.#HarryPotter20

— J.K. Rowling (@jk_rowling) June 26, 2017
To celebrate this momentous occasion, let's take a moment to explore some Irish connections within Rowling's ever-expanding Potterverse...
Dumbledore only loves the Wild Atlantic Way...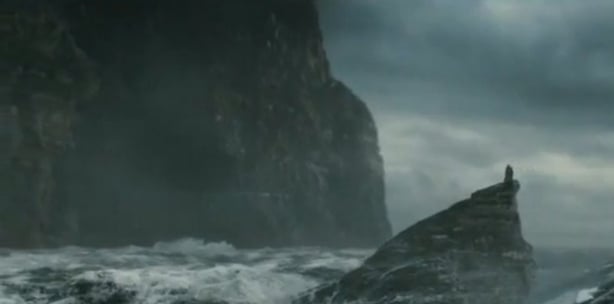 For a pivotal scene in Harry Potter and the Half-Blood Prince, Harry and Dumbledore can be spotted floating towards the Cliffs of Moher, County Clare, in search of Slytherin's locket. Soft 'auld day...
The Potter flicks are chock-full of Irish talent.
Irish actors have regularly popped up throughout the Potter movies, from Richard Harris' original Dumbledore and Michael Gambon in the same role. Two generations of the Gleeson family (Brendan played Mad Eye Moody, Domhnall was Bill Weasley) to Belfast boy Kenneth Branagh, Fiona Shaw and a host of choice character actors ranging from Michelle Fairley to Ned Dennehy - most recently, we saw Colin Farrell in Potter spin-off Fantasic Beasts and Where to Find Them.
Ireland plays host to an annual Potter gathering...
Dublin's Leaky Con is a celebration of all things Potter; for their 2017 event (which runs from August 31 to September 3) they have secured a quartet of Potter stars, including Katie Leung (Cho Chang), Hero Fiennes-Tiffin (young Tom Riddle), Louis Cordice (Blaise Zabini) and our very own Evanna Lynch (Luna Lovegood). It gets even better - die hard Potterheads can look forward to musical tribute troupe Starkids and the legendary Potter Puppet Pals:
We need your consent to load this YouTube contentWe use YouTube to manage extra content that can set cookies on your device and collect data about your activity. Please review their details and accept them to load the content.Manage Preferences
We found another Irish connection in the books!
Well, almost... The backstory of the Ilvermorny (pronounced ill-ver-morn-ee) School of Witchcraft and Wizardry features in the second instalment of JK Rowling's Magic in North America collection, which you'll find on the official Pottermore website; the school's roots can be traced to Ireland, where a orphan named Isolt Sayre, born in the valley of Coomloughra, Co. Kerry as a descendant of Hogwarts' co-founder Salazar Slytherin, set sail to America to escape her evil aunt, Gormlaith Gaunt. That should qualify her to play for the Irish Quidditch Team, the Kenmare Kestrels, founded in 1291, alongside Seamus Finnigan.
Bertie is magic, too.
On the same day that Harry Potter and the Philosopher's Stone was published, Bertie Ahern, at the age of 45, became - what was then - the youngest ever Taoiseach of Ireland. The two events are seemingly unrelated, but Bertie has pulled off a few illusions in his political lifetime, before disappearing from public view. Evanesco!