Taoiseach Leo Varadkar's Love Actually comment on his first visit to 10 Downing Street has proven to be social media box office as Twitter users weigh in on the quip.
At the start of his joint press conference with British Prime Minister Theresa May on Monday afternoon, the Taoiseach made reference to the 2003 rom-com classic, which starred Hugh Grant as a newly-elected Prime Minister prone to dancing around No 10 to the Pointer Sisters' Jump after a good day at the office.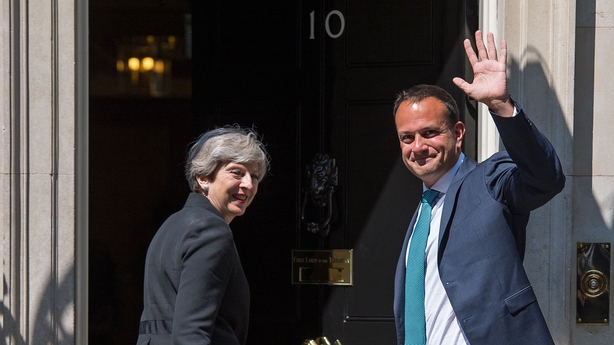 "First of all, Prime Minister, thank you very much for hosting us today here in 10 Downing Street. It's my first time in this building so there's a little thrill in it as well," said An Taoiseach. 
We need your consent to load this YouTube contentWe use YouTube to manage extra content that can set cookies on your device and collect data about your activity. Please review their details and accept them to load the content.Manage Preferences
"As we spoke on the way in I was reminded of that famous scene in Love Actually where Hugh Grant does his dance down the stairs," he continued to some laughs from the assembled journalists. 
"But apparently it wasn't actually filmed here, so I didn't get a chance to see the stairs."
Reaction was, of course, as swift as it was mixed. Here are some of the ensuing tweets:
DO THE DANCE LEO! @campaignforleo https://t.co/brQbQpCAZR

— Tara Mulholland (@tara_mulholland) June 19, 2017
#LoveActually is brilliant and I'm delighted @campaignforleo made a joke about it. Politics can be so dry sometimes!

— Chris Barrett (@cr15b) June 19, 2017
Does this mean Taoiseach Leo Varadkar will be reminded of a scene from Independence Day when he visits the White House?  #loveactually https://t.co/nKUyrfys26

— Fiona Kenny (@fionakenny1) June 19, 2017
Leo Varadkar Downing Street
'Love Actually' moment! pic.twitter.com/Me4xtm52DR

— Paul Dalton (@Simplyplants) June 19, 2017
Cringing 🙈 https://t.co/D3540zHcMC

— Hazel O' Brien (@Hazeltobrien) June 19, 2017
Irish PM Leo Varadkar laughing about the Love Actually dance scene. It's his first visit to 10 Downing Street.

Politics lols.

— Daniel Rosney (@DanielRosney) June 19, 2017