Netflix drama House of Cards is back for a fifth season of political shenanigans with Frank and Claire Underwood. John Byrne reviews its opening episode.
Note Spoilers
You can imagine the dilemma facing the writers and producers on House of Cards: how to play its first season since Donald Trump came to power in the US and effectively killed political satire.
And even though House of Cards has gradually edged into soapy self-parody over the last three years after a remarkable first season, fans will be eager to binge on the latest bunch of new episodes.
Now, I'm not going to get too carried away but if the opening hours-worth is any measure, they won't be disappointed. It's great fun.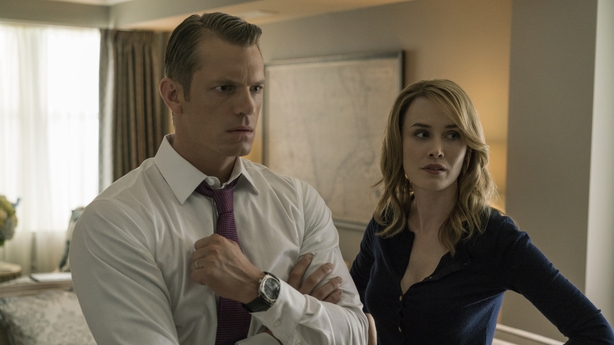 Following on from where season four left off, the joint Underwood ticket is in the throes of a tough presidential election campaign against charismatic Republican Will Conway (and his beautiful wife played by Irish actress Dominique McElligott) as they bid to remain in the Oval Office.
The season opener also spends a lot of time sifting through the wreckage of the shock beheading of James Millar, who was murdered by American-born supporters of the fictitious terrorist group ICO, who are clearly modelled on ISIS.
Really, the major changes in the show have occurred off-screen, as the show's creator, Beau Willimon, has departed and the show's new bosses consists of Frank Pugliese and Melissa James Gibson.
Pugliese's his track record includes an award-winning episode of the excellent Homicide: Life on the Streets, one of the greatest shows of the 1990s.
Fellow executive producer Melissa James Gibson has also been writing for House of Cards for the last couple of years, and her CV boasts writing credits for The Americans, easily one of the best shows currently on the box. With those two in charge, you'd have to be optimistic.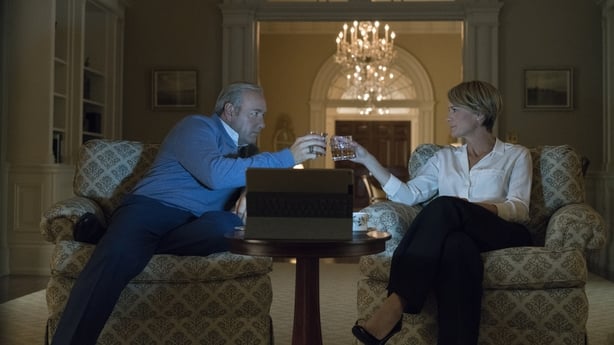 .
So, has much changed on-screen? Certainly, Frank and Claire are the same pair of scheming experts in the black arts, but this opening episode rattled along, and the show's probably hitting a soapy peak. Which is a smart move given who's in the White House for real.
Still under pressure from his enemies, Frank sees the benefit of going for the terrorist bone like the smart dog that he is, as it's easily the best piece of deflection available. When we catch up with him he's causing havoc in congress, seeking a declaration of war against ICO.
There's the funeral of Jim Miller, the man beheaded last time out. It's another great photo and war-making opportunity for the Underwoods, especially as Frank also faces a TV debate with Tom Hammerschmidt, the journalist who has Frank in his sights.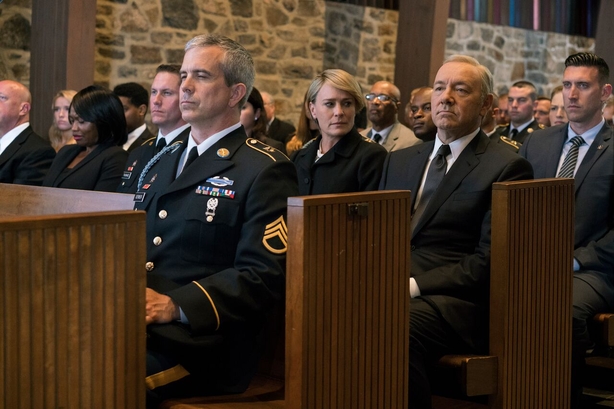 It ain't pretty; it never is with the Underwoods. But that's the point of House of Cards: these people are so narcissistic and sociopathic, you can't help but cheer them on.
And it's all played out with tremendous enthusiasm, particularly by Spacey and Wright, who remain on top form.
I'll let you in a bit of a spoiler, although it's more of a reflection of where the show's at in terms of playing the audience, rather than some plot giveaway. And who cares about plot when you're having fun, eh?
We need your consent to load this YouTube contentWe use YouTube to manage extra content that can set cookies on your device and collect data about your activity. Please review their details and accept them to load the content.Manage Preferences
At the end of the episode, Claire brings Frank outside the White House, to shake hands with a throng of people who are standing outside the gates of the ultimate American residence, waiting to be guided by their leader.
"You have nothing to be afraid of," he repeats to people as he shakes hands with them through the railings. Then he turns and looks at the camera – in Frank's traditional, fourth wall-breaking style – and tells viewers: "You have nothing to be afraid of."
Now that's the way to end an episode and set a mood for the remaining twelve episodes!
House of Cards, Season Five is available to stream on Netflix now.