It's the storyline that has gripped the nation over the past year, and finally this week Katy O'Brien's fate is set to be revealed on Fair City - and it's had a profound effect on those involved.
In May 2016, Katy disappeared from Carrigstown without a trace. Since then, the O'Briens have desperately been trying to find her, while dealing with the daily anguish of not knowing whether she is alive or dead.
After a year in captivity at the hands of Ciarán, Katy is in the grip of Stockholm Syndrome. Although she's closer to freedom than ever, Katy must cut the ties with the man she has become utterly dependent on to save herself. Will she be able to do it?
We need your consent to load this YouTube contentWe use YouTube to manage extra content that can set cookies on your device and collect data about your activity. Please review their details and accept them to load the content.Manage Preferences
After Tuesday's cliffhanger, Wednesday night's episode will see Ciarán (Johnny Ward) and Katy (Amilia Stewart) on the run and running out of options. Ciarán is losing blood from his stab wound and is losing his grip on reality. Katy is faced with the choice of leaving him to try to get help to save his life or stay by his side.
Viewers have been glued to the storyline over the past 12 months, with petitions created to #FreeKaty that received over 6,000 signatures.
Amilia Stewart, who plays Katy, has recalled how she prepared for the role of a kidnap victim.
"I did a lot of research myself. Since last April I looked up hostage situations, kidnaps," she told RTÉ Entertainment. "I watched Netflix documentaries - anything I could. But I didn't talk to anyone directly.
"It was really draining - especially all the scenes in the same clothes, in that box. I actually miss it now. I really, really miss doing the scenes in that box!"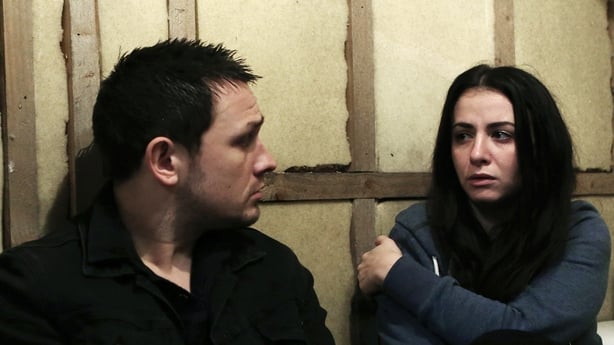 It's been a year since Katy was kidnapped, but all that time Stewart was unaware how long her character's ordeal would last, or whether the outcome would be happy or sad.
"We don't know," she said of Fair City storylines. "We get scripts ten days in advance. We don't know what goes on.
"I didn't know, and I didn't like to know whether Katy was going to live or Katy was going to die, or if she was going to see her family again."
"I like it like that," she added.
"I like the surprises. I think that you can actually play it true. I think if you know what's coming up you anticipate it, and you're playing something completely different."
Stewart also admitted that the experience had an effect on her as an actor.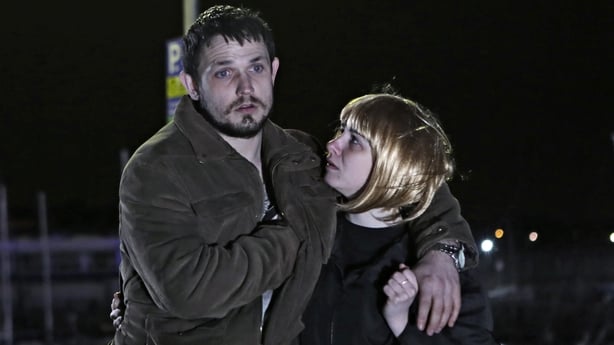 "The first week that we got out [of the box], I was in the apartment and I found it so difficult working with another character that I'd worked with for years," she said. "I just found it so difficult to jump back into it, because I was so used to just working with Johnny."
Johnny Ward, who plays kidnapper Ciarán Holloway, was equally unaware when he took on his role that he would become one of the most infamous characters in Carrigstown history.
"Originally when I auditioned for this role I was a happy-go-lucky mechanic who liked women and motorbikes," said Ward, whose CV includes acclaimed gangster drama Love/Hate. "Then I was told: 'This guy has a bit of a secret...'"
That wasn't all he was told.
"They then said: 'Do you know Amilia Clark Stewart?'" continued Ward.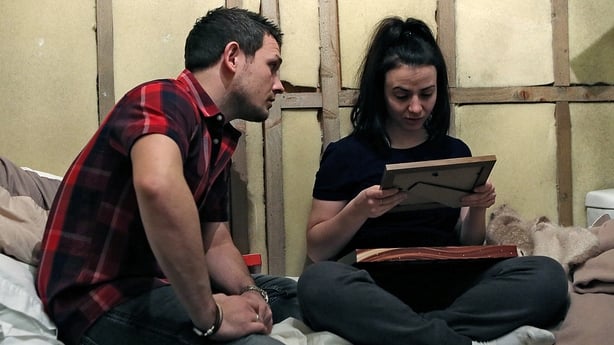 "I didn't know her under that name, so when they showed me a photograph I was pleasantly surprised. One of my childhood best friends, we used to hang around summer 2002. I was just really excited about working with Amilia, and knowing about this dark secret.
"I suppose the difficult thing for the both of us was to keep it from the cast members for the first seven or eight months.
"We had to swear to secrecy and I don't think anyone realised until the cast call sheets, when me and Amilia would be in all the time.
"We were excited. I think we were both quite intimidated. We did a lot of research and we often met up in each other's houses just to go through things and read things, because we wanted to really nail it."
To find out Katy's fate, tune into Fair City at 8pm on RTÉ One.