Guns N' Roses fans attending the band's Slane Castle show on May 27 have been urged to stay away from the river at the iconic venue on the day of the show and to enjoy the concert safely.
Eighty-three-thousand people are expected at Slane Castle for the concert and fans have been encouraged to arrive early and use public transport to Co Meath where possible.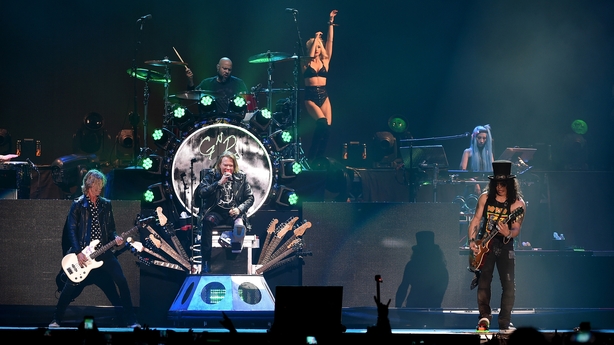 It is thought the band could come onstage as early as 7pm and will play a full set of over 20 songs, so concertgoers are advised to be in place before 5pm.
Slane Castle owner Lord Henry Mountcharles described it as a great thrill to be hosting Guns N' Roses again, 25 years on from the band's last Slane show in May 1992.
"This is particularly emotional because the last time Guns N' Roses played here was immediately after the fire [in Slane Castle in 1991]," he told RTÉ News.
"We were all shattered and in a bad place, and that [concert] started lifting everything."
Lord Mountcharles said Slane Castle was rebuilt on rock and roll and he urged people to pay heed to the Gardaí and have a safe trip. He emphasised the need for people to stay away from the river on site.
Gates are open at 2pm with support from local act Otherkin, Mark Lanegan and Royal Blood. If people are driving to Slane, car parks are colour-coded and signposted from the main routes.
Luke Reilly, Slane local and @OtherkinOK's lead singer, says it's "surreal" to be supporting @gunsnroses at Slane Castle this year. pic.twitter.com/bEnkpK4bU9

— Entertainment on RTÉ (@RTE_Ents) May 18, 2017
Full details can be found at mcd.ie and a free app can be downloaded with more information.