Ed Sheeran has said he has his Galway Girl video star Saoirse Ronan to 'thank' for a new misspelt tattoo which reads "Galway Grill".
The heavily-inked singer-songwriter was in Galway last week filming the promo for his hit song with the Oscar-nominated actress - but not everything went to plan. 
"When we were filming it, I meant to get a tattoo of her handwriting saying 'Galway Girl'," Sheeran told fans at his recent concert in Glasgow.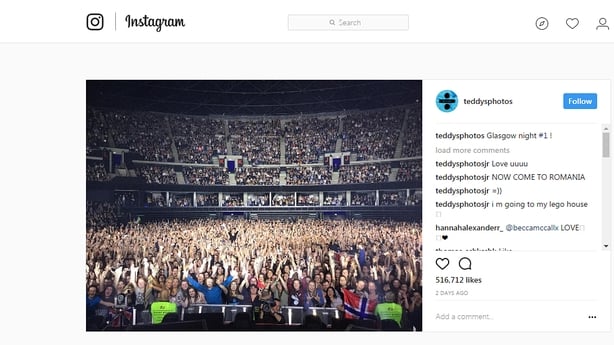 "It actually says 'Galway Grill'. G-r-i-l-l."
Sheeran was, however, quick to pay tribute to his leading lady's mischief-making.
"Like, full on, she really took the p*** out of me with this one," he said.
"I'm actually kind of proud of her. It's the kind of thing that I would do."
We need your consent to load this Facebook contentWe use Facebook to manage extra content that can set cookies on your device and collect data about your activity. Please review their details and accept them to load the content.Manage Preferences
Speaking on RTÉ 2FM's the Eoghan McDermott Show last week about the video for Galway Girl, Sheeran said: "It was great; it was a long shoot. We finished at 4 o'clock in the morning. I think I can talk about it - we cast Saoirse Ronan as the Galway Girl in the video and she's just a phenomenal talent."
Sheeran said it had been "amazing" to watch the Carlow actress at work.
"I was shooting some of the video myself. At some points, where I'm holding the camera, she, off-screen, is normal and just like a cool person, and as soon as the camera goes on her she just turns..." he recounted.
"It was a really phenomenal thing to watch. I've never really seen a young actor or actress that good. She's really talented."
Meanwhile Sheeran has also been hanging out with Jedward, teasing a possible 'Jed Sheeran' collaboration:
We need your consent to load this Instagram contentWe use Instagram to manage extra content that can set cookies on your device and collect data about your activity. Please review their details and accept them to load the content.Manage Preferences