Vin Diesel has been bragging about kissing his Fast and the Furious co-star Charlize Theron and now the Oscar-winning actress has hit back.
Theron plays a villainous superhacker who turns Diesel against his entire crew, including his longtime love Letty (Michelle Rodriguez), in the eighth instalment of the hit action franchise.
The action movie star previously told USA Today that Theron most definitely enjoyed locking lips with him.
"Charlize Theron is not a bad kissing partner to have. There are worse things that can happen to you", he said. "Do I know she enjoyed it? Oh, my God, yeah. A kiss cannot lie, lips don't lie. No, they didn't. She owned it."
Theron appeared on The Ellen DeGeneres Show where she told the chat show host that he needed to cool it with the bravado.
When DeGeneres says Diesel has been going around talking about the kiss, Theron started wrinkling her nose and shaking her head before launching into a hilarious tirade.
"I just don't get it," she laughed. "I mean, you can see it. My hand is forcing his face, which is what the movie's about. He's not into it, he's in love with Letty, Michelle Rodriguez's character. I'm the crazy chick that's doing this horrible thing to him and, as he should've, his character is just standing there frozen, like a dead fish.
"That's what I was kissing, and he's literally going around, saying that I had the best time of my life", she said in disbelief.
"They're like 'Do you think she liked it?' and he's like 'Oh yeah, she loved it."
"I mean it's insane! And then this whole spiel about 'lips don't lie'...", she continued, before deadpanning: "I like a little bit more movement in my men".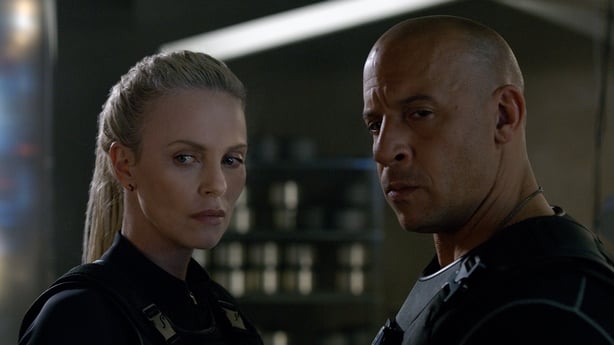 Theron concluded her take on the whole debacle with: "We're confusing reality with fiction... It looks like I'm assaulting his face with my mouth."
Read our review of the eighth Fast & Furious film here. 
We need your consent to load this YouTube contentWe use YouTube to manage extra content that can set cookies on your device and collect data about your activity. Please review their details and accept them to load the content.Manage Preferences