Man of the moment Ed Sheeran is set to co-host The Eoghan McDermott Show live in studio on RTÉ 2fm this Thursday, and one lucky listener will win the last set of tickets to his 3Arena gig.
The exciting announcement was made on 2fm on Monday afternoon with McDermott revealing that the 26-year-old singer will be in the building from 4pm to 5pm to have the chat and to perform some tracks from his third album ÷ [divide].
London-based singer-songwriter Anne-Marie, who is supporting Sheeran on his European tour, will also join him in having the banter in the 2fm towers.
.@edsheeran will join @eoghanmcdermo live in studio this Thursday!

He's giving away the LAST 2 tix to his gig in @3arenadublin!❤ #EOGHAN2FM pic.twitter.com/1N7zbAdyrU

— RTÉ 2FM (@RTE2fm) April 10, 2017
Speaking to RTÉ Entertainment about Sheeran's upcoming stint on the show, McDermott said he is "delighted" that the Sing hitmaker is going to be helping him to present the show.
"He's co-hosting the show for a full hour. He's going to be chatting and singing live and we're going to do regular pieces of the show and run some competitions that we'd usually run.
"He's got pretty much the last pair of tickets in the whole of Ireland to give away. He's going to call a listener by the end of the show and give them away," McDermott  added.
"We're going to have limousines on standby in all four provinces of Ireland and pick someone up and get them to the gig."
McDermott says he won't be asking Sheeran anymore questions about his time off and what he was up to and is instead more interested in having the craic - which means no rehearsal is necessary.
"He's just going to hop straight in. I think it will be fun because I guess he's talked pretty extensively about his time off and where he went and what he did. I kind of feel like all the questions of his time off have been covered.
"I want to just riff on what's going on in Ireland and the news and not make it formulaic. It's exactly the kind of experience you want to give to people. Hopefully it will be pretty great," he added.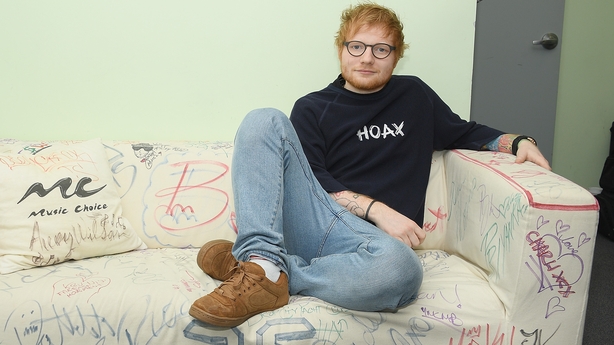 Sheeran, who is a regular guest on the show and a good friend of McDermott's, told the host in January about the two Irish trad songs on his album, Galway Girl and Nancy Mulligan.
"I've actually got a song on the new album which I think is really gonna explode in Ireland," Sheeran said. "It would be something to do with the county of Galway. I've got a trad band called Beoga, they're actually from Belfast. It's a fiddle, a pipe, a bodhrán and piano and we really jam.
"It's gonna be really good but I think I will never be able to play another song in Ireland again because that one will just be the song."
We need your consent to load this YouTube contentWe use YouTube to manage extra content that can set cookies on your device and collect data about your activity. Please review their details and accept them to load the content.Manage Preferences
Following the release of ÷ last month, the question on everyone's lips while listening to his album was - who was the mystery Galway Girl?
It didn't take long until the puzzle was solved and the Irish cailín that stole his heart was tracked down.
The honorary Irishman has broken records across the globe with his third album. The LP broke all of Spotify's first day streaming records, went double platinum in Ireland and up until recently held all top 16 spots in the singles chart, which had never been done before.
Sheeran is gearing up for two nights at Dublin's 3Arena on April 12 and 13.