Celebrations of this year's St Patrick's Day are more diverse and colourful than ever so we've rounded up a county-by-county look at events happening over the weekend.
Don't let your county be green with envy - let it be green with St Patrick's Day fun! Scroll down to see what's happening in your town!
Antrim
This year the line-up for Belfast's St Patrick's Day Parade and Concert includes X Factor runner-up Fleur East while supporting acts will include Reggie 'n' Bollie and Stooshe along with drumming talent from the local Belfast Boys' Model School and traditional tunes from band The Rare Aul Stuff. All this and an age-friendly Belfast Punjana St Patricks Day Tea Dance in the Ulster Hall. More details here
Armagh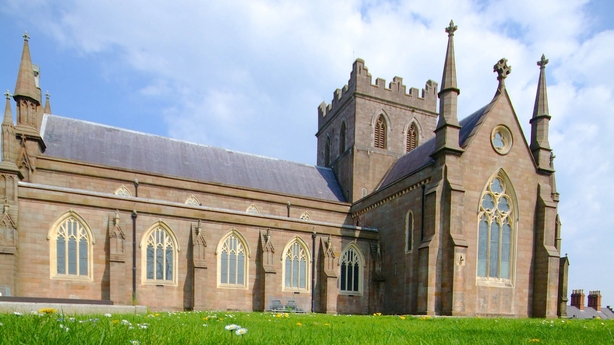 With a theme of Myths & Legends, St. Patrick's Day in Armagh celebrates St Patrick with a display of colour, music, dance and entertainment. Crowds gathering in Armagh City Centre will be entertained by Malachy O'Neill and local band Hatchjaw. After the procession passes through, the afternoon will continue with All Folk'd Up. Your MC for the afternoon is broadcaster Lynette Fay. More details here
Carlow
Carlow boasts a series of parades in honour of St.Patrick in different venues around Cheatharlach: Tullow at 1:00pm; Bagenalstown at 1:00pm; Borris at 2:00pm; Ballon at 3:30pm and Carlow Town at 3:30pm. More details here
Cavan
All roads lead to Mullah in Cavan this St. Patrick's Day. The annual parade will kick-off at the relatively late time of 5.00pm. It promises to be a colourful event with floats and seven marching bands.
Clare
The Ennis St. Patrick's Day parade is expected to be one of the biggest in the county. The theme for this year is Ennis - A Multicultural Town. The groups and bands will reflect various cultures in their float or band.
Cork
Ireland's second city aka the real capital holds one of the country's biggest St Patrick's Day events, celebrating with marching bands, dancers, street theatre performers and community carnival groups. Co. Cork is famed for its cuisine and foodies will be spoilt for choice with the Barry's Tea Market and Mahon Point Farmers Market on Emmet Place, where specialist local food producers bring the freshest and tastiest delicacies into the heart of the city.
Derry
Derry's theme this year is Forever Young - a celebration of youthfulness of mind and spirit - and the St Patrick's weekend boasts family activities featuring music, dance, food, folklore and more.
Donegal
Glenties is set to make history as the location of Ireland's first St. Patrick's Day Parade this year. An illuminated parade will be held at one minute past midnight on March 17. The Letterkenny Accordion Band, the Dungloe Band, the Killakee Band and two Donegal Town bands will all play. The floats are based on the theme "be heard, be green, be seen." You heard the man in the pointy hat!
Down
St Patrick died on March 17, 461 in Saul Co. Down so the county is big on his special day. This year they invite you to visit the Folk Museum at Cultra to join in traditional St Patrick Day celebrations from over 100 years ago. There will be a chance to learn traditional set dancing to live music. Listen to storytelling and sample homemade traditional foods and solve the St Patrick's Day Quiz as you make your way around the Folk Museum.
Dublin
Well, this is the biggie - not the largest St Patrick's Day parade in the world but certainly the most important and you can watch it all live from Dublin wherever you are in the world for free on the RTÉ Player as it snakes (sorry) its way through the streets of the capital. It starts at 12:15pm (Irish time), with commentary from Lord of The Dance himself Des Cahill. Bláthnaid Ní Chofaigh and Aidan Power host the event from the streets of Dublin. The theme this year is Ireland You Are and it promises to be packed with art, design, performance and of course ceol agus craic.
Fermanagh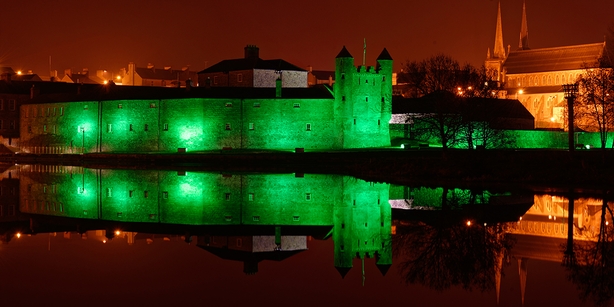 Enniskillen is promising the biggest cross community party of them all and the free fun starts at the Broadmeadow with a host of live entertainment acts from 1.30pm on St Patrick's Day. You can follow the parade between 3.30pm to 4.30pm on its traditional route featuring processional sculpture, floats, vintage vehicles, acrobatics and all types of bands. More here
Galway
The city that gave us Macnas is not going to disappoint on St Patrick's Day so expect plenty of pageantry and magic in the City of The Tribes. They tell us to forget the wee people as Galway's 90-minute parade will be larger than life. The line-up will include everything from GAA and Traveller groups to cultures from around the world that now call Galway home. More here
Kerry
Beautiful Killarney hosts one of Ireland's most colourful St Patrick's Day Parades with a fun festival combining street music and dance in a fabulous emerald green event. The theme for St. Patrick's Day Parade 2017 is Diversity. More details here.
Kildare
Newbridge's parade starts at 12 noon and will feature music, dancing, floats and vintage vehicles, both civilian and military. Almost 90 per cent of the entries this year are community-based groups. "We are delighted that twinning guests from Bad Lippspring of Germany, Ocala Florida and Argentre du Plessis of France will march in the parade," say organisers. "Newbridge will be entertained at the town hall with singing by Lorraine Murphy Soprano at 11.30am and by the Newbridge Brass and Wind Orchestra."
Kilkenny
Everyone knows that Kilkenny is one of the most artistic places in Ireland so there is no holding back on St Patrick's Day. The Marble City will burst into life with street performers from Buí Bolg brightening up the streets, including the Fiddling Foxes, Nesting Ducks and Dancing Fish. Yup, you read right. Also look out for the Fanzini brothers - one on a penny farthing and the other, a whip cracking cowboy. More here
Laois
The theme of the parade and festival this year will be 1916. With great family entertainment after the parade on the main street. There will also be a Day Duck Race on the Triogue River at 2.00pm. More here
Leitrim
This year's Grand Marshal John Feely will lead the St Patrick's Day Parade in Carrick on Shannon in a 1924 vintage "Bullnose" Morris Oxford. The parade starts at 12.45pm and Parade Prizes will be awarded in the following categories: Best Overall Entry; Most Creative Entry; Best Children's Entry; Best Youth Entry and Best Club/Organization Entry.
Limerick
An estimated 80,000 people are expected to line the streets of Limerick City from midday on St Patrick's Day for Ireland's largest regional St. Patrick's Day Parade. More here
Longford
This year's parade in Longford has a carnival-like atmosphere with not just green as the ruling colour. St Patrick's is always a massive event in Longford County and this year is no different. The parade promises lots of family entertainment and on Saturday, you can join the "park run" in the mall to shake off the St Patrick's Day cobwebs. More here
Louth
In Louth this year, there will be a music and arts festival with National and International Stars. In the Bellurgan Park Manor International electronic artists meet Ireland's own talented artists to inspire each other and the audience.
Mayo
The Parade will feature giant figures from the Workhouse Studios. The parade starts at 1.30pm at Castlebar Street and will travel up to the Distillery road. Afterwards there will be entertainment at the Octagon with the All Star Céilí Band including All-Ireland champion dancers, The Ganley Sisters.
Meath
The theme of this year's parade in Navan will be Cartoon Characters. There will be music at Kennedy Plaza and lots of things to do for the young crowd as well. One major highlight will be the annual fireworks display at the Blackwater Park, which will take place on Thursday, March 16 at 7.00pm.
Monaghan
The theme for Monaghan's parade is Inclusion - A Monaghan for Everyone and participants have been asked to incorporate the theme into their entries.
Offaly
The annual Tullamore St. Patrick's Day Parade starts at 11:30am on the big day and the theme this year is Offaly Waterways with John Dolan, President of the Inland Waterways Association of Ireland serving as Grand Marshall. There will be water-based activities on the day, in association with the Offaly Inland Waterways Association, Offaly Rowing Club, and more. Sounds like an Offaly big adventure. More here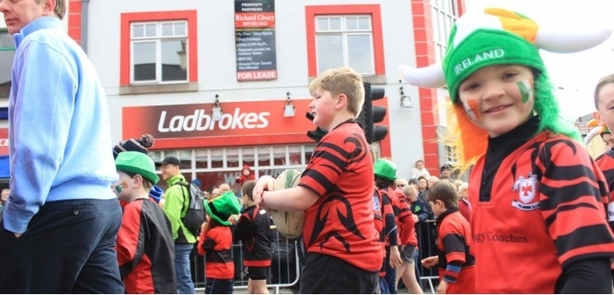 Roscommon
For their St. Patrick's Day Parade, the town of Boyle have some pretty colourful events planned and perhaps the highlight will be the Brazilian Samba Dancers who will shake their thang on main street. The Irish Army Colour Party will also be in town. Told you it would be colourful. More here
Sligo
The parade at 12 noon and promises to be jam-packed with free family friendly events. The starting point is Mail Coach Road and we wind up at the Mercy Convent Gates. More here
Tipperary
Tipp's theme this year Keep It Green '17 while in Clonmel, the parade will celebrate both South Tipperary Arts Group marking its 50th year and South Tipperary Arts Centre marking its 20th year.
Tyrone
Strabane's St. Patricks Day parade departs from St. Mary's Church on Friday and goes through the town centre. Look out for The Chinese Lion Dance with his long colourful tail, and the Russian Choir will also perform. This year's parade will be very family friendly with free events celebrating different cultures. More here
Waterford
This year's Portlaw's St. Patricks Day Parade will include some amazing performances from Irish dancers, Zumba and a special performance by the members of Portlaw Junior Musical society immediately after the parade. More here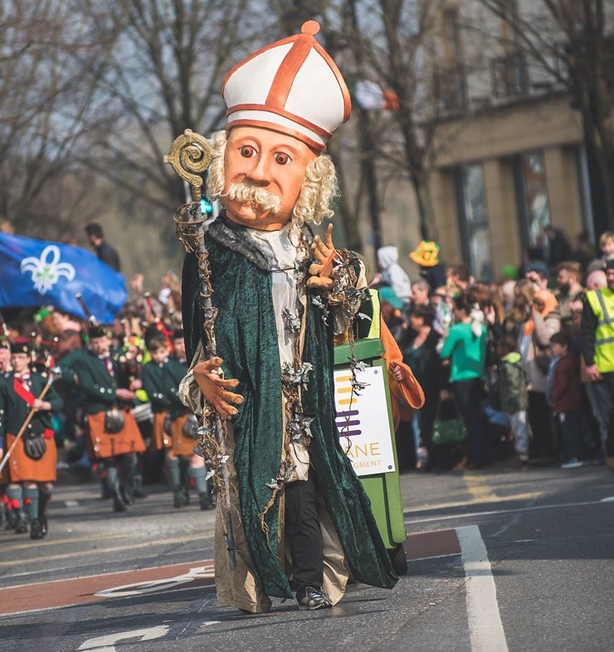 Westmeath
They are pulling out all stops for the St Patricks Day parade in Athlone this year. There are many events around town. A couple of highlights include A Duck Race at 4.30pm and the Thunder Action Sport BMX demo at Civic Square.
Wexford
No less than ten bands along and 130 local groups and floats will take part in Wexford's parade this year. The whole crazy conga moves off at 11.00am. More details here
Wicklow
Starting at 3.15pm from Whitegates, the colour party for this years St Patrick's Day Parade in Wicklow Town come from Post 21, the Wicklow branch of the Irish United Nations Veterans Association (IUNVA). Based in Bray, members come from all over Wicklow, Wexford and South Dublin. There are also parades all over the Garden of Ireland in Arklow, Bray and Aughrim and many other locations.
Nina Epifanova/Alan Corr