Foo Fighters will rock this year's Glastonbury two years after they were forced to cancel their headline show at the festival after frontman Dave Grohl broke his leg.
Performing at a free concert in a small venue in nearby Frome in Somerset on Friday, the band announced they would take over Glastonbury's Pyramid stage on Saturday, June 25.
Florence and The Machine took the Foos' place at Glasto after their cancellation in 2015.
Friday's invite-only gig in Somerset was the Foo's first show in one and a half years.
In a video, event organisers pulled up to the location of Glastonbury at Worthy Farm only to find the band sitting ready to perform, four months early.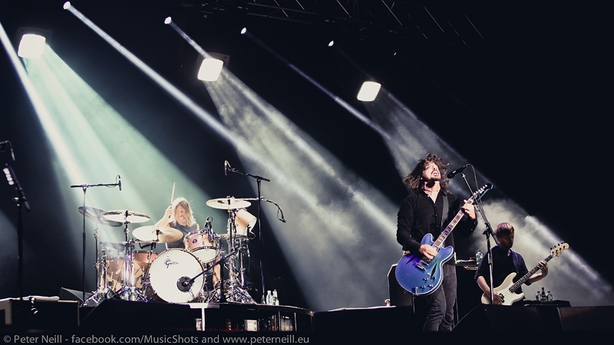 One said: "We are here to build the stage you will be performing on," before offering them the slot down the road in Frome instead.
The video then cut to the venue, where Glastonbury founder Michael Eavis introduced the group the stage and confirmed all suspicions.
The band had kept their fans in suspense, with cryptic clues to the big announcement on their website, designed to look like a flight check-in page.
Grohl, 48, paused mid-show to ask the audience how well the band's mysterious revelation had played out.
"So, who knew? How did you know?" he asked, and joked: "You just can't keep a f****** secret any more."
Foo Fighters will join recently announced Brit rockers Radiohead as headliners for the famous festival.
Foo Fighters played Slane Castle in Co Meath in 2015.