Last night's Brit Awards proved that the show still has plenty of sparkle and political awareness.
This year's pop filled extravaganza including a politically charged performance by Katy Perry alongside two dancing skeletons seemingly dressed as Donald Trump and Theresa May (not to mention one of her backing singers falling off stage), Ed Sheeran's surprise collaboration, and an emotional tribute to the late George Michael.
Katy Perry huffed and puffed and blew the house down 
Ever have one of those moments were you wish the ground would swallow you up? We've a feeling Katy Perry's backing dancer was thinking just that after she slipped and plunged into the crowd at last night's award show.
The unfortunate dancer, who was dressed as a white house, had difficultly navigating their way on stage and took an unplanned trip downwards during Katy's performance of her new song Chained To The Rhythm.
Eagle-eyed Twitter users questioned whether the house-in-question was the out of sync 'the left shark' from Perry's Super Bowl performance in 2015, while others commented on how the fall was funnier than Madonna's topple in 2015.
The house market really is plummeting #BRITs #KatyPerry pic.twitter.com/hs4H4HBxkm

— rach ✨ (@rach_narborough) February 22, 2017
Left shark 2015. Right house 2017. #KatyPerry #brits #KatyPerryBRITS #ChainedToTheRhythm pic.twitter.com/lXtNP0SxyP

— Can you hear me? (@TalentSustains) February 22, 2017
With its new claim to fame, we've a feeling the little house won't have any problems getting mortgage approval.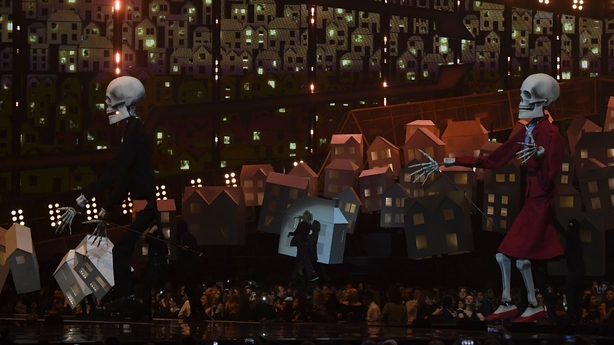 Another talking point of Perry's performance was the two huge skeletal figures, looking suspiciously like Donald Trump and Theresa May.
During her politically-charged performance Perry was joined on stage by two giant puppets which were supposedly reenacting the pair's first meeting in Washington last month.
The figures held hands before bursting into flames – seemingly a reference to a moment when Trump held May's hand as they walked down steps at the White House.
We need your consent to load this Facebook contentWe use Facebook to manage extra content that can set cookies on your device and collect data about your activity. Please review their details and accept them to load the content.Manage Preferences
George Michael - Gone but not forgotten
Viewers were left teary-eyed during an emotional tribute segment dedicated to the late George Michael.
Andrew Ridgely, George Michael's former Wham! bandmate, was joined by backing singers Pepsi & Shirlie on stage to deliver a poignant and touching tribute to the star who passed away over Christmas.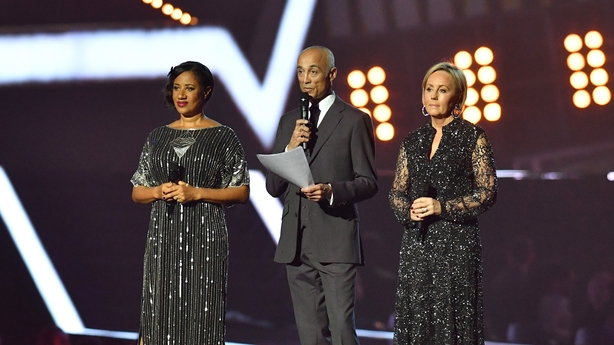 "On Christmas Day 2016, the greatest singer-songwriter of his generation, an icon of his era, and my beloved friend, George Michael was lost," Ridgeley said.
"We always knew George was destined to become a star in his own right," added Pepsi. "His voice was stunning, pitch-perfect, and his performances spell-binding. George, Andrew, and Shirlie changed my life by choosing me to join Wham!"
What beautiful & moving tribute to #georgemichael #BRITs

— Phillip Schofield (@Schofe) February 22, 2017
I'm crying at this tribute to the late great George Michael who made my teenage years most memorable with Whams music 🎶 #80s #BRITs2017

— Lady Lisa Turnbull (@lisalashes42) February 22, 2017
No one but you will have been able to make such a beautiful and sincere tribute @ajridgeley @Shirliekemp @PepsiDemacqueC @david__austin 😘

— SophieGM FRANCE (@cleoesteban) February 23, 2017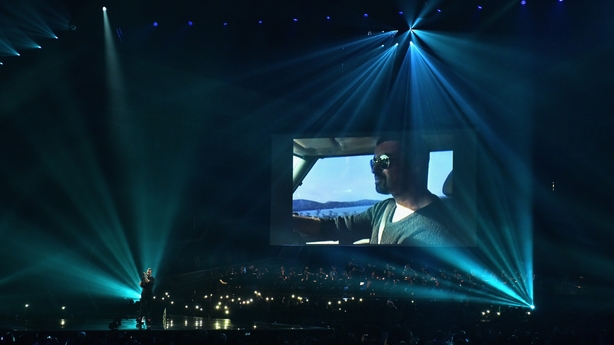 Following the posthumous tribute, Coldplay's Chris Martin delivered a stripped back performance of Michael's A Different Corner accompanied by a string orchestra - but fans were left divided - with many saying that Martin was out of his depth.
Why have people got to be such haters on here? #chrismartin is Chris martin, he's not #GeorgeMichael and wasn't trying to be. Morons. 😡

— Isabella Loxley (@IsabellaLoxxley) February 22, 2017
I thought #georgemichael died off heart failure? turns out #chrismartin murdered him! #BRITs2017

— Aidan Brown (@Aidan_Golf) February 22, 2017
Thank god #georgemichael  came to #chrismartin's rescue there.  He struggled big time...

— maureen myles (@momos55) February 22, 2017

Surprise, surprise! Ed Sheeran leaves fans on Cloud Nine
Ed Sheeran raised the roof by bringing out Stormzy for a surprise performance at the Brit Awards. The man of the moment treated fans to a medley of his two new singles Castle on the Hill and Shape of You, with Stormzy giving a guest verse on the latter to the delight of the roaring crowd.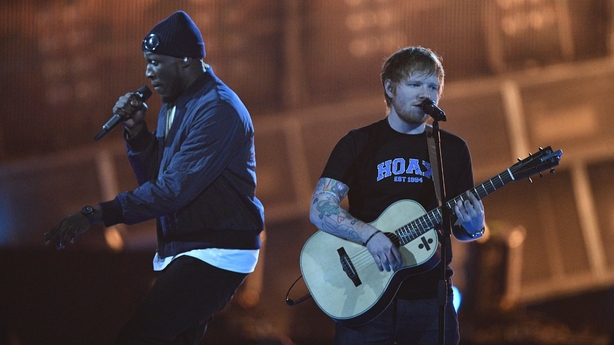 Sheeran had teased his performance at the 37th Brit Awards during an interview with Nick Grimshaw on Monday. "I've got two things dropping on Friday that are pretty interesting. One that gets debuted at the Brits, which I think people will go a bit nuts for," Sheeran revealed.
"It's something that I think nobody is expecting. I think it'll be decent. I've managed to keep it secret up until now, which is good. But tomorrow night, I think we're the penultimate act." 
The talented pair ended their performance by exchanging hugs proving that Sheeran really is a sound guy. Awh bless!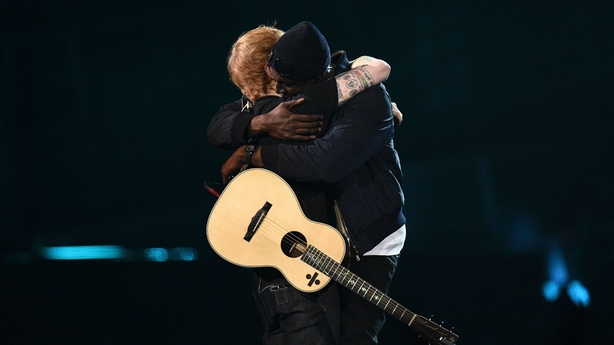 Shout out to Little Mix (and their exes)
Little Mix kicked-off the ceremony with a huge performance of Shout Out To My Ex, featuring 92 dancers. After driving fans wild with their blonde wigs the former X Factor winners made sure to thank their ex-boyfriends who inspired the track.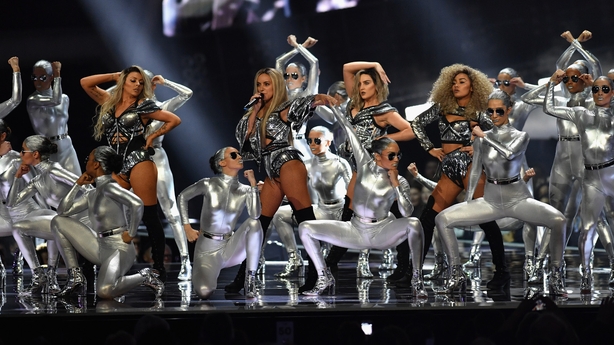 Later in the proceeding the ladies picked up their first and well-deserved BRIT Award for Best British Single.The girls fended-off competition from former One Directioner Zayn Malik - who just happens to be Perrie Edwards' ex-fiance - to win the prize, as well as the likes of Coldplay, Calvin Harris and Clean Bandit.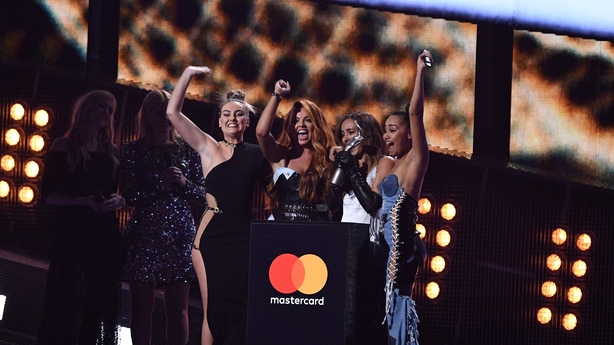 Malik, whose split from Edwards was the inspiration for Little Mix's catchy pop track, had been nominated for his song Pillowtalk, but he was not present at the ceremony.
Take that! Robbie Williams entertained us - and then some
Robbie Williams, picked up the Global Icon gong on the night making it his eighteenth win at the prestigious event. The Robster celebrated by closing the show with an energetic routine of his more recent hits The Heavy Entertainment Show, Love My Life and Mixed Signals.
However, during the segment fans found themselves distracted from the star and focusing on his scantily-clad dancers - one of which fell over and the other who had significant wardrobe malfunction. We'll leave you to find that image.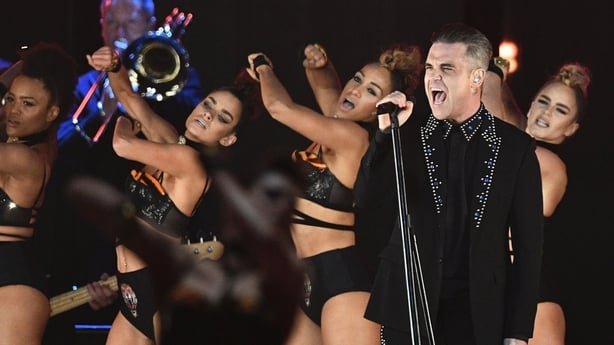 To top off the night of blunders Robbie's hit Feel was accidentally muted for a few seconds as it started, leaving him to pull some awkward faces. And cue the memes!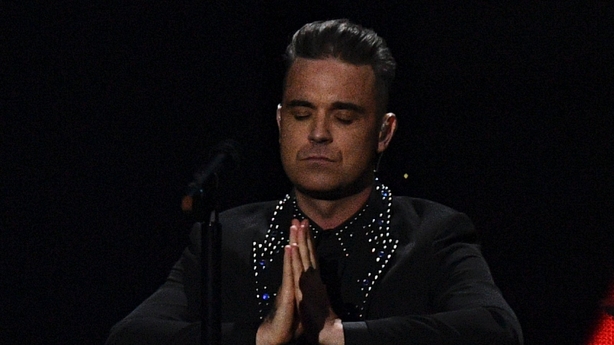 For the full list of winners from last night's show click here