When RTÉ journalist Cian McCormack unearthed a 20-year-old clip from Nationwide last week featuring a baby supping a pint of Guinness it quickly went viral on social media.
The 16-second clip is from a 1997 report about single women being scarce in Co Kerry, and rather incongruously, at one point it cuts to a baby on a mother's lap gulping away from a pint.
Almost immediately the hashtag #PintBaby began to trend on social media and the search began to track down Pint Baby in 2017.
Well, the good news is that he's finally been located.
McCormack tracked down the now 20-year-old 'Pint Baby' Stephen Barron and his mother Caroline in Prosperous in Co Kildare, where he found out the story behind the footage and discovered their reaction to their new found notoriety.
Caroline first told the RTÉ reporter how they ended up being part of the Nationwide report in 1997, saying: "There was filming going on in Daly's pub in Ennistymon. Nationwide were there to talk to Willie Daly the matchmaker.
"We were there and there was great fun and atmosphere and craic going on and Stephen was sitting on my knee and took a shine to a pint of Guinness and had a drop out of it."
Speaking on the News at One on RTÉ Radio 1, McCormack said the report is "very much of its time" and although "a child drinking alcohol is something that shouldn't be condoned" what is interesting is that the two-decade old clip has become an internet sensation.
Later on @RTENewsAtOne and @rtenews @rte Six One news I talk to #pintbaby 2017. pic.twitter.com/8EfdrCRqhU

— cian mccormack (@cian_mccormack) February 20, 2017
Stephen added "I suppose everyone can relate to it, I'm sure I'm not the only one, I'm just the only one who got filmed doing it."
When asked if she looks at the clip differently 20 years on, Caroline answered: "God I don't look at it differently at all, it was only a drop of Guinness and there's plenty of parents even to this day that will dip a doody into a pint of Guinness, there's no harm in it.
"He's turned out perfectly fine and healthy and happy. There's no bother on him at all!"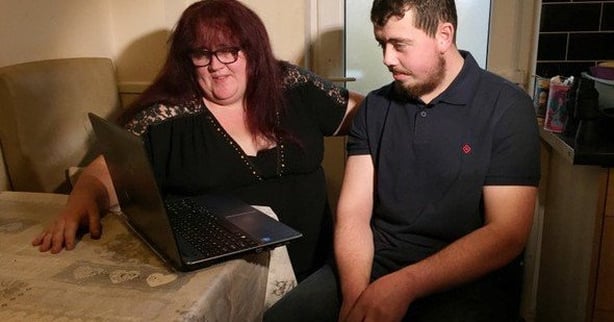 After McCormack pointed out that it's not good for a child to be drinking alcohol, Caroline replied: "It wasn't an everyday occurrence or a weekly occurrence or anything, it was just the situation we were in at the time and he had a drop and a camera happened to be there at the time."
Overall, Caroline said the reaction "has been very good, a lot of people have been commenting 'Ah sure we were all reared like that' and there's been a lot of positive comments.
"It's the last thing we were expecting to come to the door!" So does Stephen object to being called Pint Baby?
I don't really mind, but I'd rather be called Stephen now than Pint Baby
And what is Pint Baby up to now?
"I work part-time and any of the other time I'm usually doing hobbies and stuff, blacksmithing, fishing - things like that," Stephen said. "[I make] pokers, knives, I might try the odd gate, it's a nice craft and I'd like to keep it going, it's after dying out."