Actor George Clooney and his lawyer wife Amal are expecting twins this summer.
Thirty-nine-year-old Amal Clooney is due to give birth in June, with the happy news first reported on US TV show The Talk. The couple have yet to comment.
On #TheTalk today @JulieChen confirmed that George & wife #AmalClooney are due w/ twins IN JUNE! Congrats to the happy couple! 👶👶 #BREAKING pic.twitter.com/0ALtxseI3Y

— The Talk (@TheTalkCBS) February 9, 2017
Speaking to Entertainment Tonight Canada, Clooney's friend and Ocean's Eleven co-star Matt Damon said the 55-year-old had shared his joy with him last year.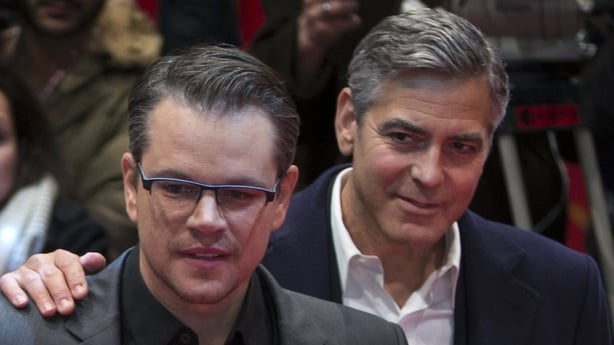 "I was working with him last Fall and he pulled me aside on set and, I mean, I almost started crying," said Damon.
"I was so happy for him. And I was like, 'How far along is she?' And he goes, 'Eight weeks'.
"I said, 'Are you out of your mind? Don't tell anybody else! Don't tell anybody else! Don't you know the 12-week rule?' Of course he doesn't. I was like, 'Just shut up, man'."
#MattDamon says he almost cried when #GeorgeClooney told him about #AmalClooney's pregnancy months ago https://t.co/qRsJfxnzna pic.twitter.com/66thAIaJB3

— ET Canada (@ETCanada) February 9, 2017
Damon, who was among the guests at the couple's wedding in Venice in September 2014, said he was "thrilled" for the Clooneys.
"She's amazing," he added. "He hit the jackpot. Just on every level. She is a remarkable woman. They're going to be great. They're going to be awesome parents. Those kids are lucky."
Talk show host Ellen DeGeneres was one of many other celebrities to congratulate the pair.
"It's twins for George and Amal! I thought I noticed a baby bump. Congrats, you two!", she wrote on twitter.
She mocked up a snap of Clooney holding up the message "we're having twins" and sitting in the same pose as Beyoncé - under a veil and against a backdrop of flowers - when she made her announcement.
It's twins for George and Amal! I thought I noticed a baby bump. Congrats, you two! pic.twitter.com/JLpoT4q0ts

— Ellen DeGeneres (@TheEllenShow) February 10, 2017
The news that the Clooneys are to become parents follows last week's internet meltdown from the announcement that singer Beyoncé and rapper husband Jay Z are also expecting twins while Pharell Williams and his wife confirmed they're expecting triplets.