Des Cahill has told RTÉ Entertainment that Dancing with the Stars fans are set for serious passion on this Sunday's show when he performs the Tango - his favourite dance of the series so far.
After last Sunday's Movie Week heroics, when the RTÉ Sport presenter and professional partner Karen Byrne won viewers' hearts once again with their Austin Powers-themed Salsa, this week the couple have been concentrating on showcasing the sublime side of their partnership.
We need your consent to load this rte-player contentWe use rte-player to manage extra content that can set cookies on your device and collect data about your activity. Please review their details and accept them to load the content.Manage Preferences

"This time it's much more classic - Tango - and I'd be delighted if the judges say at the end of it, 'This is good dancing'," Cahill told RTÉ Entertainment during a break in training. 
"People are all looking for me to do something mad, but I want to show I can do the Tango. I've just got a feeling I'm going to dance well this week because I like it so much and I'm getting into character."
A judges' score of 14 for the Austin-powered Salsa did not reflect the public's love of Cahill and Byrne's performance. It was the biggest talking point from Sunday's show and one of the TV moments of 2017, which the man himself described as "a gamble".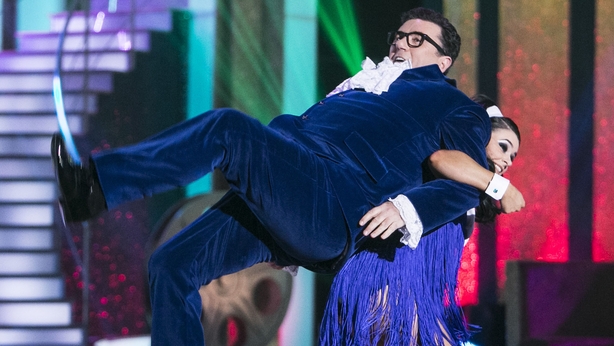 "Karen knows what she wants," laughed the broadcaster. "The one thing that I've learned that is unquestionable: her judgment of dancing is superb. She comes up with the choreography and she has proven what works.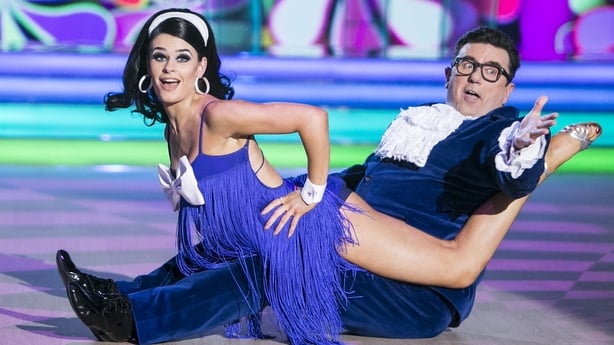 "For 'Austin Powers Week' she said, 'Look it, we may not score as well with the judges this week'. She predicted it; she understands it. But she said, 'With your character it's a shame to waste it and not be Austin Powers. So there'll be less dance but you are just made to be Austin Powers!' And she was right!
"To throw myself on the floor like I did last week took something. When we started practising it was taking me about 12 seconds to get down on the floor; by Sunday I just threw myself on the floor!" 
When asked if he thought he would still be competing on the show come February, Cahill replied: "I didn't think it would hurt as much as it hurts! I knew the duration of it, but I didn't know would I last.
"My aim was, 'Can I get through the first week?', because I was aware of my age thing and all that. I'm fat and I thought I'd have far less appeal to people than it has turned out.
"A girl said on Twitter, 'He's like everyone's dad'. I think that might be what's happening."
"I've learnt an awful lot about being comfortable in yourself," Cahill continued. "Even with the younger lads and the girls, I'm getting on great with them on the show, even though, naturally, we wouldn't hang out together and go out together and we've different interests and they're into different movies, different music."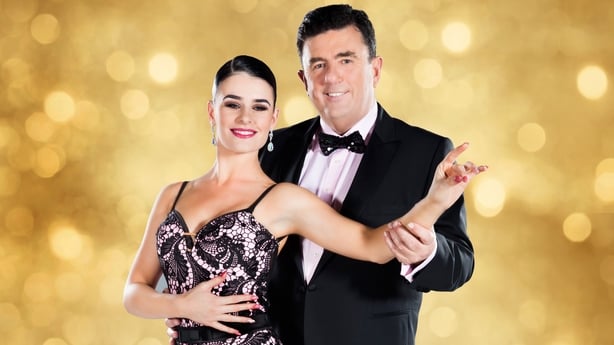 And when it comes to laughs behind the scenes, Cahill reckons one couple are top of that leaderboard...
"Every pair gets on and every pair is working together but I've a feeling… I'm pretty sure Karen and I have more fun, full-on fun and craic.
"In many ways it shouldn't work: we're from different backgrounds, we're completely different ages. There's a lot of reasons why it should not have worked but it absolutely has. If we go out soon I think we've worked as a couple on the show."
That's a place in the final sorted, then!
Dancing with the Stars, Sunday, RTÉ One, 6.30pm