We wondered if Dancing with the Stars would lose a bit of its, ahem, glow after the sun went down on patron saint of spray tan Hughie Maughan, but Sunday night had everything: high scores, a big shock and, best of all, another tell-the-grandkids triumph from Des Cahill. 
Here's the stuff that had us talking:
Karma Sutra's you sir! 
After last Sunday's 'Great Des Cape', when Des "I don't dance at weddings" Cahill made the Paso Doble into a piece of Irish TV history (Reeling in the Years, block that 30 seconds off...), we wondered if the RTÉ Sport presenter could out-Des himself again this week. He did. And how.
Presenting.... The Dessie Swim! #DWTSIrl pic.twitter.com/Kal8nnfJCJ

— RTE One (@RTEOne) January 29, 2017
Dancing the Salsa with choreography genius Karen Byrne, the vision-in-velvet delivered an Austin-powered triumph that would make even the bucktoothed braggadocio blush. If laughter is the best medicine, then this was an overdose of the most life-affirming kind. Des and Karen are, by some distance, the go-to couple for feelgood in the competition, with every routine an appointment-to-view. What are they going to do next Sunday?!
And then there were three...
Last week it looked like the competition would be all about the glitterball battle between two couples: Dayl Cronin and partner Ksenia Zsikhotska in first place and Denise McCormack and partner Ryan McShane in second. Now it looks like three is the magic number - make room for Aoibhín Garrihy and Vitaly Kozmin.
We need your consent to load this YouTube contentWe use YouTube to manage extra content that can set cookies on your device and collect data about your activity. Please review their details and accept them to load the content.Manage Preferences
Dancing the Rumba to Falling Slowly on Sunday night, the former Fair City star and the dancefloor pro cranked up the intensity and chemistry and found themselves in joint second by the end of the show, scoring two '9's and an '8' - just like Denise and Ryan. With Dayl and Ksenia just one point ahead with 27, things are really getting tough at the top. Whoever makes the final, we reckon Des and Karen will be there too...  
And on the subject of Desmonds...
It really was a case of Writing's on the Wall as funnyman Des Bishop turned all serious and showcased broody class with his Contemporary Ballroom routine to that underwhelming Bond theme - himself and partner Giulia Dotta even made the song sound better! 
'Seductive, sultry & sexy!' @Desbishop55 #DWTSIrl pic.twitter.com/MtUUDHLAe9

— RTE One (@RTEOne) January 29, 2017
And what about that catch?! With 23 points it didn't receive the highest score of the night, but as a portent of things to come, this performance was licensed to thrill.
We need some new rules...
Not for the dancers, but the judges and the presenters! The phrase 'box office' needs to join 'the journey' in being barred from the venue, and even the most addled among us don't need to be reminded that "nobody wants to leave".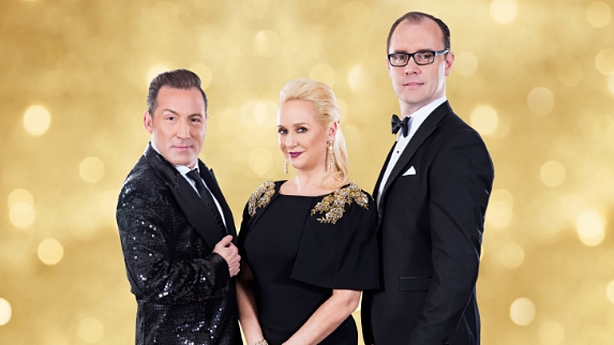 Presumably, if they did want to leave, they would just, like, leave before Sunday and not put themselves through all that pointy-toed pain that week. Monday is the day after Sunday, by the way.
An elimination isn't a patch on a dance-off
Hughie's exit last week had us soul-searching about how we felt about these non-danceoff-dependent departures. Well, after Thalia Heffernan's shocking so-long on Sunday, we've come to the conclusion that they don't do justice to the rest of the show, or the contestants.
We need your consent to load this Facebook contentWe use Facebook to manage extra content that can set cookies on your device and collect data about your activity. Please review their details and accept them to load the content.Manage Preferences
Yes; we know that other countries around the world have eliminations too, but if you've spent a decade watching parent programme Strictly Come Dancing on BBC One, then you're expecting the same kind of drama to be delivered at home. They really need to rethink this one for next year.
A jam packed jive from @ThaliaHeffernan & Curtis! #DWTSIrl pic.twitter.com/4C7auZGvKt

— RTE One (@RTEOne) January 29, 2017
Thalia should still be there
To lose Hughie last week was unfortunate, for Thalia to go home straight after him proves, yet again, that the Irish voting public really do break your heart. Whatever the format on talent shows down the years, those who delivered the goods have departed, while the less deserving are there past their vote-out date. And so it continues. Two of the most entertaining have gone from Dancing with the Stars already - if contestants at the business end of the leaderboard go home way before their time in the coming weeks, the show really will lose a fair whack of its sparkle and become grist for the Liveline mill. A dance-off would cut down on the likelihood of that happening. Sure, you could still have two contender couples battling it out, but the chances would be less in the early stages. This is going to rankle from now 'til Sunday.
That said, we're enjoying things more by the week
In terms of performances, personality and we-can-do-it-as-good-as-anyone-else pride, every Sunday has built on the standout moments of the last - and we're only four weeks in! We've also noticed that the can't-wait countdown to the next show is starting earlier all the time, while the Monday morning fear is now a little easier to handle come 8.30pm of a Sunday. At this rate we'll be jumping out of the bed with jazz hands by March! Now, there's a routine for Des and Karen...
We need your consent to load this Facebook contentWe use Facebook to manage extra content that can set cookies on your device and collect data about your activity. Please review their details and accept them to load the content.Manage Preferences