Having come out with guns blazing against Meryl Streep after her Golden Globes speech, it has emerged that US President-elect Donald Trump had nothing but good things to say about the screen legend during an interview in 2015.  
In the wake of the Golden Globes, the business mogul-turned-politician called Streep "one of the most over-rated actresses in Hollywood" and a "Hillary flunky" after she very publicly criticised him during her speech at the awards ceremony in Beverly Hills on Sunday night.
But during an interview with US entertainment trade publication the Hollywood Reporter in August 2015, things were very different when Trump was asked about his favourite actress. 
"Julia Roberts is terrific, and many others," he replied. "Meryl Streep is excellent; she's a fine person, too. The problem is I'll name three or four or five and then the hundred that I know will be insulted, and I don't mean to insult them."
After receiving the prestigious Cecil B DeMille Award on Sunday, eight-time Golden Globe winner Streep used her time on stage to hit out at the US President-elect for what she described as his "instinct to humiliate" and called on the media to hold those in power to account. 
In a fiery six-minute speech, Streep did not hold back as she went after Trump for mocking reporter Serge Kovaleski, who is disabled, in November of 2015 during a campaign rally.
"That instinct to humiliate, when it's modelled by someone in a public platform, it filters down into everyone's life because it gives permission for others to do the same," said Streep.
"Disrespect invites disrespect, violence incites violence. When the powerful use their position to bully others we all lose."
Trump responded to Streep's comments via Twitter, writing: "Meryl Streep, one of the most over-rated actresses in Hollywood, doesn't know me but attacked last night at the Golden Globes."
Meryl Streep, one of the most over-rated actresses in Hollywood, doesn't know me but attacked last night at the Golden Globes. She is a.....

— Donald J. Trump (@realDonaldTrump) January 9, 2017
Hillary flunky who lost big. For the 100th time, I never "mocked" a disabled reporter (would never do that) but simply showed him.......

— Donald J. Trump (@realDonaldTrump) January 9, 2017
He also took aim at Streep in an interview with the New York Times, revealing that he had not seen the awards ceremony and again denied that he had mocked the disabled New York Times reporter.
"I was never mocking anyone. I was calling into question a reporter who had gotten nervous because he had changed his story," Trump claimed.
"People keep saying I intended to mock the reporter's disability, as if Meryl Streep and others could read my mind, and I did no such thing.
Trump, in a brief interview, said he wasn't surprised that he was criticized by "liberal movie people" at the Globes https://t.co/CKupcel58R

— The New York Times (@nytimes) January 9, 2017
"And remember, Meryl Streep introduced Hillary Clinton at her convention, and a lot of these people supported Hillary."
During her speech Streep also spoke about how "Hollywood is crawling with foreigners and outsiders" and referenced a number of her fellow actors, including Canadian Ryan Gosling and Irish-Ethiopian actress Ruth Negga. 
At tonight's #GoldenGlobes we honor Hollywood legend Meryl Streep with the prestigious Cecil B. Demille Award. pic.twitter.com/dxpeCDNXY6

— Golden Globe Awards (@goldenglobes) January 9, 2017
"If we kick them all out you'll have nothing to watch but football and mixed martial arts, which are not the arts," she said. 
A hoarse Streep, who said she had lost her voice, then said there was "one performance this year that stunned me, it sank its hooks in my heart". 
"Not because it was good," she continued, "There's nothing good about it. But it was effective and it did its job. It made its intended audience laugh, and show their teeth.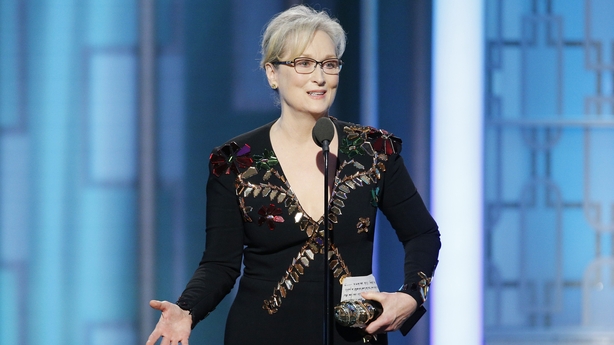 "It was that moment, when the person asking to sit in the most respected seat in our country, imitated a disabled reporter. Someone he outranked in privilege, power and the capacity to fight back. 
"It kind of broke my heart when I saw it and I still can't get it out of my head because it wasn't in a movie, it was real life," she said. 
"And this instinct to humiliate, when it's modelled by someone on the public platform, by someone powerful, it filters down into everybody's life because it kind of gives permission for other people to do the same thing. Disrespect invites disrespect, violence incites violence..."
Streep said the world needed "the principled press to hold power to account".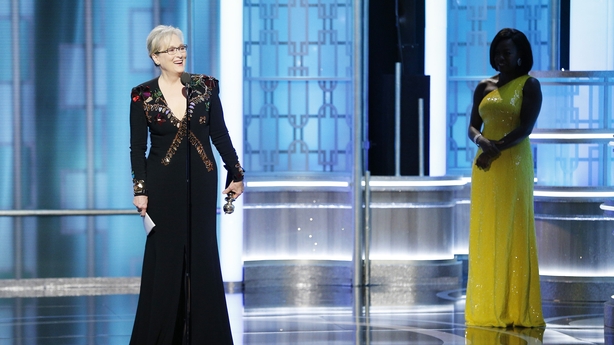 "I only ask the famously well-heeled Hollywood Foreign Press and all of us in our community to join me in supporting the Committee to Protect Journalists. Because we're going to need them going forward and they'll need us to safeguard the truth." 
Explaining her hoarseness, Streep said she had lost her voice "screaming in lamentation this weekend" - a reference to the funeral of her friends Carrie Fisher and Debbie Reynolds. "And I have lost my mind sometime earlier this year," she added, in another political reference.
A visibly emotional Streep returned to Fisher's passing as she concluded her speech, saying: "As my friend, the dear, departed Princess Leia said to me once, 'Take your broken heart, make it into art'."
Streep's comments followed those of British actor Hugh Laurie, who had referenced the President-elect when accepting his Best Supporting Actor award for The Night Manager.
"I suppose made more amazing by the fact I'll be able to say that I won this at the last ever Golden Globes," he joked. 
We need your consent to load this YouTube contentWe use YouTube to manage extra content that can set cookies on your device and collect data about your activity. Please review their details and accept them to load the content.Manage Preferences
"I don't mean to be gloomy, it's just that it has the words 'Hollywood', 'foreign' and 'press' in the title. I just don't know what... I also think that to some Republicans even the word 'association' is slightly sketchy."
You can watch the Golden Globes ceremony on the RTÉ Player here.